Boston Cream Eclair Cake: this showstopper homemade eclair cake is filled with custard cream and piped with a decadent chocolate ganache frosting! Make this dessert in three easy steps.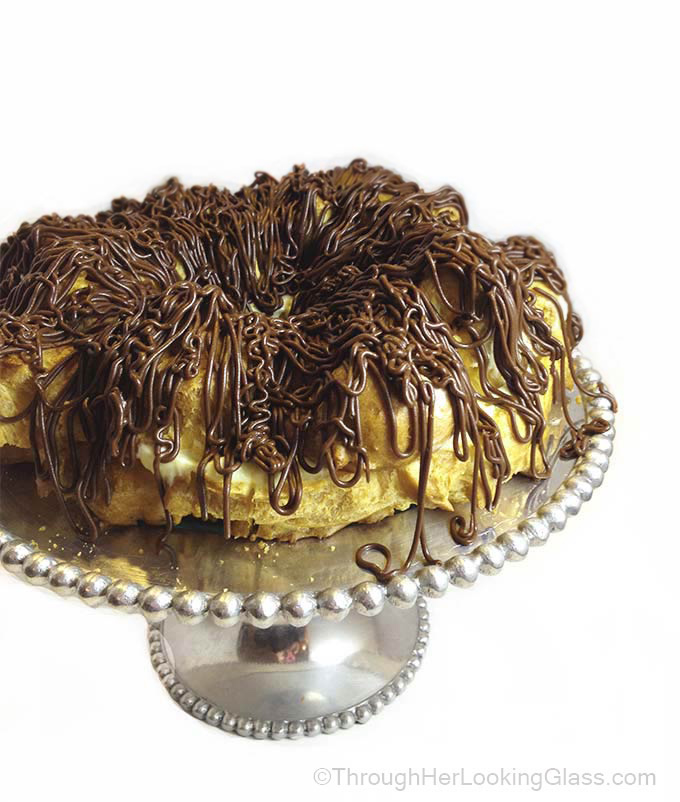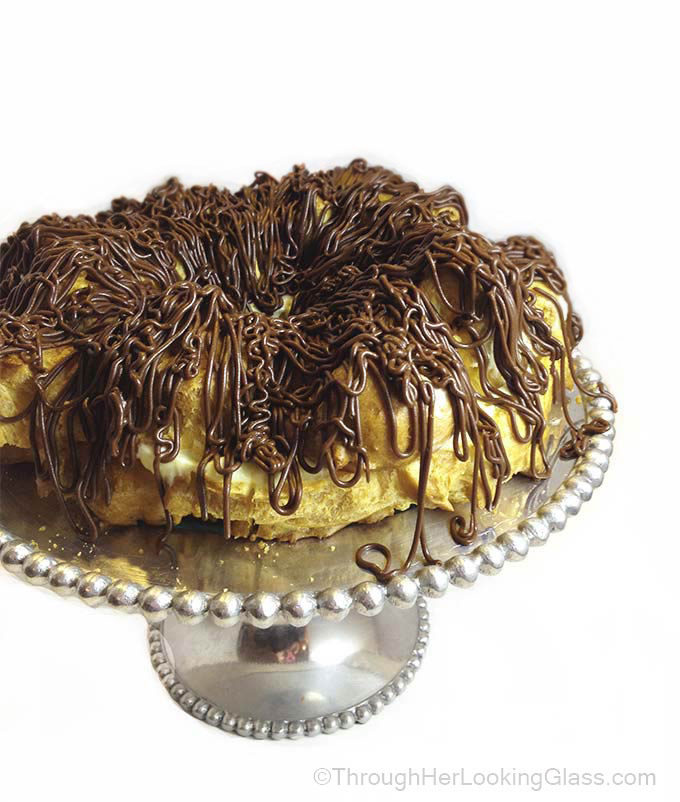 Nothing's more important than dessert. And CHOCOLATE! I'm all about the chocolate.
So here's a decadent recipe: Boston Cream Eclair Cake. It looks grand, but trust me, you can easily make this too. This simple recipe was given to me by dear Italian friends in Rhode Island many years ago. It's a crowd pleaser, gorgeous and delicious.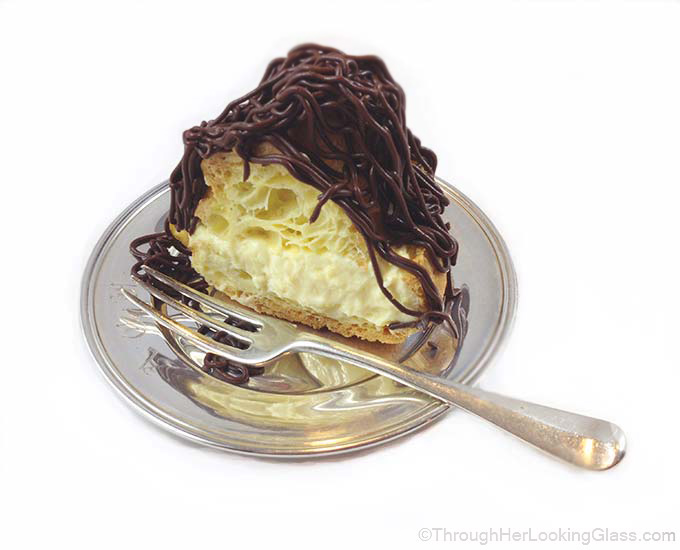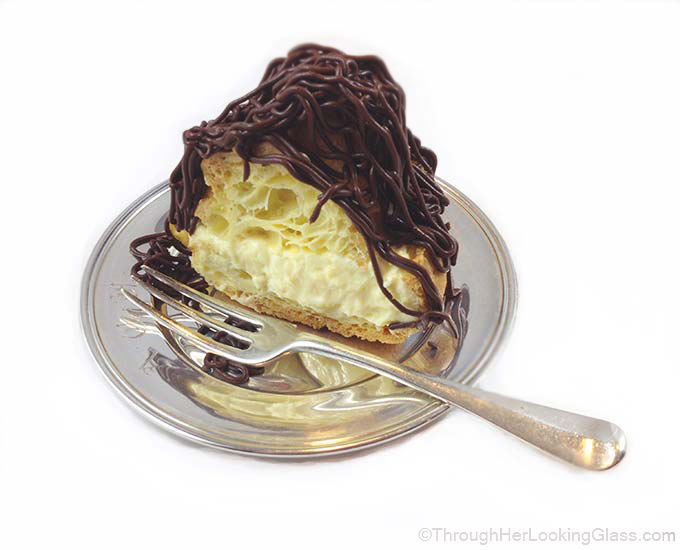 There are three simple parts to the Boston Cream Éclair Cake: the éclair pastry crust, the cream filling and the rich chocolate frosting. You can make this dessert all at once or in stages.
The crust is just four simple ingredients: butter, flour, eggs and water. (This recipe had me at the butter.)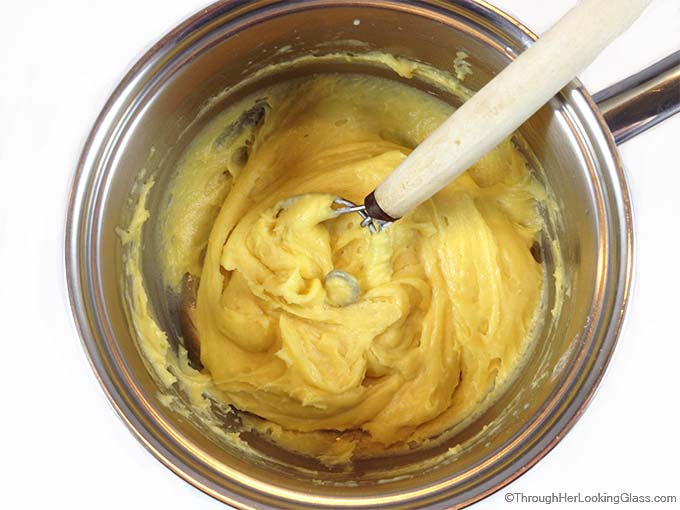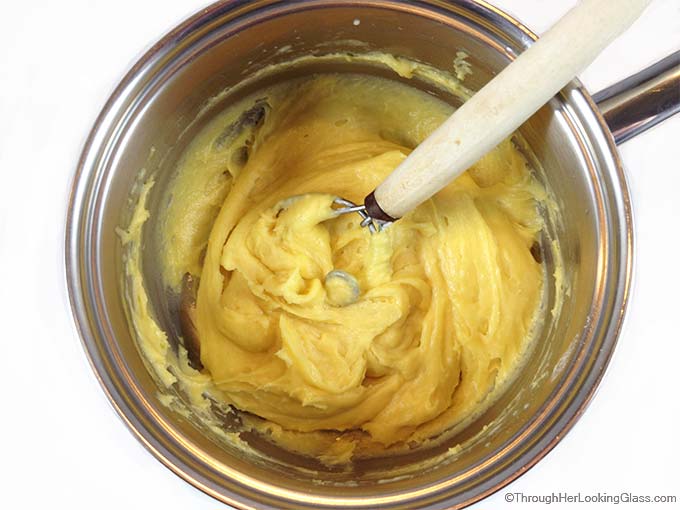 Your pastry dough is ready when it looks like this, smooth without lumps.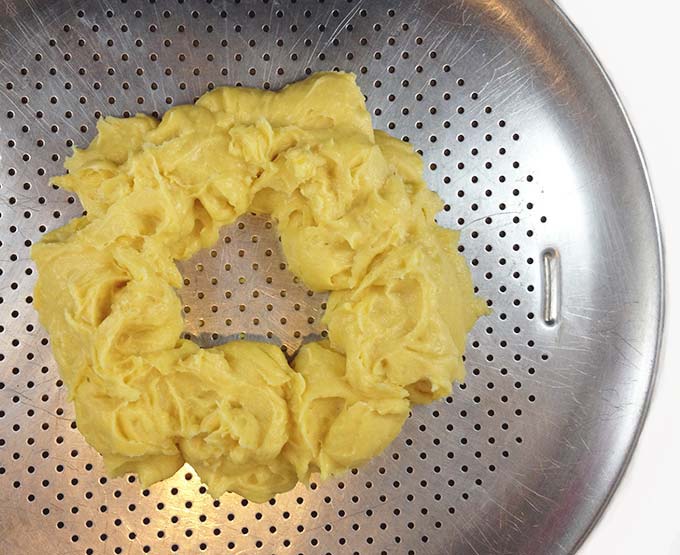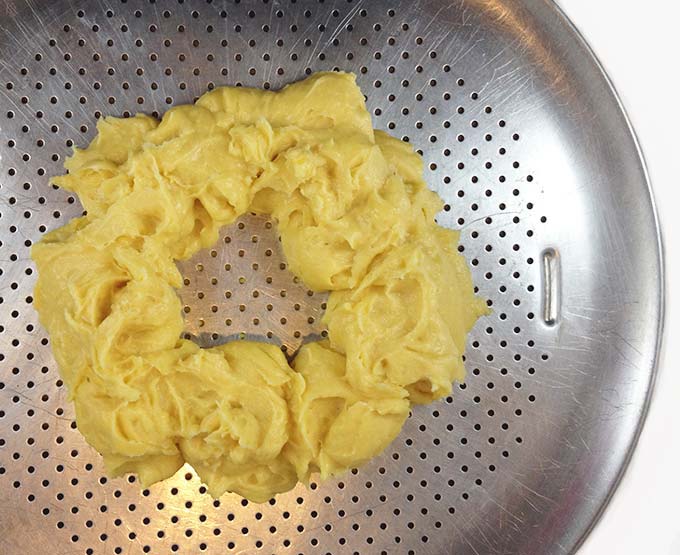 Dollop the dough by large spoonfuls onto a greased round pizza pan, into a ring.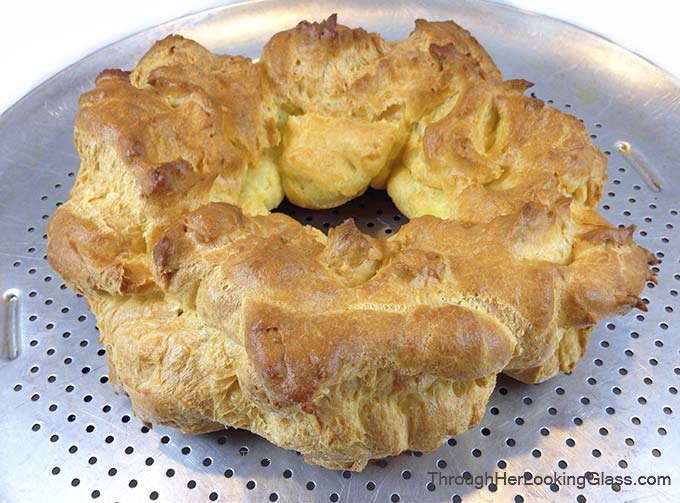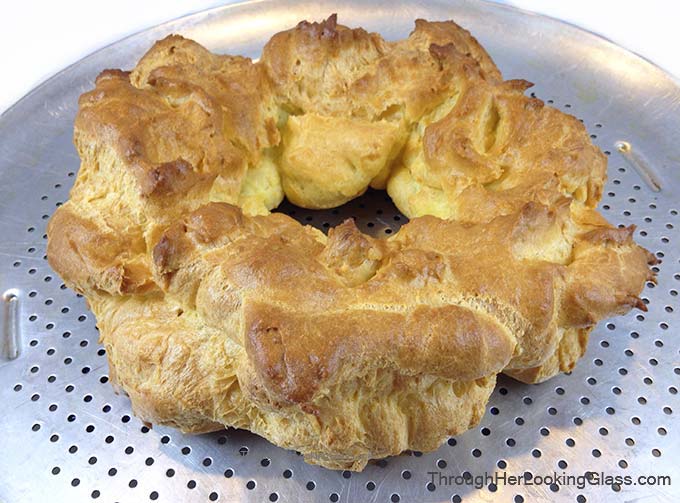 After baking, crust should be a deep golden brown. (Resist the temptation remove from the oven too early.)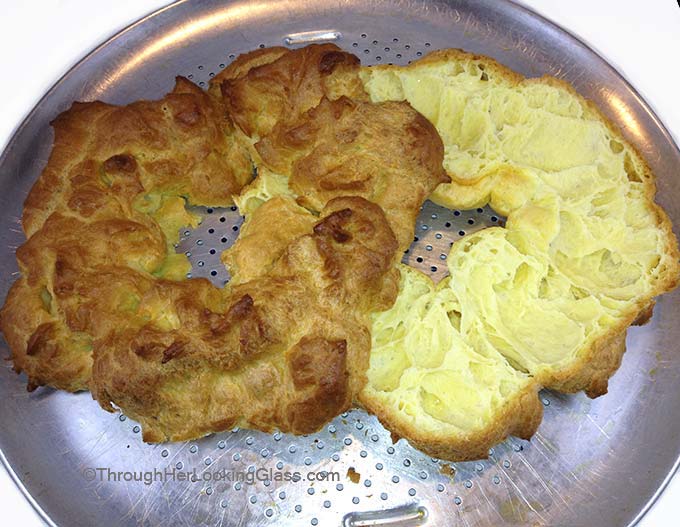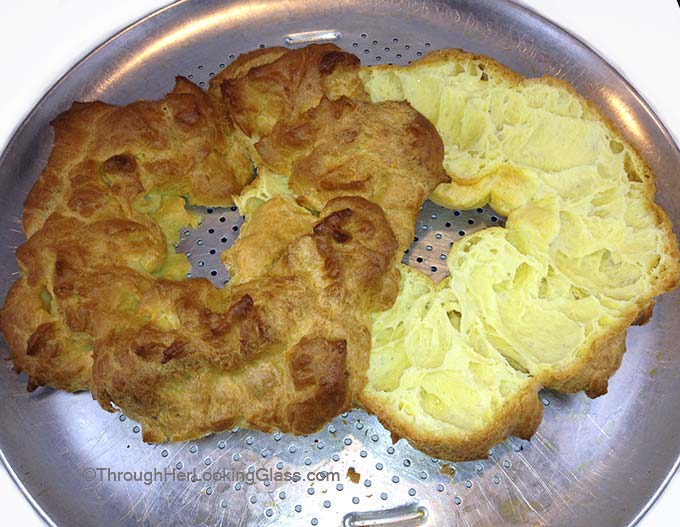 Cool on a wire rack, then split horizontally with an electric or serrated bread knife.
I often make the éclair pastry crust ahead, then freeze.
A day or two before serving, make the custard filling and chocolate frosting. On serving day put it all together and pipe the chocolate frosting on the Boston Cream Éclair Cake in about 15 minutes. It's such an amazing dessert. It gives me great joy to deliver "pastry happiness" to friends and family.
Here's a big tip, and once in a while I forget to do it myself. After filling the cake and before piping the chocolate, carefully cut the Boston Cream Éclair Cake into serving slices with an electric knife (or serrated bread knife.) THEN pipe the chocolate on top. It's so much easier to keep the cake pieces intact for easy and beautiful serving.
Let me know if you make the Boston Cream Eclair Cake, I'd love to hear how you like it!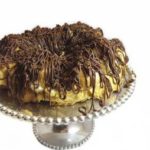 Print Recipe
Boston Cream Eclair Cake
It doesn't get any better than this. Serve this eclair pastry and you instantly rise to superhero status. Never met anyone who didn't adore the Boston Cream Éclair Cake!
Ingredients
Crust:

1/2

cup

butter

1

cup

water

1

cup

flour

4

large eggs

Cream Filling:

2

3.125 ounce packages instant vanilla pudding

2 1/2

cups

milk

6

ounces

Cool Whip

3/4 of an 8 ounce Cool Whip

1

teaspoon

vanilla

Topping:

1

and 1/2 squares unsweetened chocolate

1.5 ounces

2

tablespoons

butter

2

tablespoons

milk

1

cup

powdered sugar

1

teaspoon

vanilla
Instructions
Crust:

Preheat oven to 400 degrees.

Boil together the water and butter

Stir in 1 cup flour until throughly combined and cook until ball forms and it pulls away from the sides.

Remove from the heat.

Add in eggs one at a time, mixing throughly by hand after each. (I use a wooden spoon or my King Arthur bread dough whisk.)

Drop by spoonfuls into a ring on a lightly grease cookie sheet or round pizza pan.

Bake at 400 degrees for 40-45 minutes or until the middle is dry. Sometimes it takes as long as 55 minutes, so watch very carefully towards the end.

Check with a cake tester to make sure it's dry inside.

Cool completely on a wire rack.

Cut in half horizontally with a serrated or electric knife.

Cover the bottom half with filling, put the top half back on.

Filling:

Using an electric mixer or whisk, mix the instant vanilla pudding with milk for two minutes.

Gently fold in the Cool Whip and vanilla with a rubber spatula.

Rich Chocolate Frosting:

Melt chocolate in a saucepan over low heat.

Add in butter 'til it melts.

Remove from heat.

Stir in milk 'til combined.

Stir in powdered sugar and vanilla.

Pack frosting in a pastry bag and pipe with a decorating tip (or use a ziploc bag with snipped corner), going around the entire cake.

Refrigerate for a short time 'til chocolate sets, cover in plastic wrap, then return to refrigerator.

Refrigerate leftovers. (If you have any!)
Notes
Make all at once, or in stages and construct it the morning you serve.
Use a pastry bag and decorating tip to pipe your chocolate icing, or snip a hole in the corner of a ziploc bag.
There will be lots of extra filling. Save it for another use or get out your spoon for a treat.
You may also like: Famous Brick Street Chocolate Cake