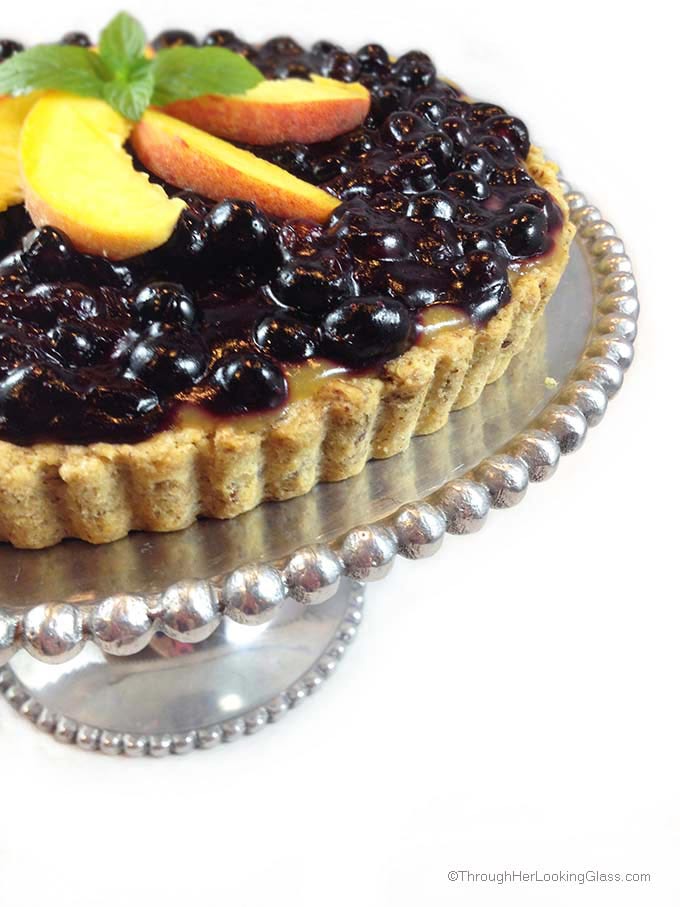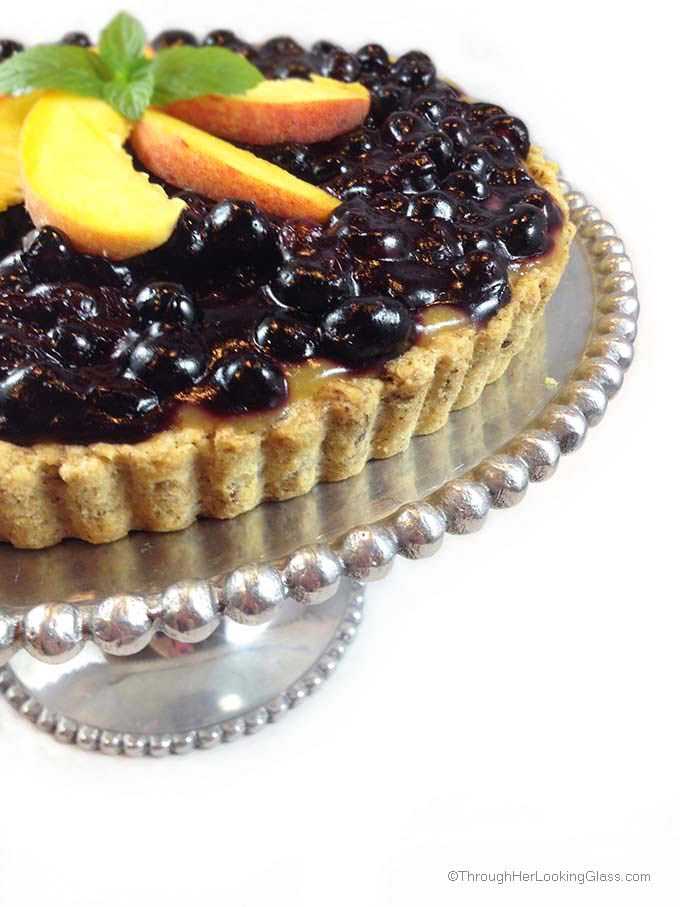 A fresh Blueberry Peach Tart says summer like nothing else. Layers of fresh peaches and blueberries atop a buttery pecan crust. It's a gorgeous and scrumptious summer dessert. I've always loved peaches and blueberries together and make this tart once a year when they're both in season. (That's right now around here!!!)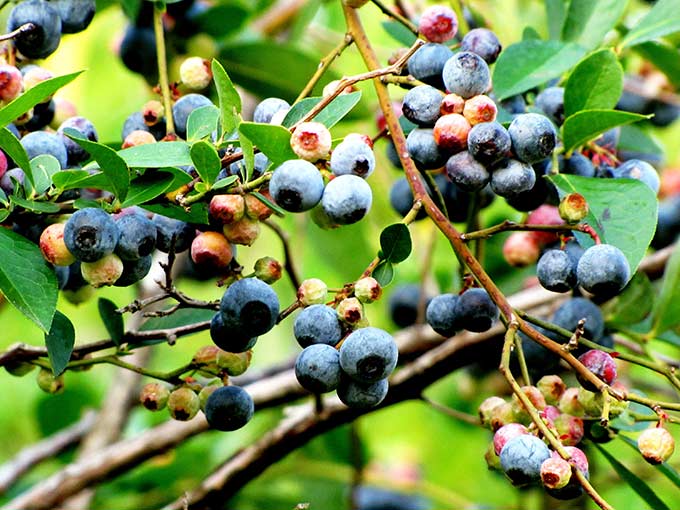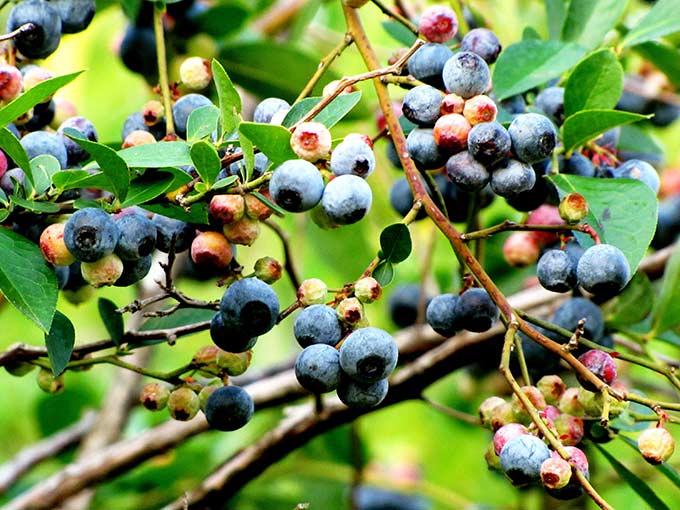 For the first time ever, my boys went blueberry picking on their own at our local berry farm last week. My oldest got his license last fall, so this is his first summer driving. I had no idea how ultra-convenient this having an extra driver in the household would be. (!) Not only did they come back with enough blueberries for this Blueberry Peach Tart, two batches of homemade blueberry jam and Wild Maine Blueberry Ice Cream…they also brought back a bucket of fresh, juicy peaches. Score! When they walked in the door with all that orchard booty, it felt like Christmas. Christmas in August. Immediately I knew I'd be making this gorgeous Blueberry Peach Tart .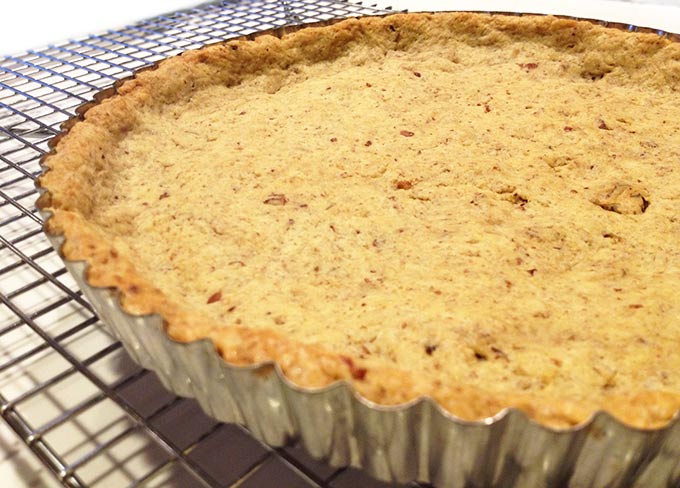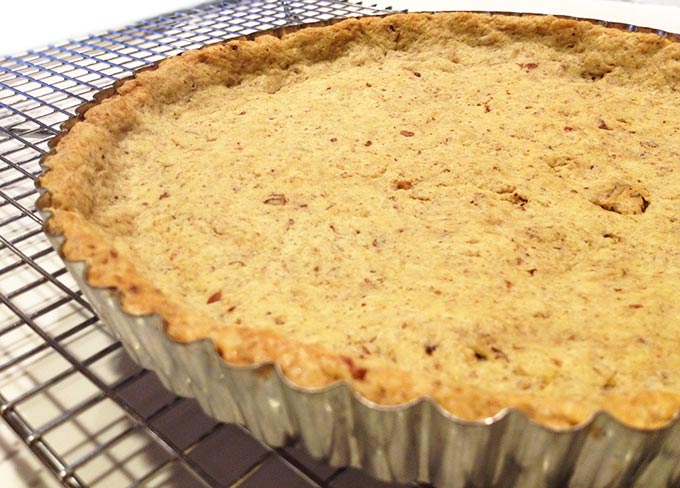 Bake the pecan crust for 15-20 minutes. As the crust bakes, cook the quick peach and blueberry fillings separately on the stovetop.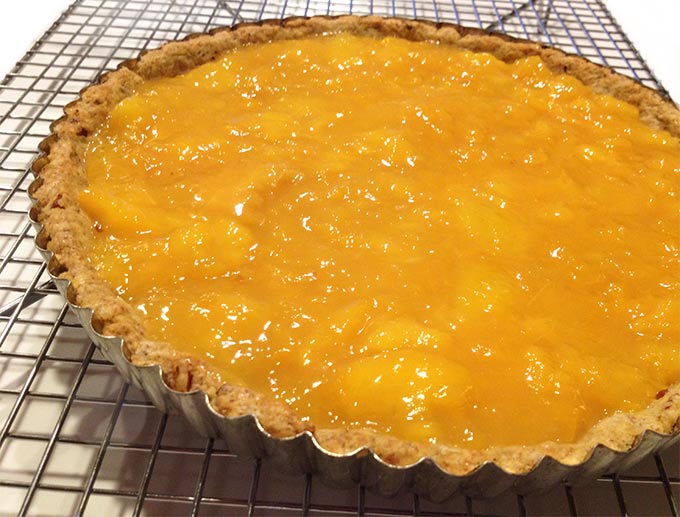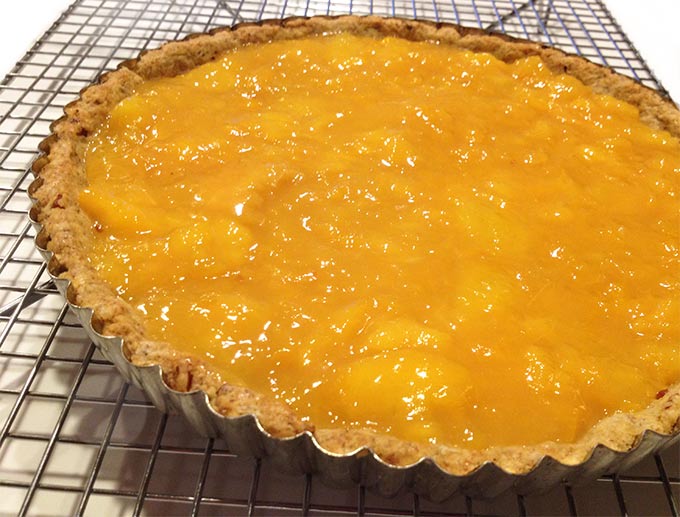 Fill with luscious homemade peach filling…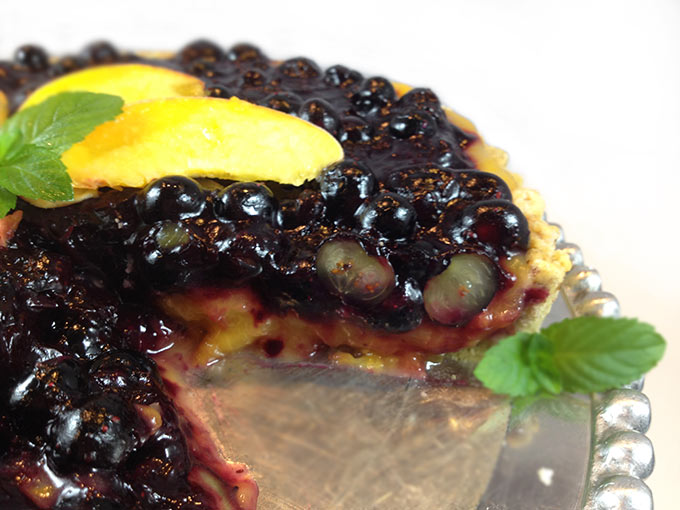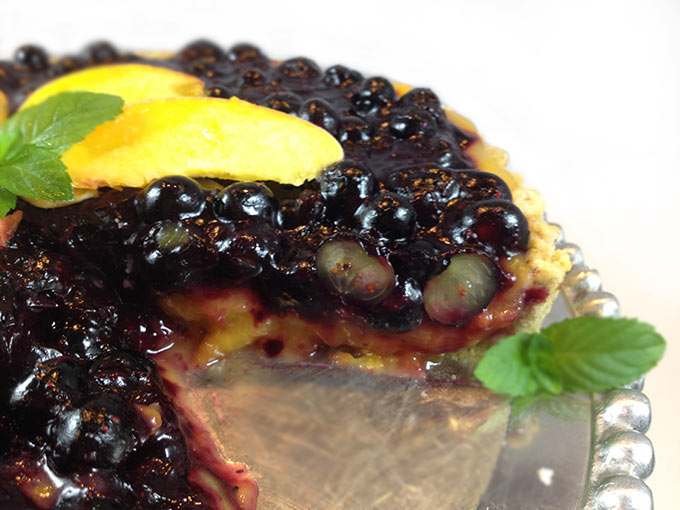 Spoon the homemade blueberry filling on top .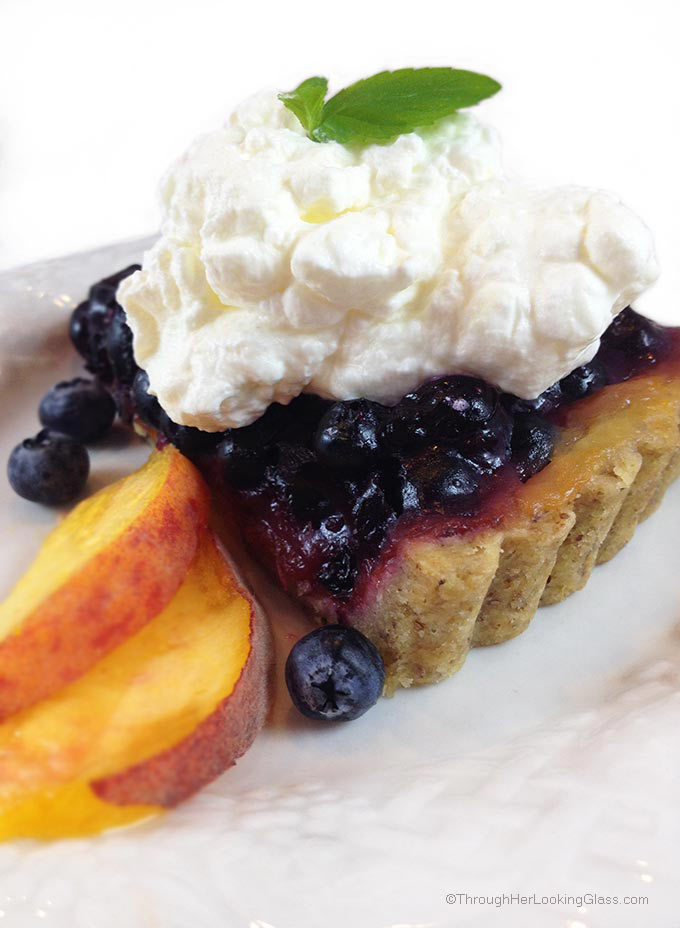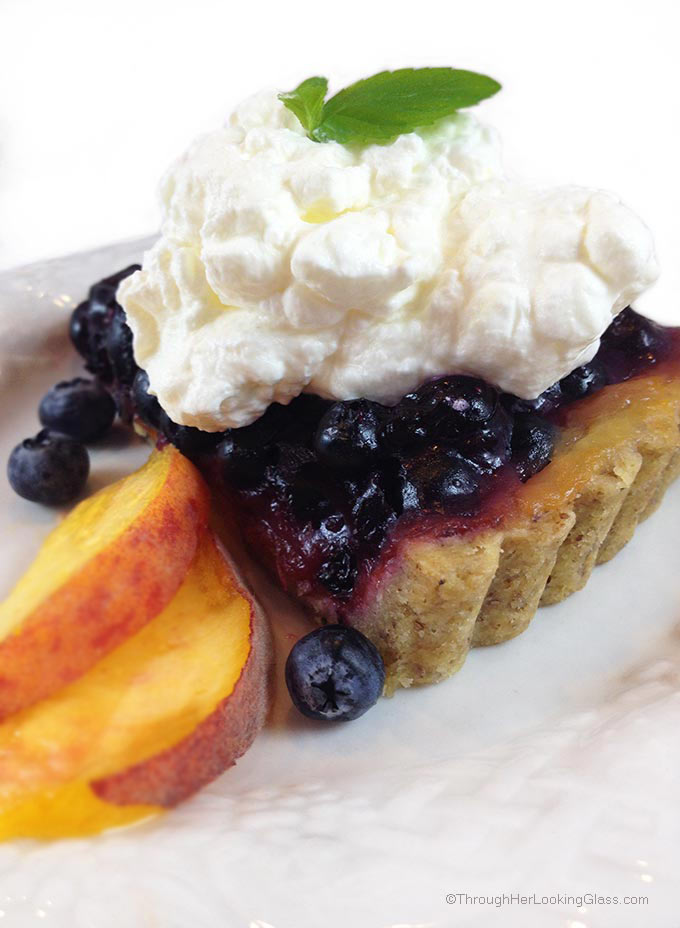 Cool, then garnish Blueberry Peach Tart with whipped cream, peaches and fresh mint.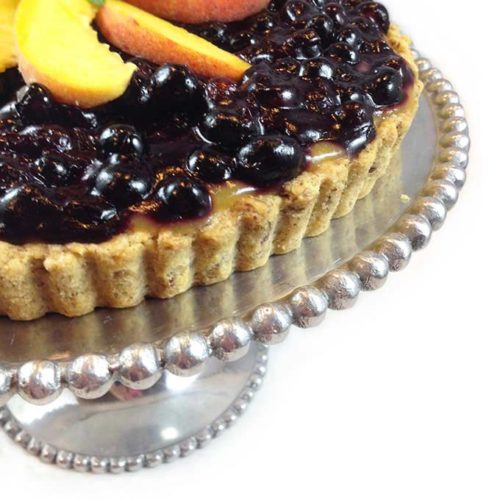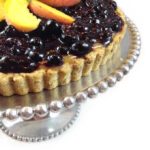 Print Recipe
Blueberry Peach Tart
Ingredients
Crust:

1

cup

all purpose flour

2

tablespoons

sugar

5

tablespoons

butter

cut into one inch chunks

1

egg

beaten

1/2

teaspoon

pure almond extract

1/2

cup

finely chopped pecans

Peach Filling:

3

cups

peeled and sliced fresh peaches

1 1/2

teaspoons

cornstarch

2

tablespoons

sugar

1

tablespoon

fresh lemon juice

1

tablespoon

butter

Blueberry Filling:

4

cups

blueberries

1/4

cup

sugar

1

tablespoon

cornstarch

dash ground cinnamon

1

teaspoon

lemon juice

1

tablespoon

butter

Optional: whipped cream

peach slices and fresh mint for garnish
Instructions
Crust:

Place flour and sugar in a food processor.

Process briefly to mix.

Drop chunks of butter in the feed with motor running and process quickly until mixture is crumbly.

Add the egg, almond extract, and pecans and process until just combined.

Do not overmix the crust.

Form dough into a flattened ball and press into the bottom and sides of a 9"tart pan with a removable bottom.

Cover crust tightly with plastic and chill in refrigerator for a minimum of thirty minutes.

Bake the crust for 15-20 mins or until slightly browning.

Cool crust on wire rack.

Peach Filling Layer:

Mash peaches together with cornstarch, sugar and lemon juice in medium saucepan.

Cook over medium heat for 5 minutes or until mixture thickens.

Add butter and stir until blended.

Cool slightly and pour into cooled crust.

Blueberry Filling Layer:

Mash 2 cups of the blueberries with sugar, cornstarch, cinnamon and lemon juice.

Cook in a large saucepan over medium heat until thickened and translucent.

Stir in butter and remaining whole blueberries.

Cover peach filling layer with blueberry filling.

Cool.

Optional: Garnish with whipped cream, fresh peaches and mint.

Serve immediately or cover and refrigerate.
Notes
You can easily use a pastry blender rather than food processor to make the crust for this recipe. (I did.)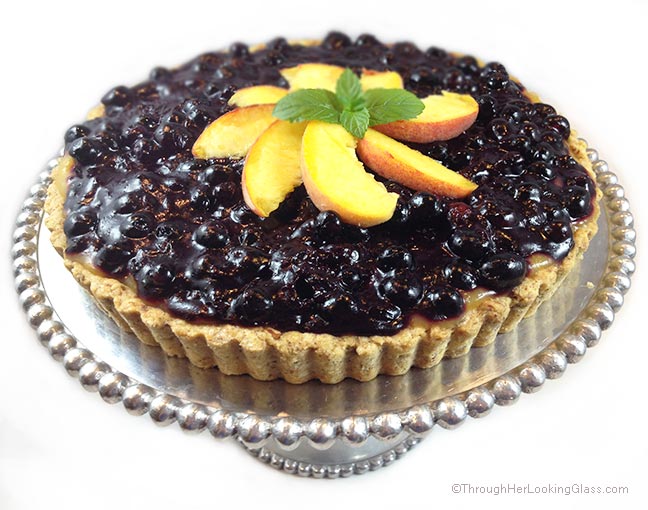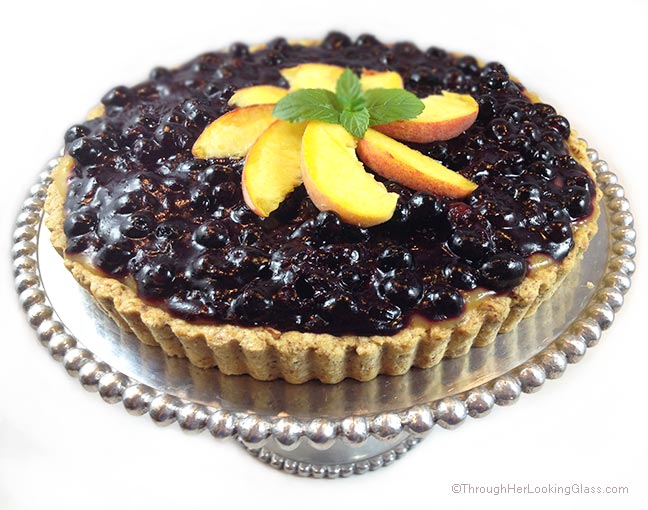 Easy, delicious and summery: Blueberry Peach Tart
Another delicious summer dessert: Fresh Peach Pound Cake