Blistered Tomato Basil Pasta Salad w/Truffle Oil is an ideal spring and summer side dish. Fresh minced garlic and white truffle oil mingle with basil, blistered tomatoes and farfalle (bow tie) pasta. An irresistible dish!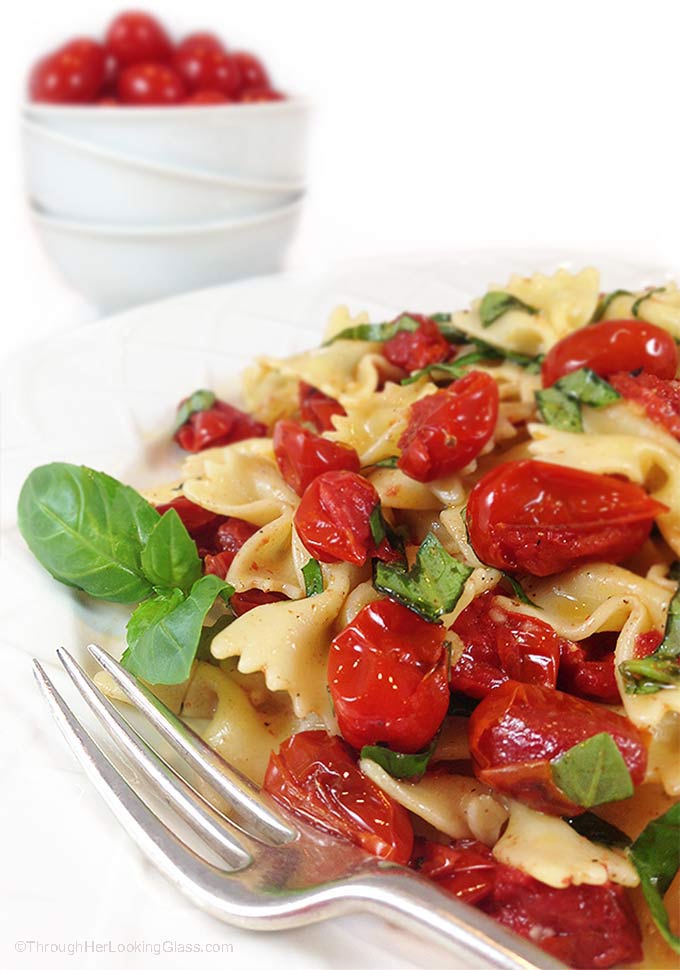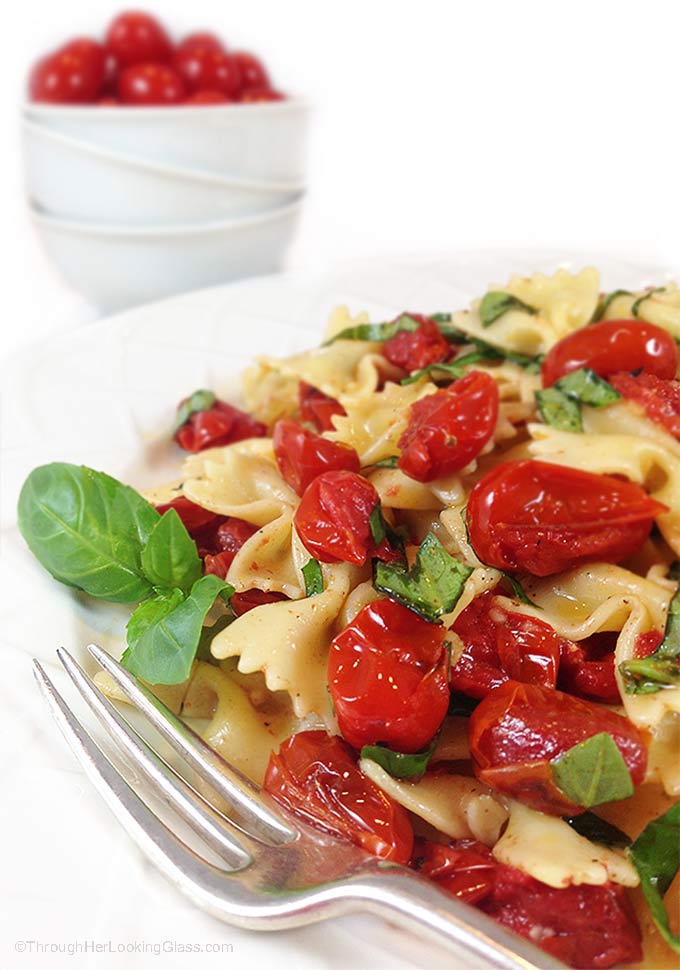 So this pasta salad is such a great addition to the menu in spring and summer. I'd planned to share this recipe today some time ago, little knowing that Mother Nature had a belated and naughty April Fool's trick up her sleeve. So here it is April and yesterday morning we wake up to several inches of snow. Then today we wake up to several more inches of snow. And then it snows all day long! So it's been a Currier & Ives kind of day, but the kind you wish for at Christmas, not in April.
The crocuses have already bloomed in our yard and the green lily and tulip shoots are just coming up. Sure hope they survive, but hard to know at this point, since they're presently buried under piles of the white stuff. I don't think the forecasters really expected all this snow, at least I didn't hear anything about it. All the kids went to school as usual this morning, then Jon and I slipped out, did a little shopping, slid around on the snowy, icy roads. Dropped in at Panera, nabbed the fire-side seats and savored a bowl of hot soup. It was definitely a soup day! We made the best of this crazy New England spring weather and were determined to get out of the house.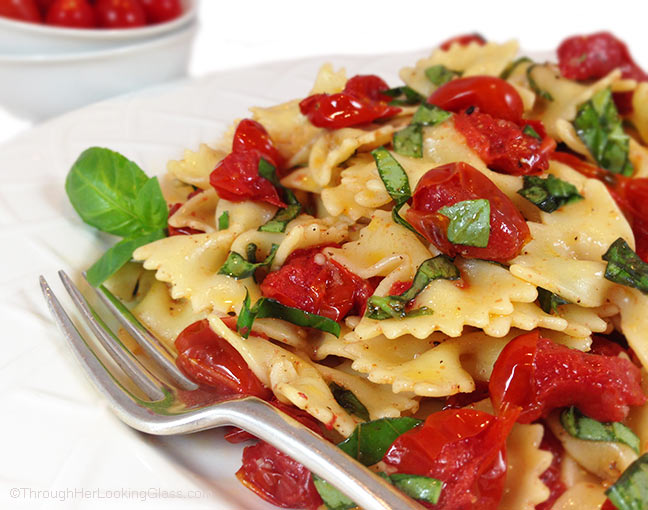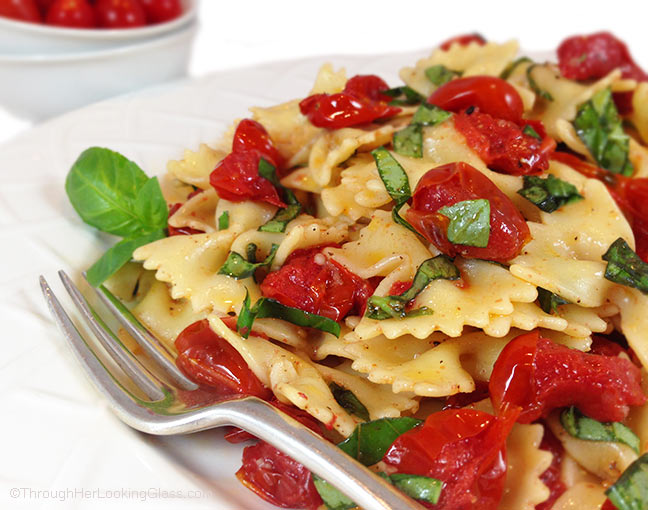 So I'm really hoping it'll warm up around here soon so we can grill out and have this delicious Blistered Tomato Basil Pasta Salad w/Truffle Oil. This easy gourmet pasta salad is the perfect accompaniment to grilled chicken, beef or fish. Makes an easy and impressive side dish to take along to a picnic or barbecue.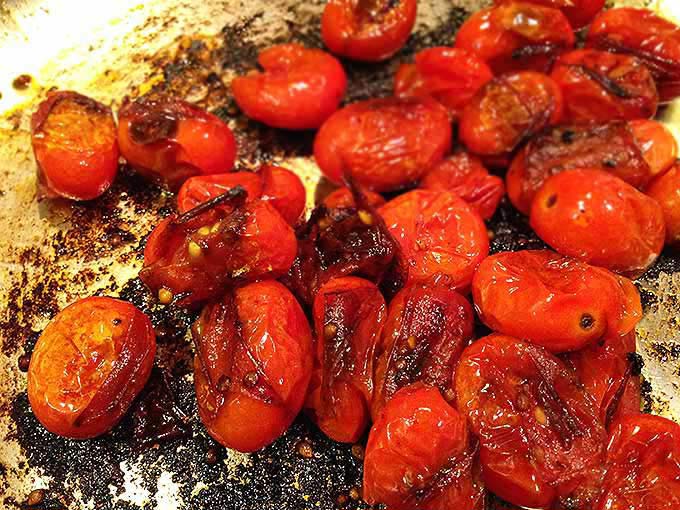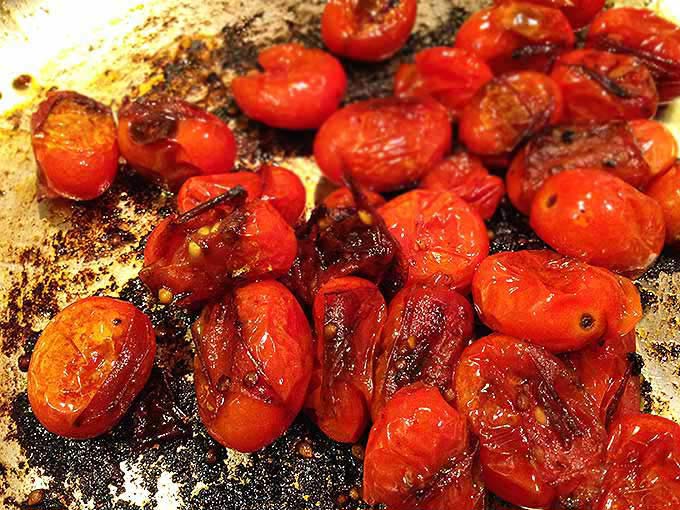 Just a few easy gourmet touches in this Basil Pasta Salad: blistered tomatoes, fresh minced garlic and white truffle oil. The grape tomatoes blister up quickly up in a skillet with a little olive oil and are so pretty and mouthwatering.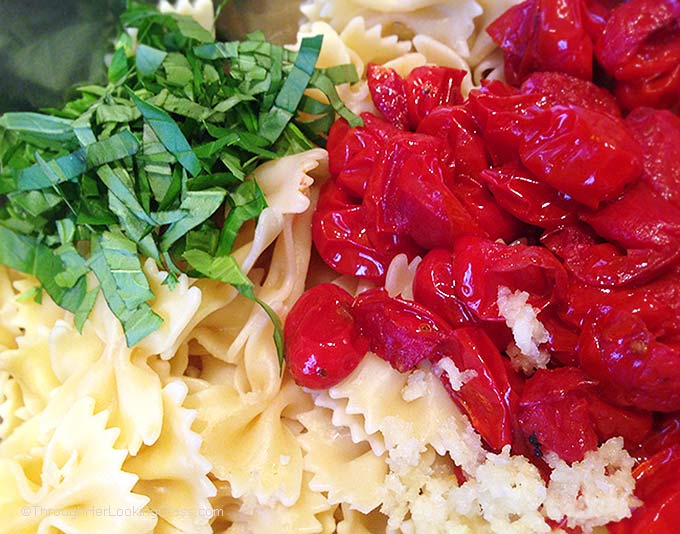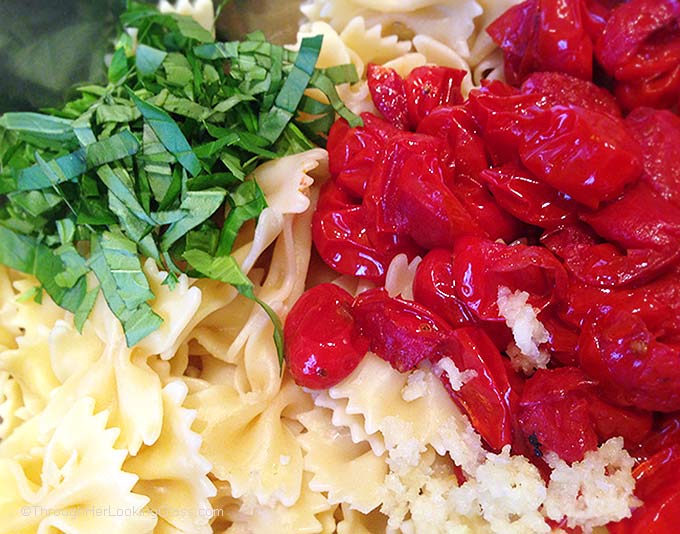 I'd never tried white truffle oil in a pasta salad before, but got some in my Christmas stocking and thought I'd try it out. Here's some interesting information posted on the back of the Napa Valley Harvest White Truffle Oil bottle.
"Made from extra virgin olive oil and white truffles, this aromatic and earthy oil is known throughout the world for its incomparable taste. These jewels of the earth are found by specially-trained "truffle pigs" and are harvested in September at night by trifolau (truffle pickers.) Once you taste this wonderful aromatic oil, you will consider this a pantry staple. Drizzle over pasta or atop risotto, or add a dash to crisply sauteed vegetables." (So what do you think? Specially trained HOGS find the truffles in the middle of the night…)
The white truffle oil mingles with the garlic and basil in this pasta salad, giving rich flavor to the blistered tomatoes and pasta. If you don't have white truffle oil in your pantry, you can easily use vegetable oil or even corn oil in this recipe. This is such a flavor-filled, pretty Basil Pasta Salad.
Sure hope it's sunny and warm grilling weather wherever you are so you can enjoy this pasta salad very soon!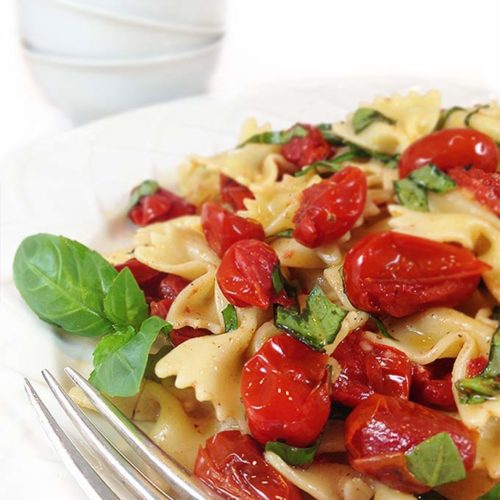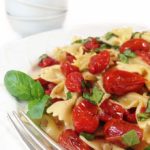 Print Recipe
Blistered Tomato Basil Pasta Salad
A flavorful and gourmet fresh pasta salad with blistered tomatoes and basil. Garlic and truffle oil bring out the flavors.
Ingredients
1

pint

grape tomatoes

1/2

cup

fresh basil leaves

cut in strips

1 1/2

tablespoon

white truffle oil

or vegetable oil or corn oil

1 1/2

tablespoon

red wine vinegar

2

cloves

garlic

minced

1

teaspoon

sea salt

6

ounces

pasta farfalle

bowties, cooked & drained

freshly ground black pepper to taste

olive oil

to saute w/the tomatoes.
Instructions
Heat 1-2 tablespoons olive oil in skillet over high heat.

(Watch carefully so you'd don't burn the oil)

Add grape tomatoes and cook for 2-3 minutes.

Stir and cook for 3-5 minutes more 'til blistered.

Remove from heat, salt and pepper to taste.

Set aside.

In medium serving bowl toss together cooked pasta bowties, fresh basil strips, 1 1/2 tablespoons truffle oil, red wine vinegar, minced garlic, and salt.

Toss to combine.

Sprinkle with freshly ground pepper.

Serve immediately warm or at room temperature.
Notes
This recipe uses fresh garlic which gives fabulous flavor. Over time, garlic tends to "bitter", so this pasta salad tastes best fresh!


You may also like: Crunchy Asian Salad