This Baba Ghanoush Roasted Eggplant Dip is healthy, delicious and addictive! Baba Ghanoush is a Middle Eastern dip for serving with fresh veggies and pita bread. Or use as a flavorful spread in wraps or sandwiches.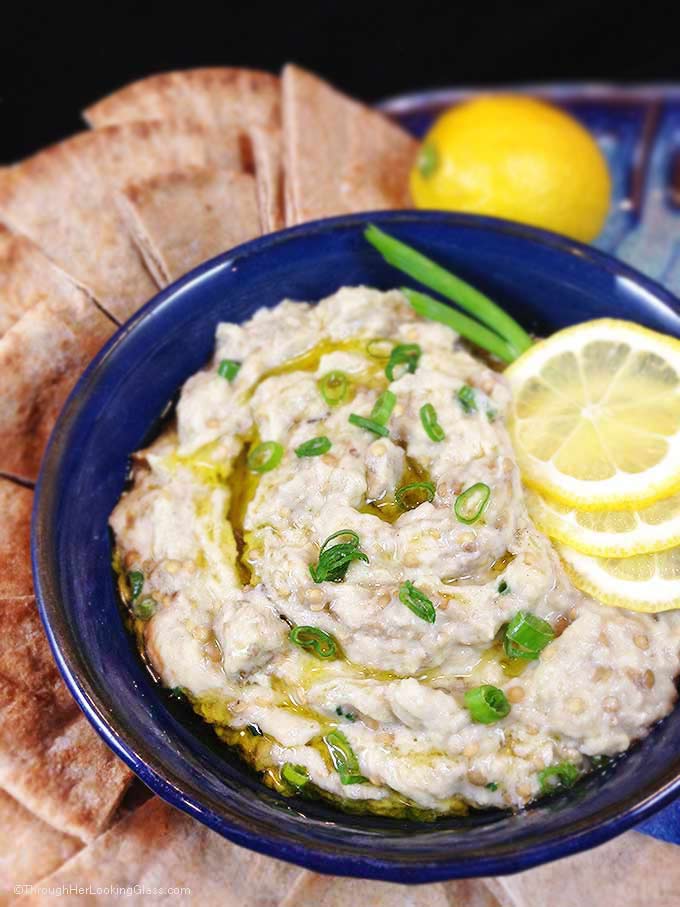 I grew up eating fairly tame but delicious American food. You'll notice that most recipes I post here are English or American recipes. That's just what I know. But my repertoire and palate are slowly expanding and I'm loving learning to cook outside my own little box. A friend from Lebanon initially introduced me to Baba Ghanoush Roasted Eggplant Dip several years ago and I fell in love! Such a flavorful dip and a great use for roasted eggplant.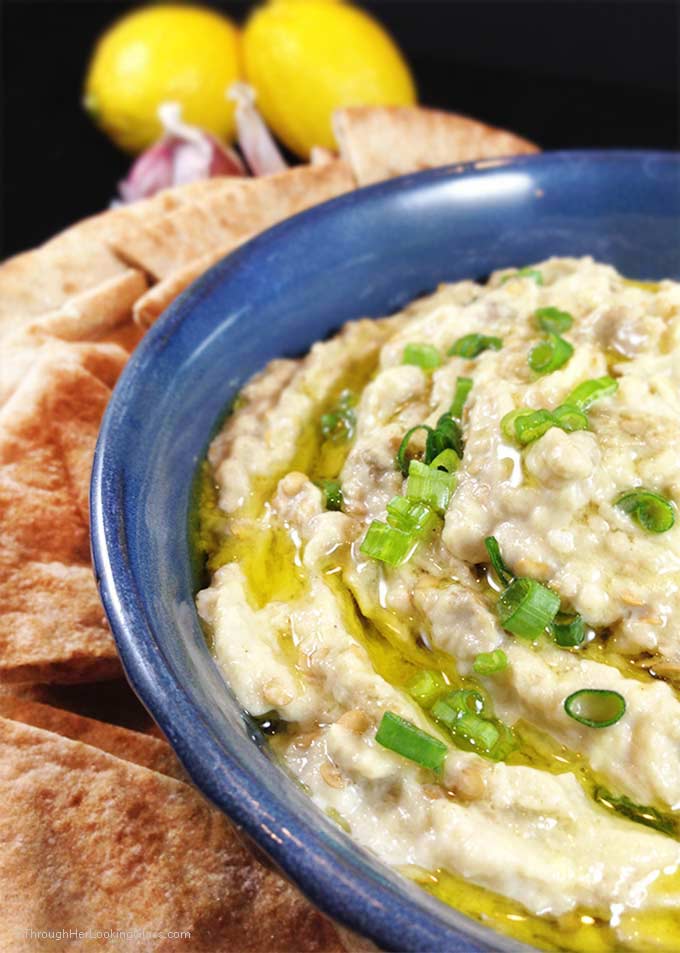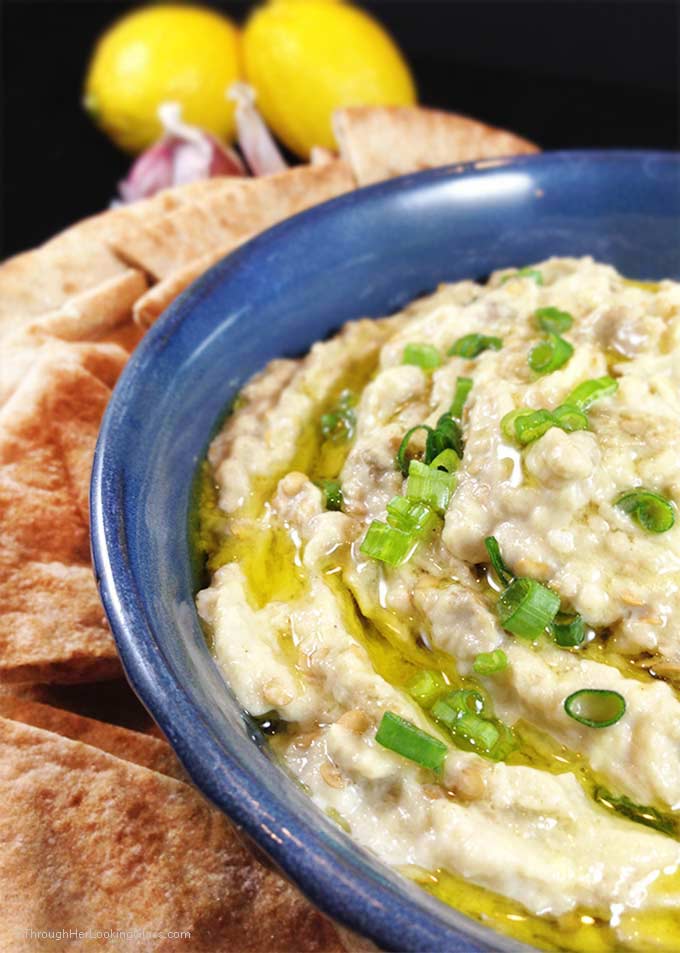 You may know that eggplant is an excellent source of dietary fiber, vitamin B1, and copper. Also a good source of manganese, vitamin B6, niacin, potassium, folate, and vitamin K.
The only eggplant dish I remember eating growing up in Rhode Island was Eggplant Parmesan. Eggplant slices dipped in egg, then breaded, pan-fried and baked in the oven with a deliciously seasoned tomato based sauce. Topped with thick slices of melted provolone or mozzarella. It was a real treat, and I remember we got that amazing recipe from the Providence Journal newspaper, published because it was a favorite dish of Governor J. Joseph Garrahy, the RI governor at the time.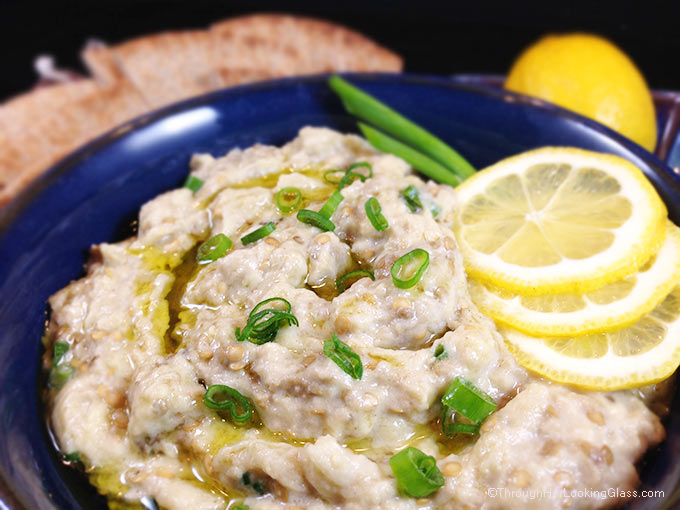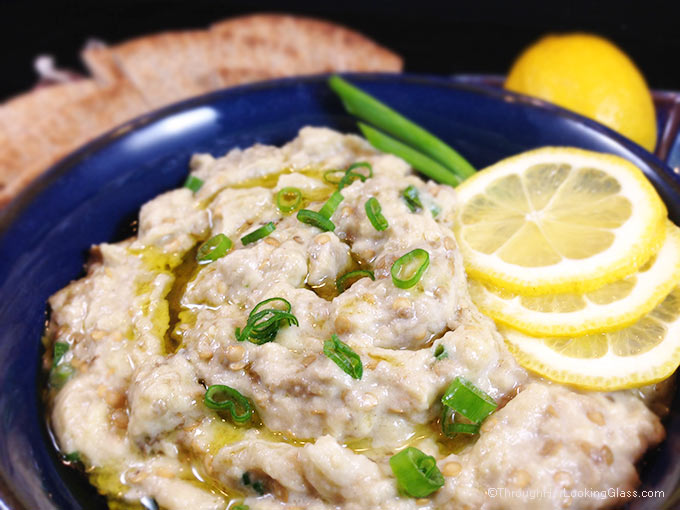 So let's talk eggplant in Baba Ghanoush Roasted Eggplant Dip. This healthy dip is so easy to make and has a unique, smoky flavor that comes from roasting the eggplant in the oven.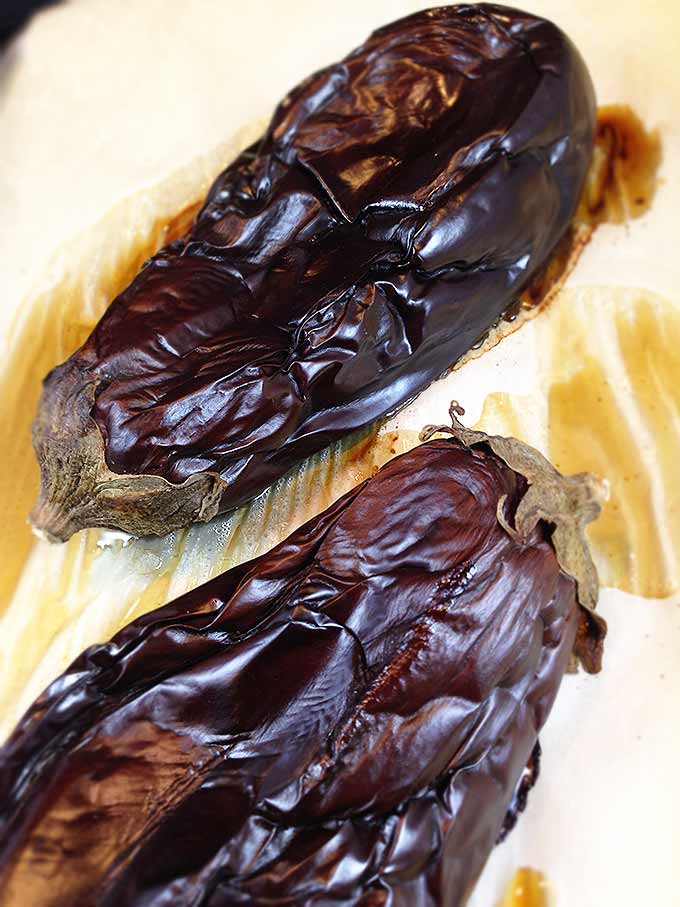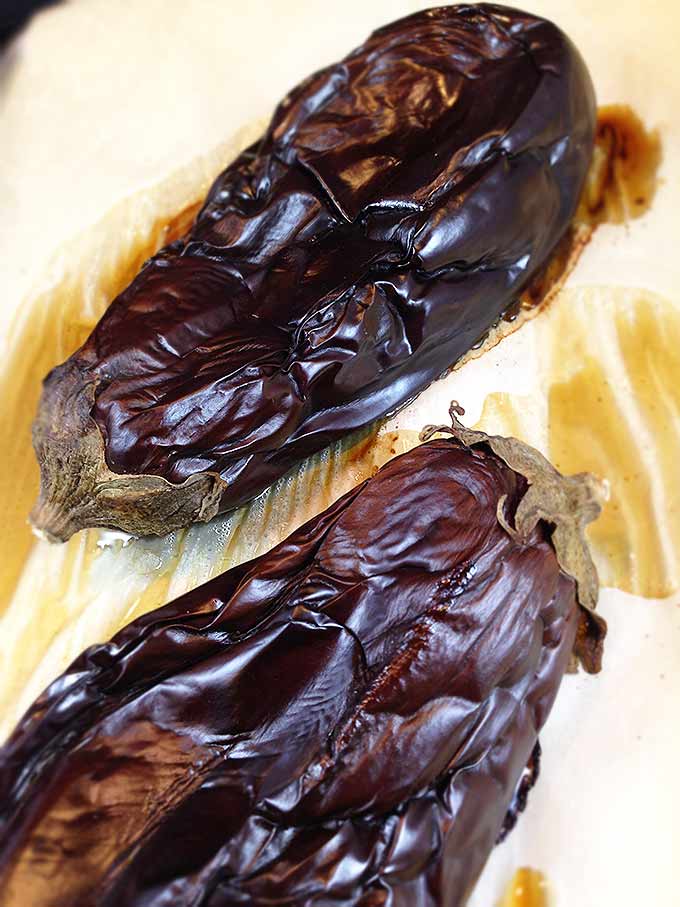 Nearly all the time making this dip is spent waiting as the eggplant roasts for an hour. The skin collapses, gets all charred and wrinkly. (That's a good thing!) I love that you don't peel the eggplant first. I can be lazy in the kitchen, and if there's a way to cut a corner, I'll do it, not bat an eye.
When the eggplant is cool enough to handle, scoop out all that delicious roasted eggplant pulp and discard the skin. Mix the eggplant with the tahini, fresh squeezed lemon juice, crushed garlic and salt. (If you prefer a smooth dip, process the eggplant pulp in the food processor 'til smooth first.)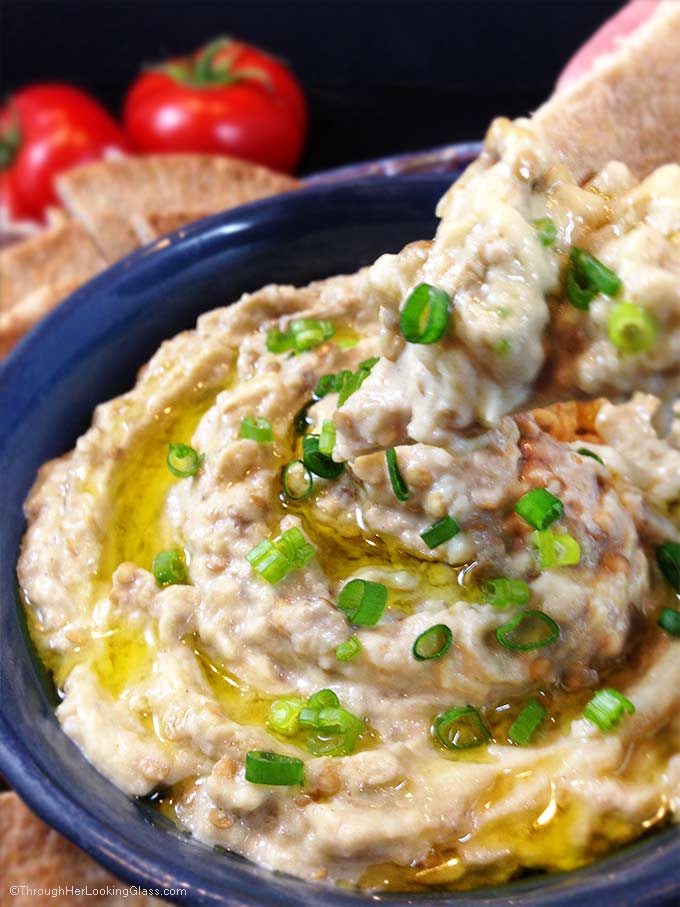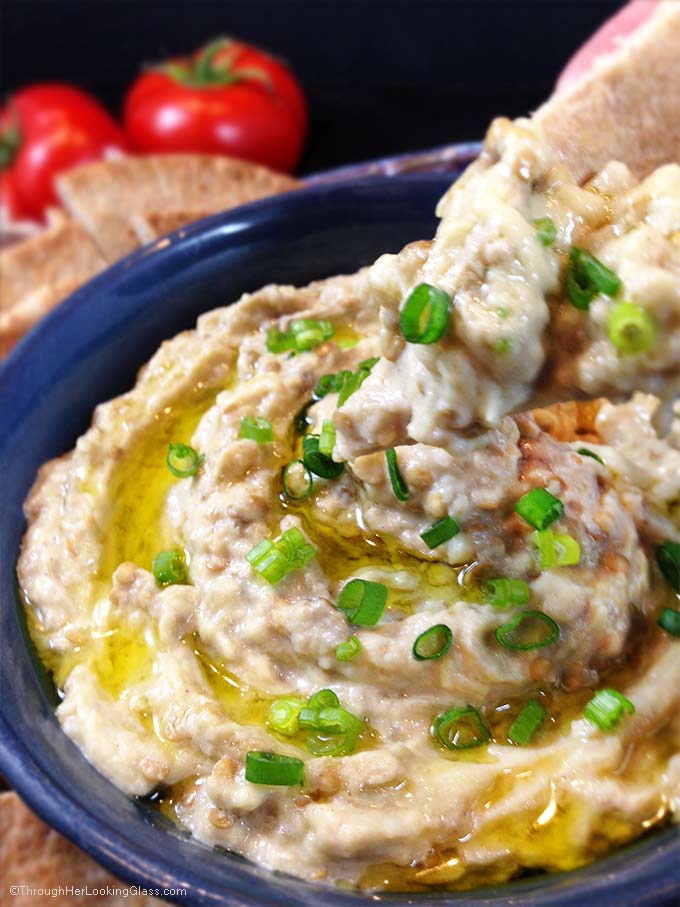 Drizzle with olive oil and serve Baba Ghanoush Roasted Eggplant Dip with pita wedges or fresh vegetables. Makes a great appetizer or sandwich spread!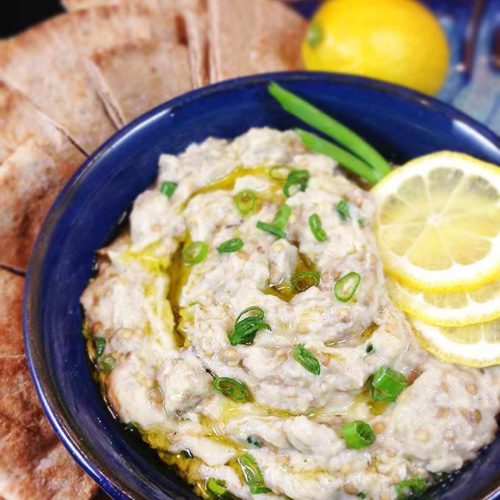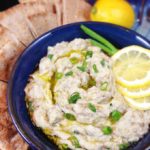 Print Recipe
Baba Ghanoush Roasted Eggplant Dip
Healthy and addictive, delicious Middle Eastern dip for fresh veggies or pita bread. Roasted eggplant, garlic, tahini & fresh squeezed lemon juice!
Ingredients
2

large eggplants

1/3

cup

tahini

3

tablespoons

fresh squeezed lemon juice

1

large garlic clove

crushed (or more to taste!)

Salt to taste

Olive oil
Instructions
With the tip of a sharp knife, poke eggplant all around (about six or eight times).

Line large tray with foil and place eggplant on tray.

Roast at 400° in oven on top rack for 30 minutes.

Turn eggplant over and roast for another 30 minutes.

Remove eggplant from oven and let cool.

When cool, scoop inside of eggplant into medium sized mixing bowl and discard skin.

(If you want a smoother textured dip, process eggplant pulp in food processer 'til smooth.)

Add tahini, crushed garlic, lemon juice, and salt to roasted eggplant pulp.

Mix with fork 'til well combined.

Drizzle olive oil on top.

Enjoy as a dip for pita bread, fresh veggies, or as a spread in wraps and sandwiches.

Serve immediately and refrigerate leftovers.


You may also like: Roasted Veggie Mediterranean Tortellini