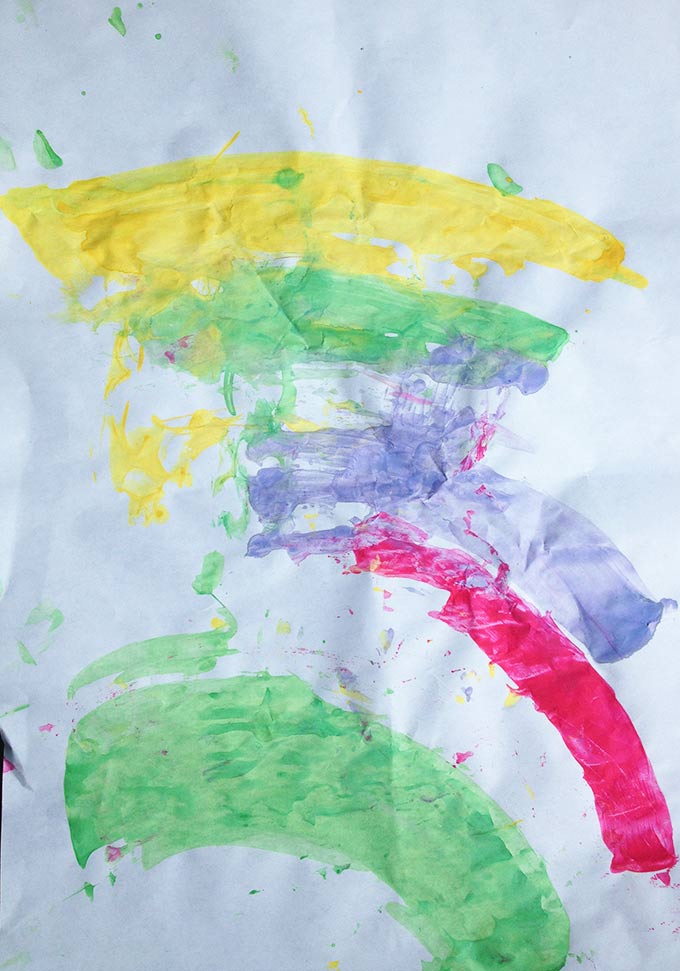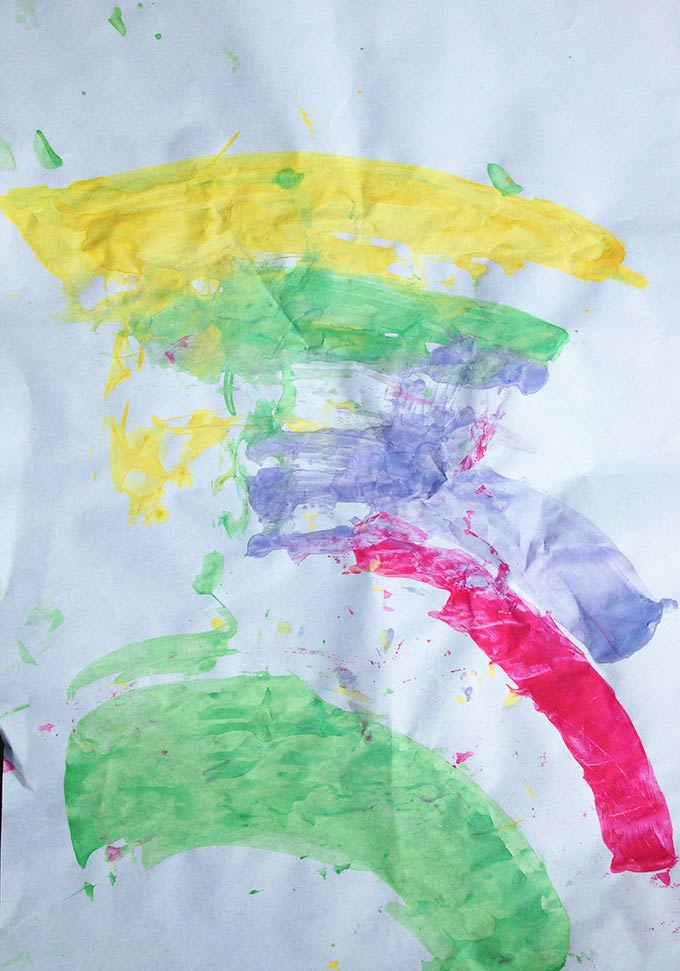 Hudson arrived home with his first real piece of "artwork" in his school backpack last week. See the paint strokes, random colors? Paint, paper, creativity. That constitutes a real painting to me. And it brought great joy, soared my heart to see his beautiful work. Those who can't talk, or talk much, even more so than the rest of us, need creative outlets to express themselves. Art's such a beautiful medium of self-expression. And Hudson came home, his little hands, fingers splotched with green, yellow, pink and purple paint. (LOTS of self-expression!) And that made me very happy too.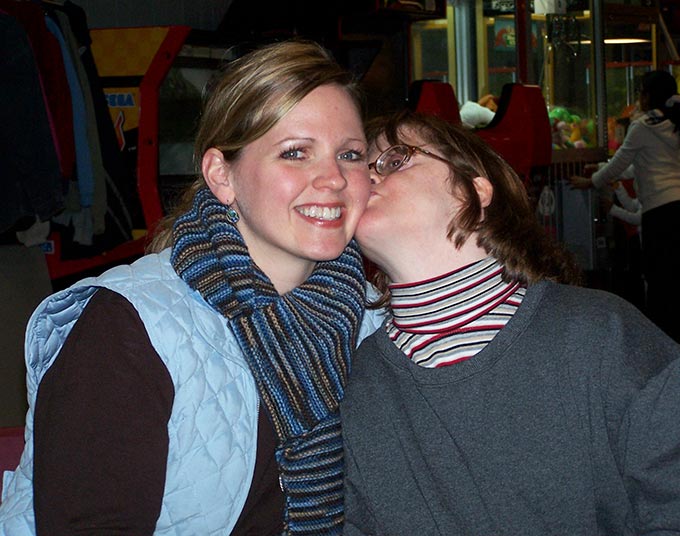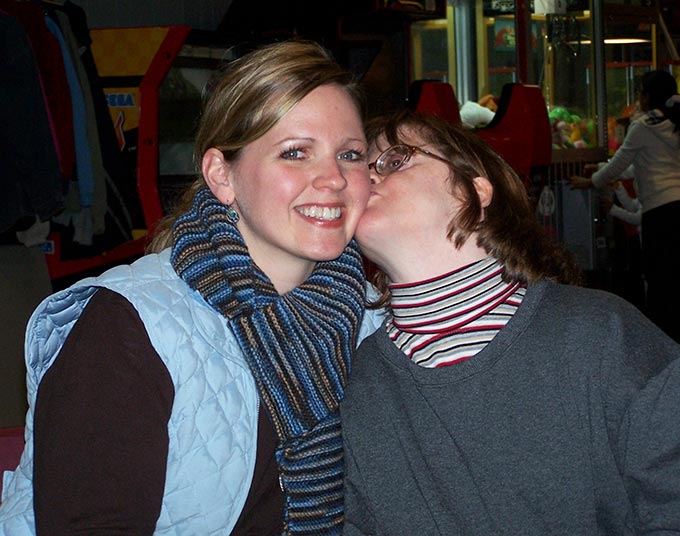 Lizzy planting a big one
You know, I've never known a time when I wasn't closely connected to someone with special needs. Some of you don't know this yet, but my sister Elisabeth has Down syndrome. I know. It's striking isn't it, that she and Hudson would both have the same diagnosis.
And you know what's even more interesting? Lizzy's diagnosis of Down syndrome is random, not genetic. And Hudson's is too. Meaning that neither my family nor I are gene carriers for Down syndrome. So what are the odds that both my sister and son would have random Down syndrome? It's so confusing. Technically, their Downs is random. But I don't think it's random at all. Or coincidence either, if you know what I mean. Hudson and Lizzy are gifts, specifically chosen to bless, grow our family. I know other families with children who have Down syndrome, and they echo these same sentiments.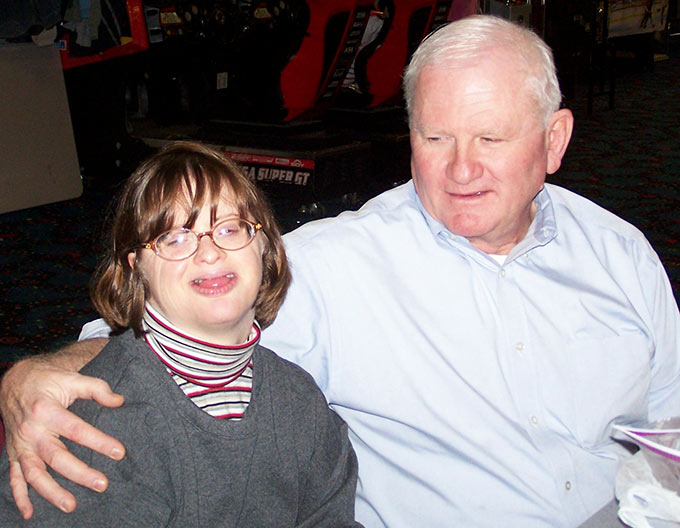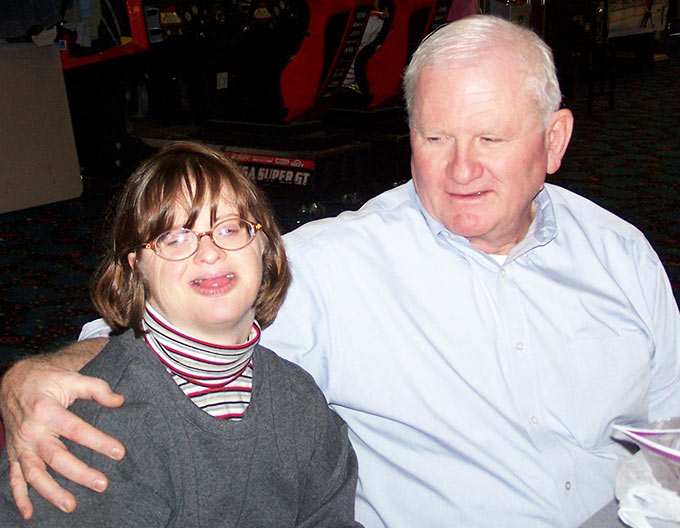 Dad and Lizzy
When I was born, Lizzy was already six.  She's always had a special place in our hearts, a kind of protected status. And even as the youngest family member and her little sister, I felt protective of her. Growing up, I remember other kids staring at Lizzy on the playground, at the park or in a restaurant. It upset me, made me uncharacteristically bold enough to say to bigger kids I didn't even know, "Stop staring." Because Lizzy knew they were staring too. She felt it, knew it was rude. And she'd say to us, her brothers and sisters…"They're s-s-s-staring at me." She didn't like it, not a bit. (Who would?) I feel that same way with Hudson, protective. Mama bearish. And thankfully, forty years later, it's a more loving and special needs welcoming world that Hudson was born into.
So Hudson's first painting last week reminded me of something amazing that happened just before Hudson was born. Lizzy was taking an art class with other special needs adults from her group home. There was an art show, they were selling their work. And my sister Susan went to the show, bought one of Lizzy's paintings.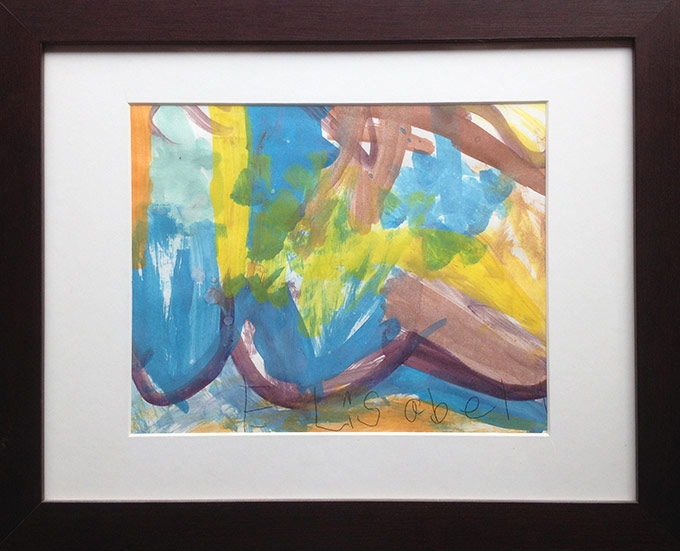 And then Hudson was born, subsequently diagnosed with Down syndrome. And Susan gifted Lizzy's painting to Hudson. Lizzy says it's tulips. Look closely, see the artist signature. We framed it, hung it in Hudson's room behind his beloved rocking chair. There's something magical in that Lizzy painted the sweet picture that now hangs in Hudson's room.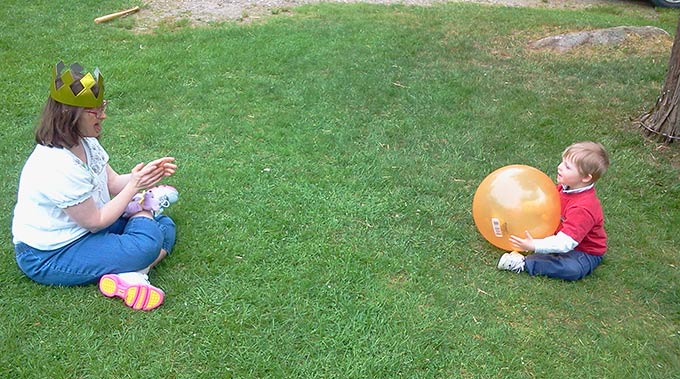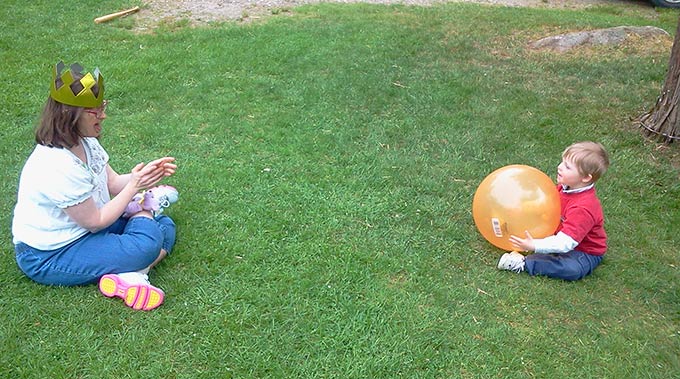 Both their painted pictures mean the world to me. As do precious Hudson and his Auntie Lizzy, shown here celebrating her birthday.
 Related post: Success or Failure