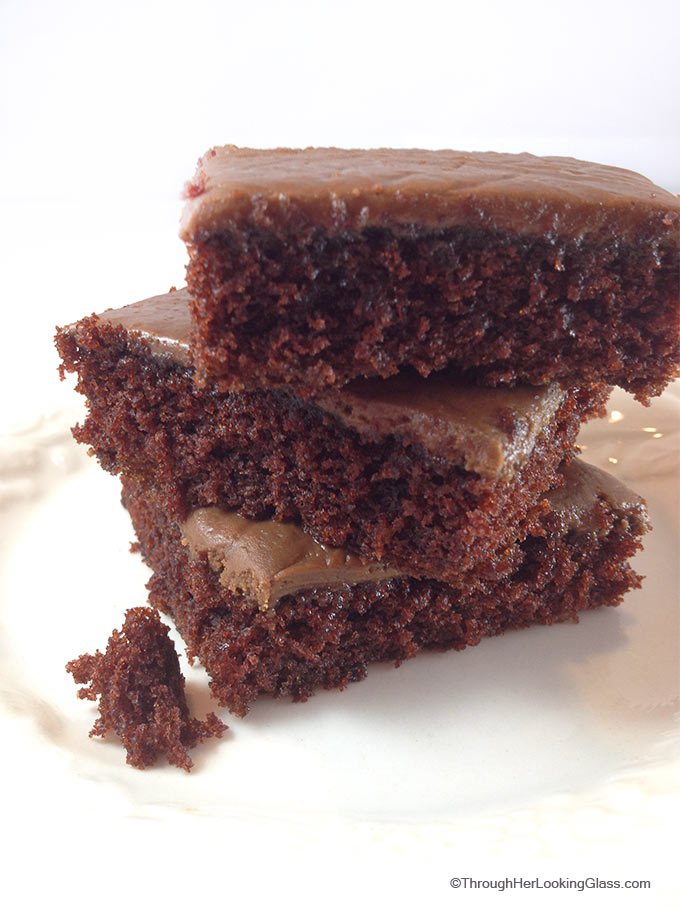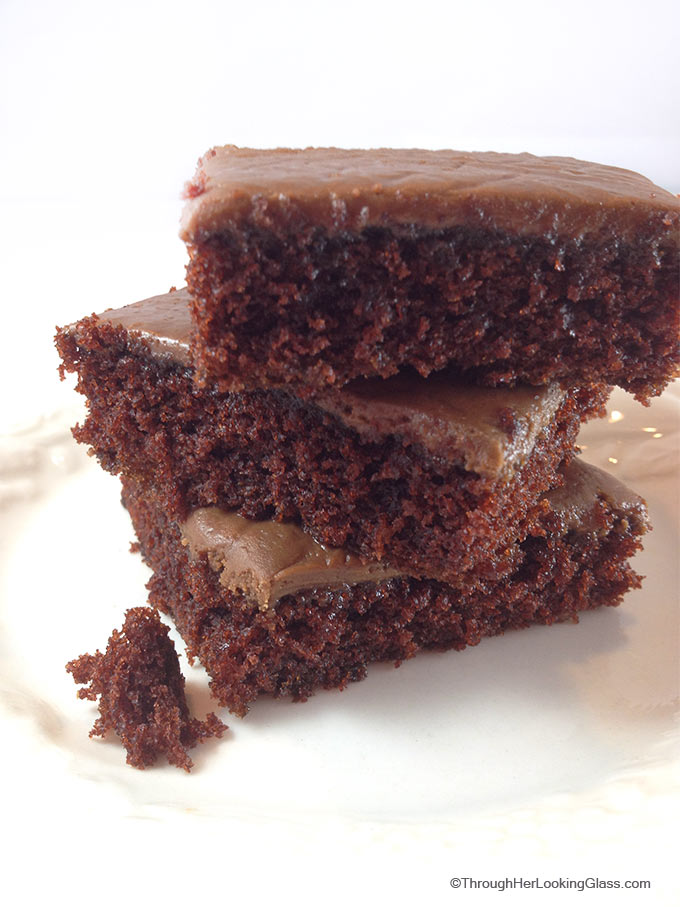 Today would be the perfect day to make this 29 Minute Decadent Chocolate Sheet Cake. I thought about naming it the Speedy Gonzales Chocolate Sheetcake. It's hard to believe you can make, bake and frost a moist Decadent Chocolate Sheet Cake in just twenty-nine minutes. But this speedy recipe takes the cake, having you do just that in no time flat. (OK, twenty-nine minutes.) But you musn't dilly dally.
My girlfriend regularly brings this fudgy cake to picnics and potlucks. I've learned from experience that you must move subtly and quickly towards the dessert table, or you're out of luck. When she told me she baked and frosted the cake in under thirty minutes, my first thought?  "Someone's nose is growing longer." (True confession.) Then I finally baked the cake myself, and no Pinocchio. Now I'm a believer too.
There are so many reasons that make this chocolate cake such a winner. Let's start with the chocolate. You just can't go wrong with chocolate, any way you slice it. The cake travels like a champ in its jelly roll pan, making it perfect for tailgating, picnics and potlucks. It's rich, delicious and bakes in the oven for just twelve minutes.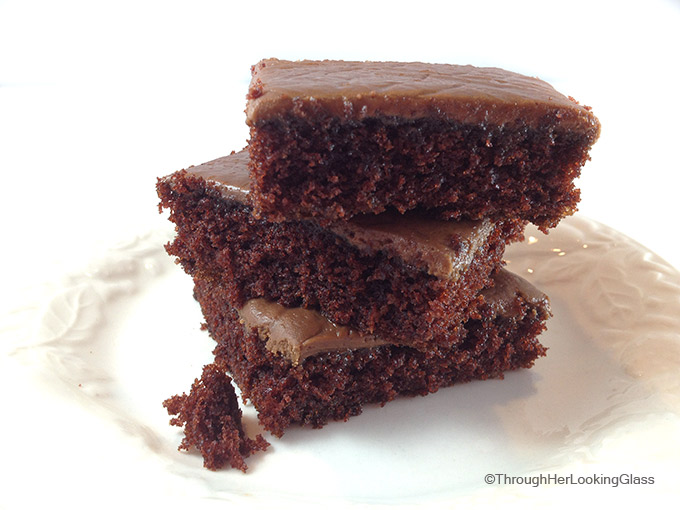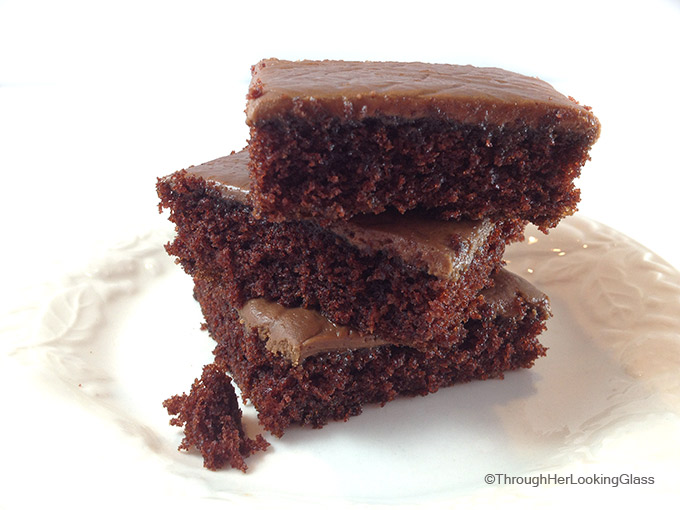 When the cake comes out of the oven, mix the fudgy icing, then spread it on the warm cake. It oozes into every nook and cranny with absolutely irresistible crowd pleasing results. Oooo la la! It couldn't be faster and easier. Or yummier! It's a blue ribbon winner every time, best enjoyed with a tall glass of icy cold milk, perfect for last minute company. Trust me, you'll spend more time sharing this recipe than actually baking the cake. Just remember: no dilly dallying!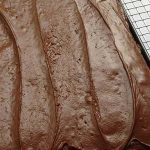 Print Recipe
29 Minute Decadent Chocolate Sheet Cake
Quick to make, easy to eat! Rich chocolate sheet cake.
Ingredients
2

cups

flour

2

cups

sugar

1

teaspoon

salt

1/2

cup

butter

1/2

cup

oil

1

cup

water

4

tablespoons

cocoa

1/2

cup

buttermilk

1

teaspoon

baking soda

2

eggs

1

teaspoon

cinnamon

1

teaspoon

vanilla

1/4

cup

butter

7

tablespoons

milk

4

tablespoons

cocoa

4

cups

1 pound Domino confectioners (powdered) sugar
Instructions
Cake: Mix together flour, sugar and salt in mixing bowl.

Separately, boil 1/2 cup butter with oil, water and 4 tablespoons cocoa.

Mix together flour mixture and boiled ingredients with mixer.

Add buttermilk, baking soda, eggs, cinnamon and vanilla.

Pour batter into greased and floured 10 X 15" jelly roll pan.

Bake at 400 degrees for 12 minutes or 'til toothpick comes out clean.

Fudgy Chocolate Icing: Melt on low heat, 1/4 cup butter, milk and 4 tablespoons cocoa.

Add in powdered sugar.

Mix 'til smooth.

Pour and spread onto warm cake.

Cool.
Notes
Assemble the ingredients before starting.
If you don't have buttermilk on hand, mix 1 1/2 teaspoons vinegar with 1/2 cup milk. Let sit a few minutes. Voila, buttermilk!
Preheat oven before mixing cake batter.
Use a greased and floured 10 X 15" jelly roll pan or line with parchment paper.
Make frosting immediately after cake is out of the oven, then frost.


I said this was a quick cake. Not that it wasn't messy.  (Hope the baker isn't also the dishwasher. And good luck on that!)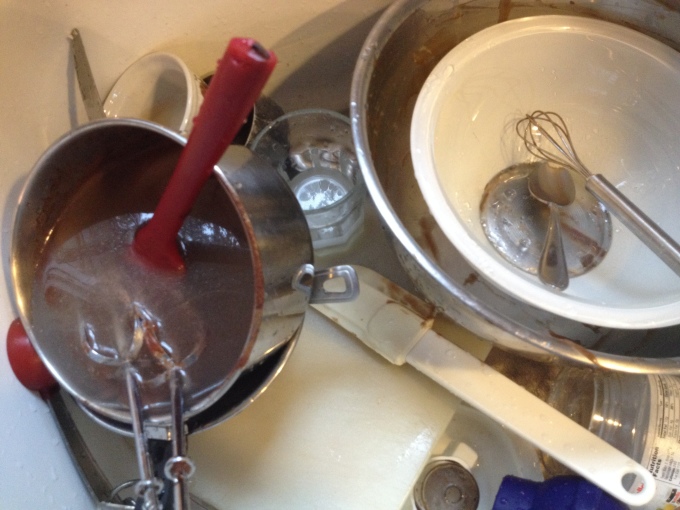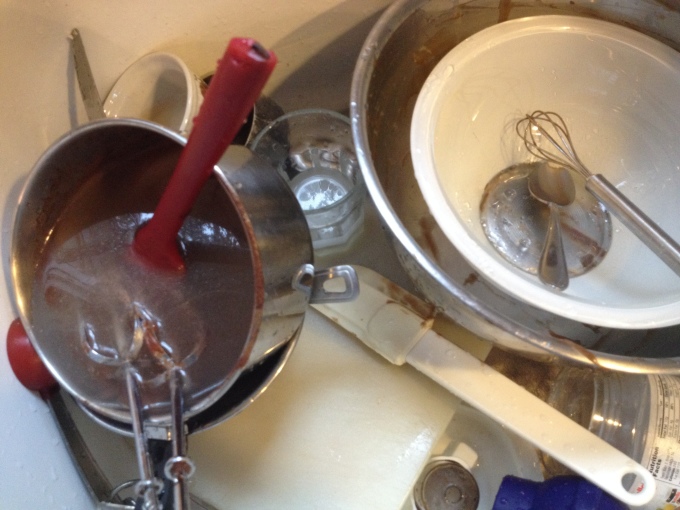 You may also like: Brick Street Chocolate Cake