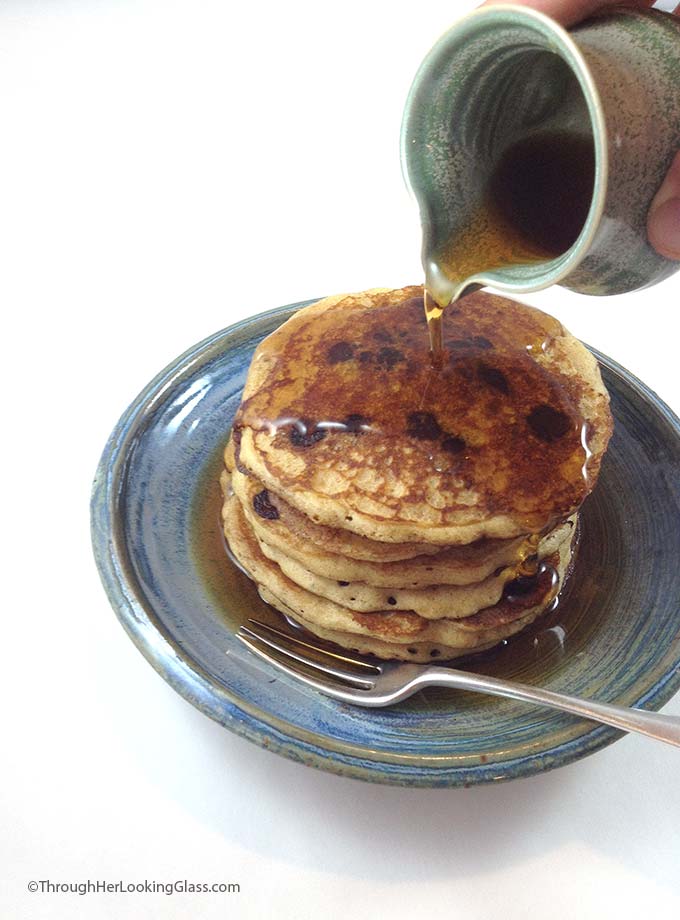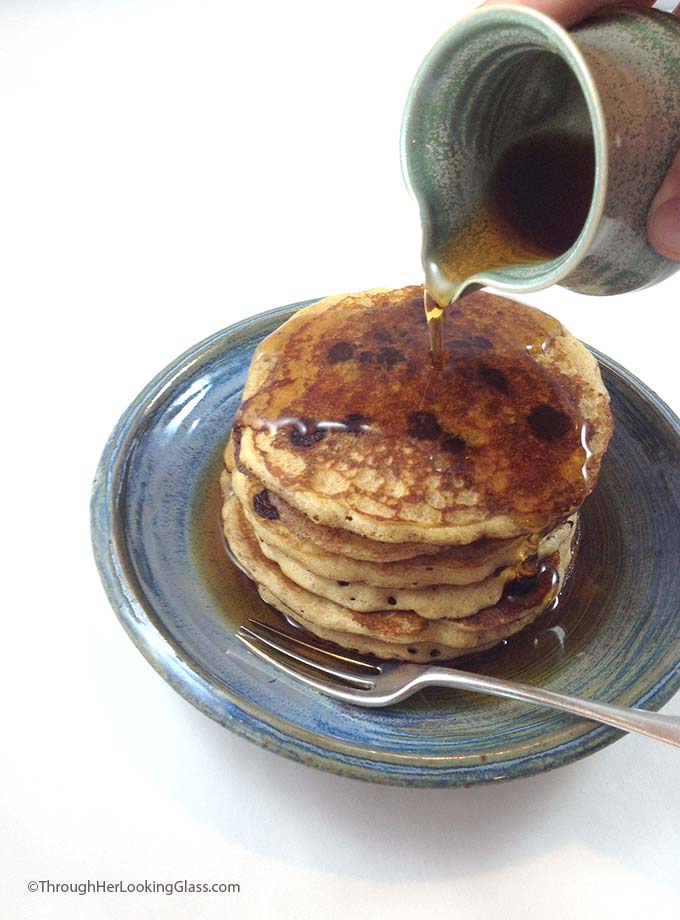 We've been eating Catherine's Whole Wheat Chocolate Chip Pancakes for decades now. And we still love 'em. This is definitely our go to Saturday/Sunday pancake recipe. We've enjoyed these pancakes at many a Thanksgiving family gathering in Virginia and Pennsylvania. These pancakes are healthy, hearty and fill up a tribe of hungry boys. (I would know!)
It was a frigid New England morning today, and the cereal cupboard was empty. Turned out to be a blessing in disguise because we made Catherine's Whole Wheat Chocolate Chip Pancakes, served them up with real Vermont maple syrup. Mmmmm….the best. (These pancakes would also be excellent with DIY Vanilla Bean Maple Syrup . But alas, we have only bottle left in the pantry and I'm just not ready to part with it yet.)
We like add-ins in our pancakes. Like blueberries. Or raspberries. Or even chocolate chips. As you can see, today we sprinkled on chocolate chips. Because it's the weekend, and it just seemed the right thing to do. (It also made the boys very happy.)
I've had dry whole wheat pancakes. These are not those pancakes! These pancakes are tender and yummy. I think it's the buttermilk. I usually use all whole wheat flour in this recipe, but today used a mixture of half King Arthur white wheat flour and half King Arthur whole wheat flour. The pancakes had a really nice flavor.
Tip: I find that this pancake batter tends to thicken as it sits while I'm cooking up batches. If this happens for you, just add a little more milk to thin the batter to the consistency you like.
Hope you love this Catherine's Whole Wheat Chocolate Chip Pancakes recipe as much as we do. And many thanks to Catherine, for sharing such a great, healthy recipe with us for these many years!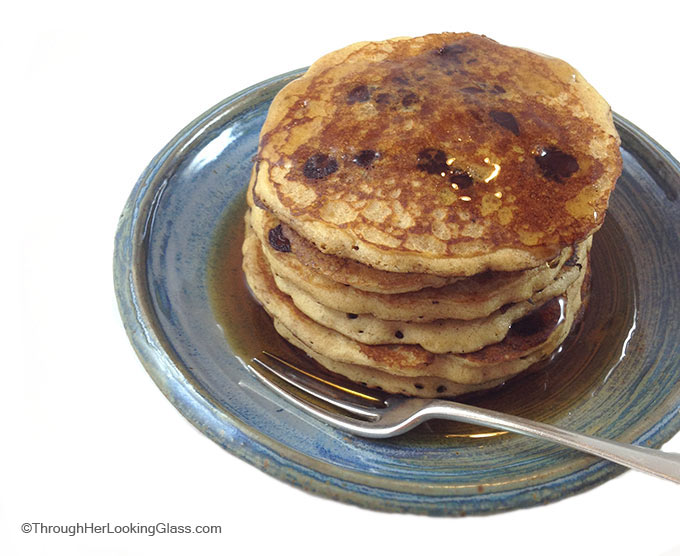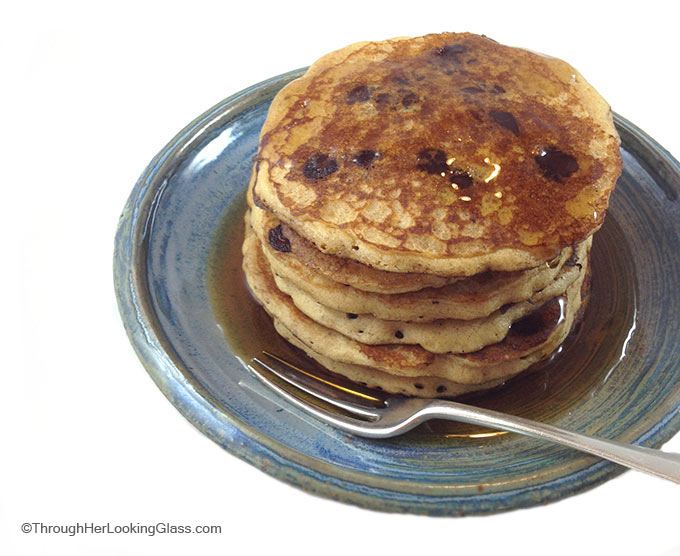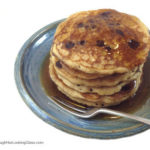 Print Recipe
Catherine's Whole Wheat Pancakes
Catherine's Whole Wheat Pancakes. Tender, whole wheat pancakes that will keep you busy flipping at the griddle to keep up with demand.
Ingredients
2

cups

buttermilk

1

egg

1/2

cup

vegetable oil

1/4

cup

sugar

2

cups

whole wheat flour

1

teaspoon

salt

1/2

teaspoon

baking soda

2

teaspoons

baking powder

Optional: blueberries or chocolate chips
Instructions
Whisk together buttermilk, egg and vegetable oil.

Stir in sugar, wheat flour, salt, baking soda and baking powder.

Heat griddle over medium heat, greasing well with butter.

Pour batter by 1/3 cupfuls onto hot griddle.

Optional: Sprinkle on chocolate chips, blueberries or other add-ins on top of batter circles.

Cook 1-2 minutes, 'til bubbles form and start breaking.

Flip and cook 1-2 minutes more, or 'til cooked through.

Butter grill as needed in between pancake batches.

Enjoy!!!
Notes
Don't have buttermilk on hand?
Add 2 tablespoons vinegar to 2 cups of milk.
Let sit for 5 minutes and use in place of buttermilk in this recipe.
Related post:
DIY Vanilla Bean Maple Syrup