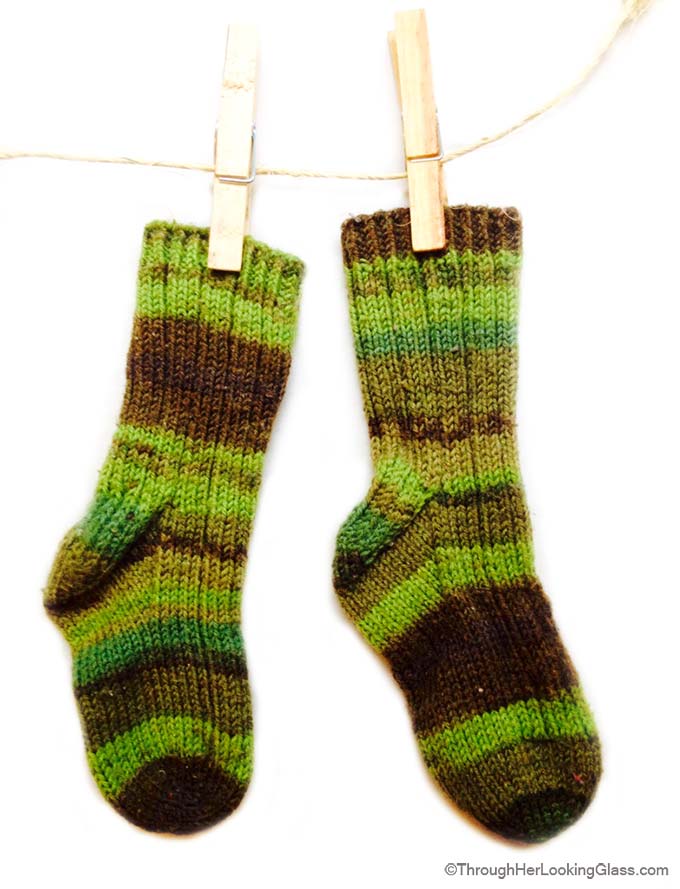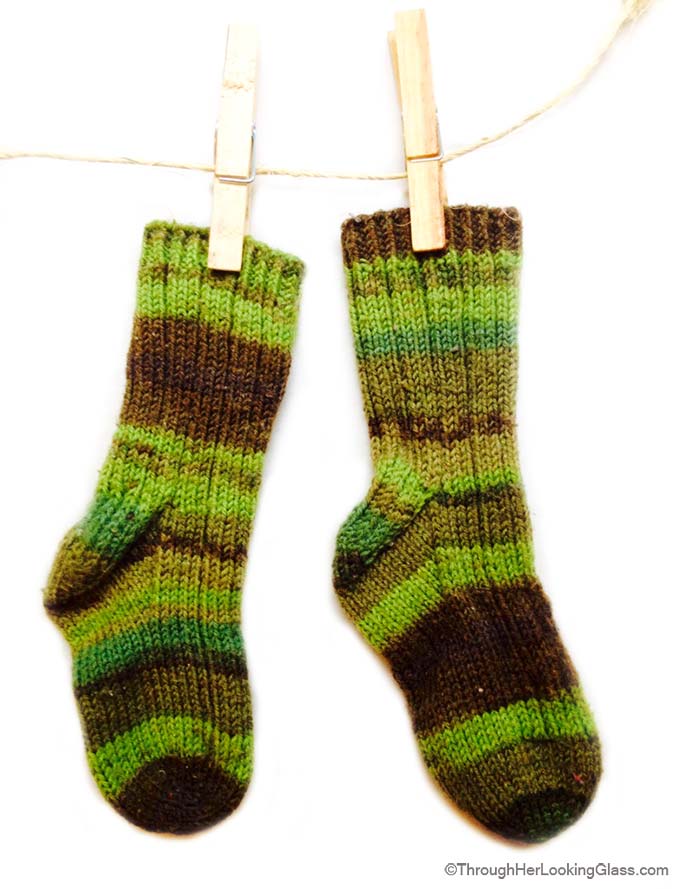 Curiosity killed the cat. (But not me.) It all started with a nosy question. And honestly, I don't regret asking it, not for a minute. That was four years ago, and I'm a different person today.
Wax up your Wings   8:34  10/14  by Allie Taylor
I'd met her only minutes before. A flash of yarn and bamboo peeked from her tote bag. It whispered to me, calling my name. The meeting eventually ended, and I mustered up the courage.
"So what's that in your bag?"
She fished out a ball of wool and the beginnings of a striped sock. She was knitting on tiny bamboo double pointed knitting needles. I was smitten on the spot.  The stitches were small and even. The blue ribbed cuff complete, she was rounding the corner of the heel turn. A piece of art. While I knew I could never do anything so intricate, I complimented her profusely. Then it was her turn to ask me a question. A very direct one.
"Would you like to learn to sock knit? Because I'd be happy to teach you."
ME? I was taken aback. I'd barely met the woman! And besides, it's other folks who do complicated. NOT ME! From a safe distance I marveled at knitters constructing hats, mittens, sweaters and blankets. It was all greek to me. And while I secretly yearned to join that club and make beautiful hand knit treasures, I lacked the courage and confidence to pursue learning how. I also knew an unpleasant little secret this nice but naive lady didn't: teaching me to sock knit would likely be a frustrating and nearly impossible task. (For all parties involved.)
I quickly jabbered a few inept excuses. "Thanks for offering, but I'm super busy right now. I really can't add another thing to my hectic schedule. Did you know I have four boys?"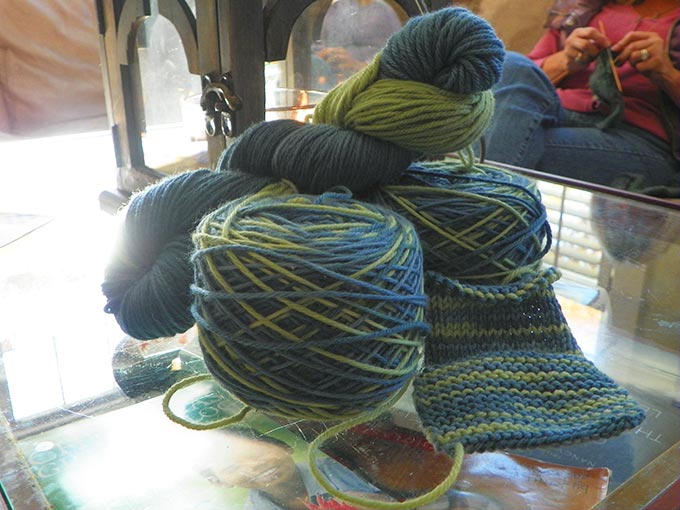 It was all technically true. But the excuses rolled off my tongue a little too easily and with alarming speed. In retrospect, I realize my quick excuses were rooted in fear. The fear of failure. Deep down inside I somehow truly believed I wasn't able to learn something new and complicated.
She told me to call her if I changed my mind. I haphazardly scribbled down the number, with no intention of calling.
But over the next days, I found myself daydreaming about those beautiful socks: the whimsical irregular stripes, the tiny, exact stitches and the deliciously smooth feel of the light wooden needles in my fingers. I contemplated the joy it would bring to lovingly knit custom socks for my family and friends.  Socks, socks, socks. I just couldn't get them out of my mind.
The next week I mentioned her teaching offer to several friends, and they had interest too. Nervously, I dialed her number. She quickly agreed to teach "us",  and three weeks later the first sock knitting class took place in my living room. Nine other women showed up. (Word: it travels!) She patiently taught us. Needles tripped. Stitches slipped. At times I thought I might even quit. But she spurred us on.
"You only learn from your mistakes. I know you can DO this," she'd say. She was right.
I COULD DO THIS!
Each of my many mistakes (and her optimism) guided me towards understanding and perfecting the sock knitting process from cuff to toe. I've now completed two dozen pairs. There are many happy walking feet!
Hand knit socks are a gift I pour my heart and soul into, a gift of love. Each finished pair reminds me I'm capable of learning anything.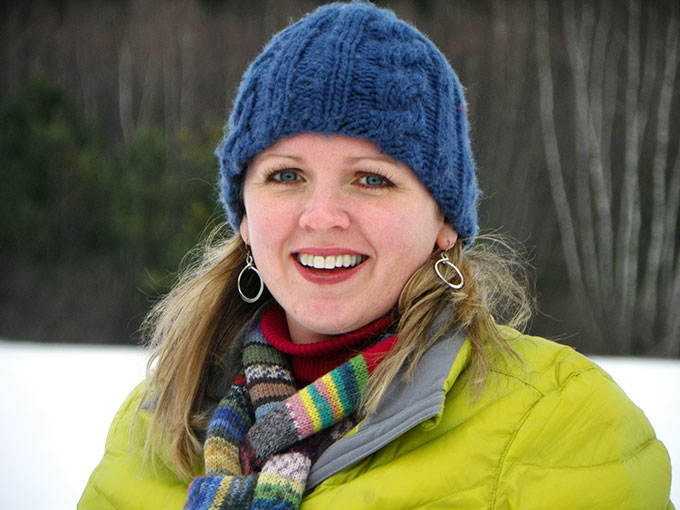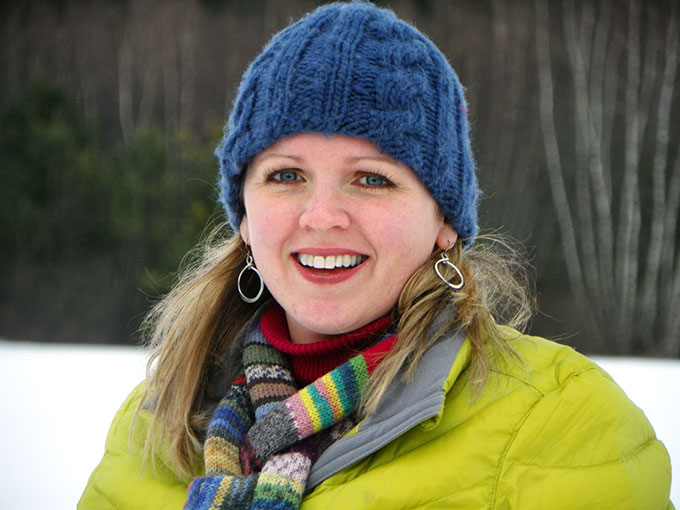 With newfound confidence, I've gone on to knit hats…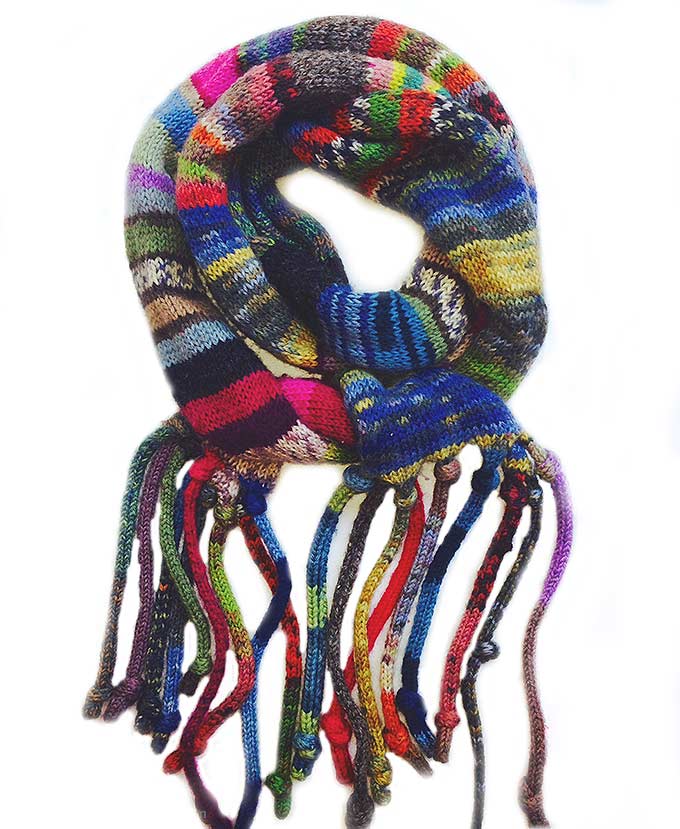 an octopus scarf (my name for it)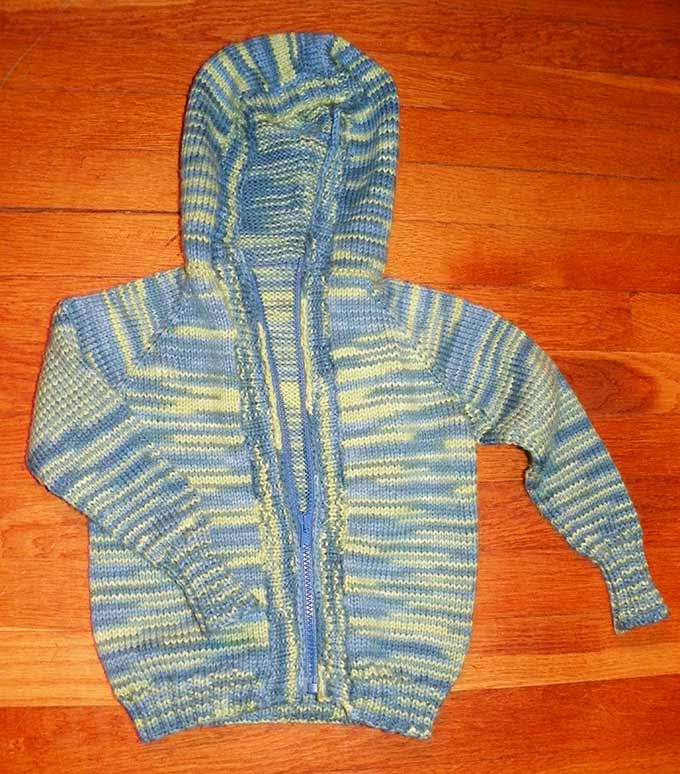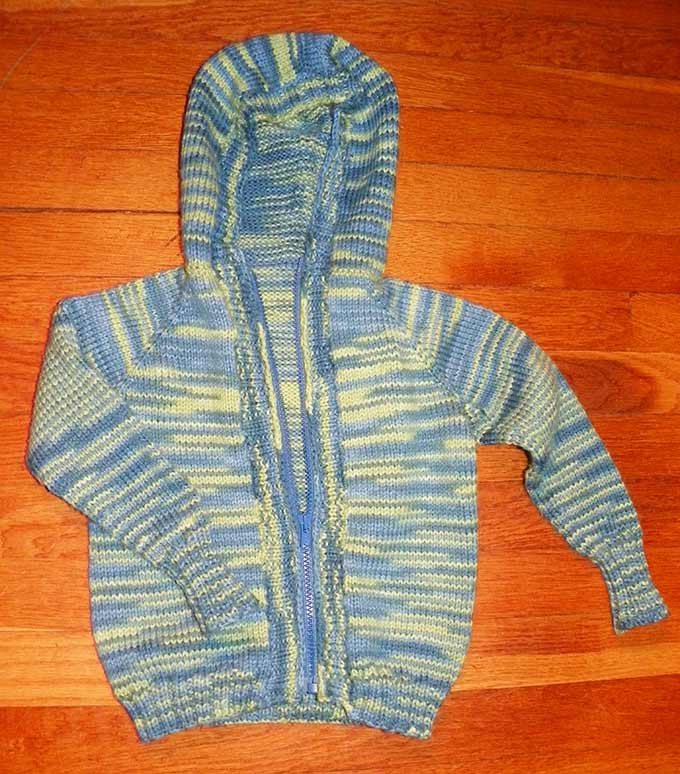 and even a cozy hoodie! (for Hudson)
But hear me now. While I love knitting, it's not about the knitting!
I'd always wanted to write too, but the timing never seemed right. (Did I fear the failing?) So I finally picked up my pen. I've done public speaking recently, and found to my amazement I enjoy that too. (Who knew?) I see challenges through different eyes now. No longer do I shy away from new endeavors. A pioneering "yes I can" spirit glows in this forty-something mama.
It's not just about me. It's about you too.
Have you dreamed and yearned to try something new, just lacked the confidence to step out? Today's the day. Why not? Carpe diem! If you're twenty-one or ninety-one. Google it. Youtube it. Never in history has more information been available at our fingertips. Put feet to your dreams today. Seek a mentor in the field. Keep knocking on doors 'til you find that passionate achiever who'll inspire and believe in you, even on the days when you don't believe in yourself.
Said Margaret Fuller, eloquently,  "If you have the knowledge, let others light their candles by it". Exactly what my mentor did for me. She lit not only my knitting journey, but my life learning journey as well. In the process, she became a very dear friend.
The cycle of learning has completed one revolution. My own sock knitting apprentice just closed the toe on her first sock. I say from experience: passing on the learning torch brings great joy.
Volunteering precious time to mentor/invest in someone else is a priceless gift for the giver and receiver. An investment towards a more caring, connected community and a brighter future for all.
So Wax Up Your Wings and SOAR! And light our world, wherever your learning journey leads.
BECAUSE WE NEED YOUR LIGHT!
It's going to be an amazing ride, more than you can dream or imagine. Bon voyage!
(This post lovingly dedicated to Sue.)