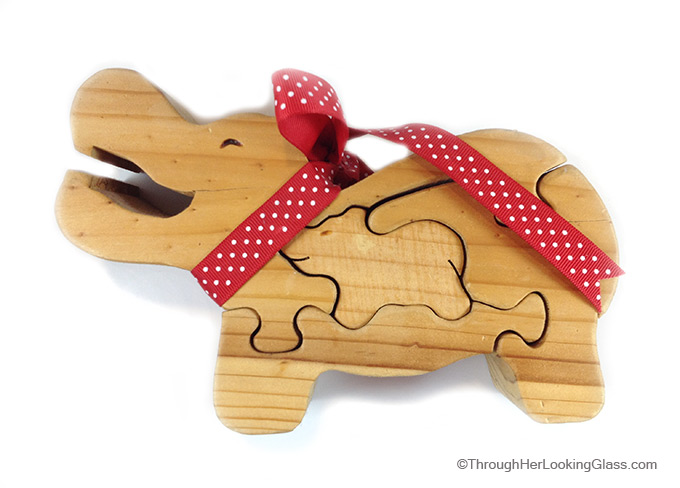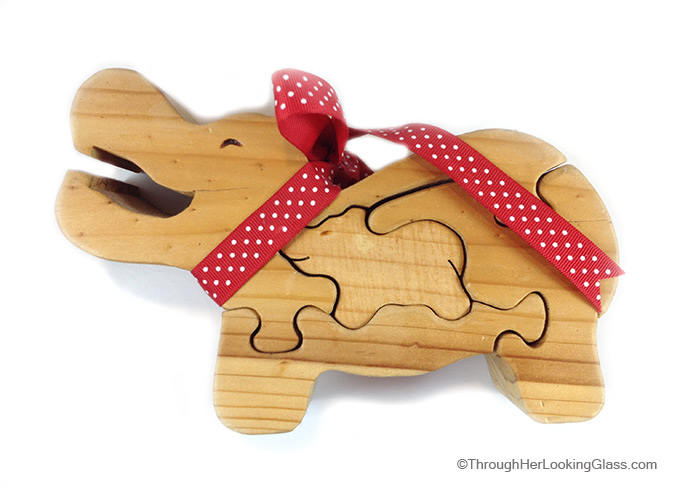 It's bitterly cold here today. But not as cold as in Chicago. School's cancelled there today due to the freezing temps. So says my teacher cousin. (If you haven't yet read my humorous story about the cold here in New England, don't miss Misery Loves Company )
When it gets frigid around here, we have to get creative entertaining ourselves. So I was thinking that today might be the perfect day for Show and Tell. What do you think? Ok. So let's do it this way. Everyone who doesn't want to do Show and Tell today, raise your hand.
OK. OK. Would you believe it? I don't see any hands. Not a one. No rotten tomatoes either. So that works out nicely for me, and hopefully for you also. (Thanks for the vote of confidence.)
You probably think I want to do Show and Tell to return to happy childhood memories. The thing is, you'd be right. There were lots of happy childhood memories. But you'd also be wrong. Because none of those memories involve Show and Tell. I don't ever remember doing Show and Tell as a kid. At school or anywhere else. So what I'm trying to say is, I was royally cheated out of Show and Tell. So today's my turn, finally. We're gonna have Show and Tell, and I get to bring more than one thing to make up for all the lost time.
So as I was gathering things for Show and Tell today, I chose random items that bring me joy. Honestly, I didn't really pick these objects. It was more like they picked me. They either entered or re-entered my life in the last few weeks. And you'll notice a recurring theme. So let's go. (Are you in?)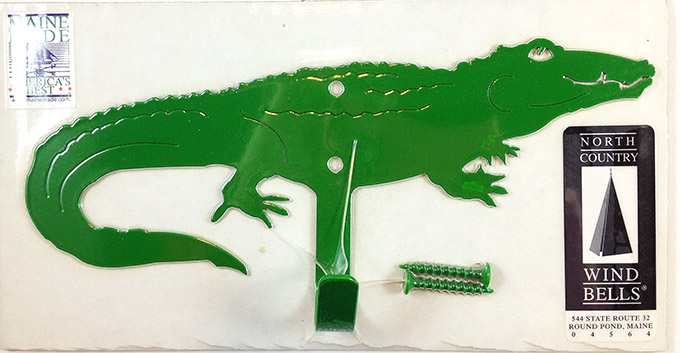 So THIS, is an alliegator hook. You know, "see you later alliegator?" That's me, Alliegator. Loved this clever Christmas present. It hails from North Country Wind Bells in Round Pond, Maine. They also make really neat "wind bells" that mimic the sound of various buoy bells from around the country. These make an awesome, unique gift… especially for someone like my dad who grew up near the Portland Headlight. http://www.northcountrybells.com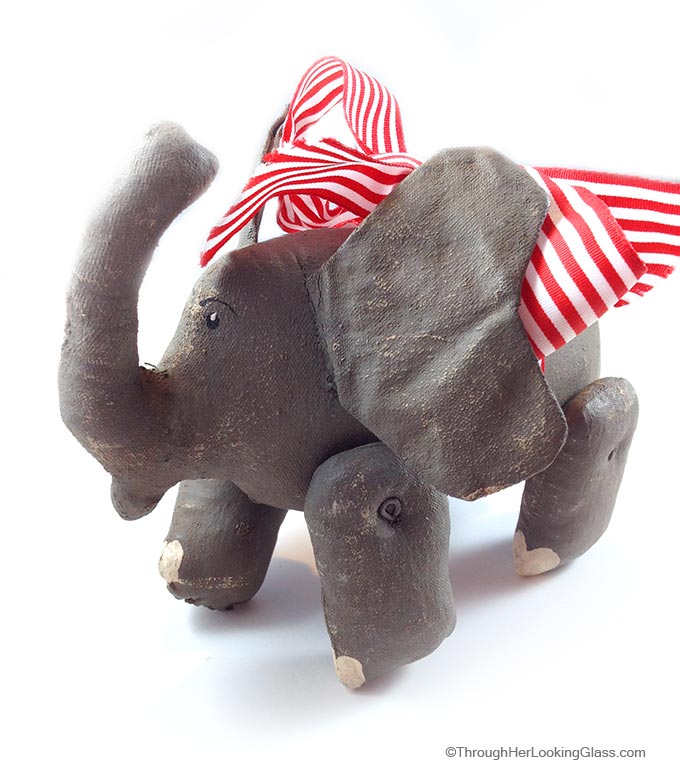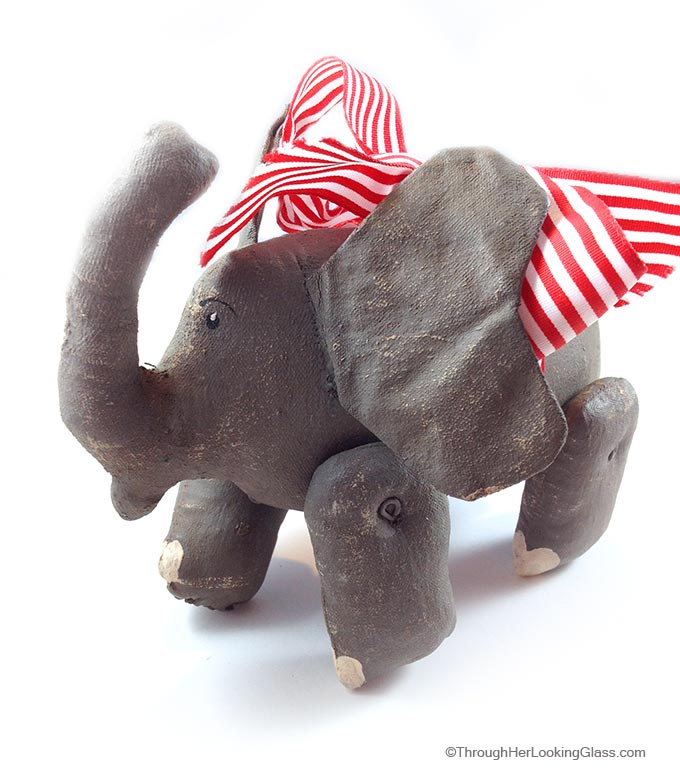 This elephant apparently wanted to come back home and live with us. I bought this elephant for a white elephant gift exchange, maybe five or six Christmases ago. I don't even remember where I got it. So one of my friends who ended up with him at the exchange, returned "him" last week.  Said he really belonged with us, considering the recent events of last fall. (You can read more about those crazy events here.  Near Death by Elephant  and DIY Clay Elephant Ornaments ) This elephant's cute, and I'm glad he's returned home.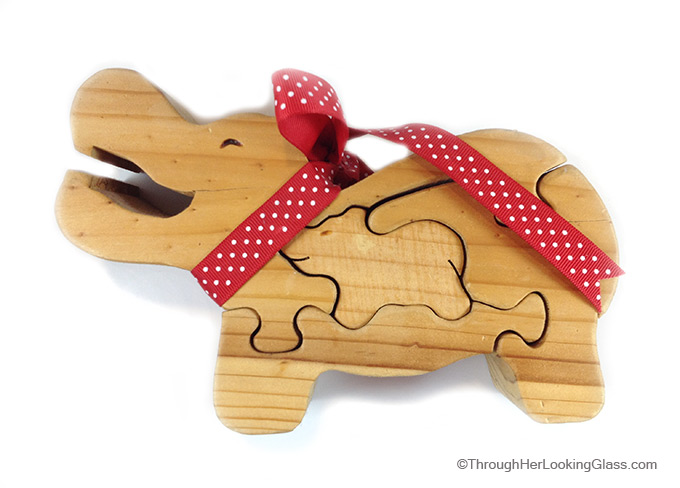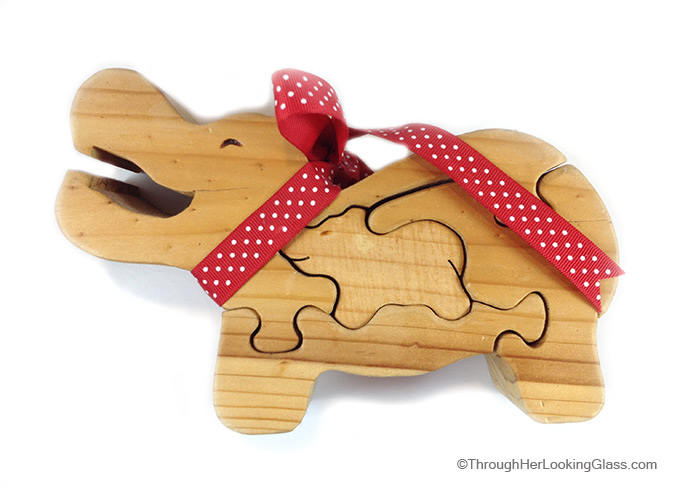 So I found this adorable hippopotamus puzzle at a little gift shop in Bar Harbor, Maine five years ago back when I still had three children. Jon and I were staying up there for the weekend and we found a great little shop with unique handmade children's wooden puzzles. Sorry, I can't even remember the name of the shop. But we bought this as a gift for one of the kids. Each year at Christmas I tie a bow around her neck. Yeah, it's a she. And did you notice, she's expecting? Yup, a pregnant hippo puzzle.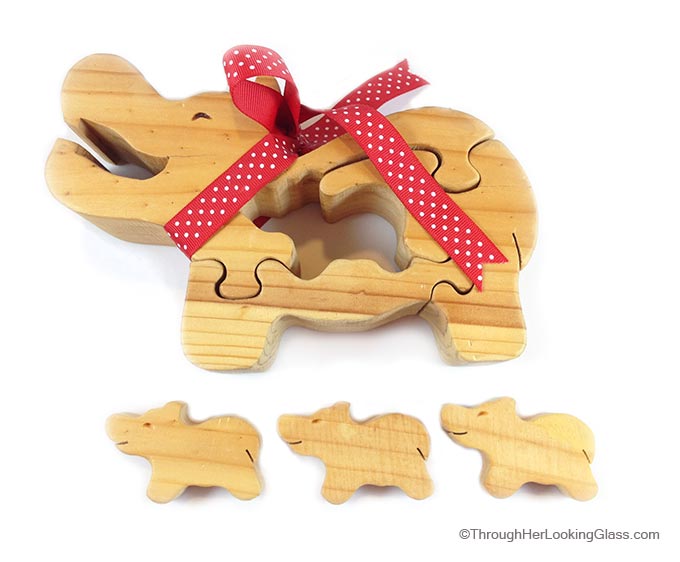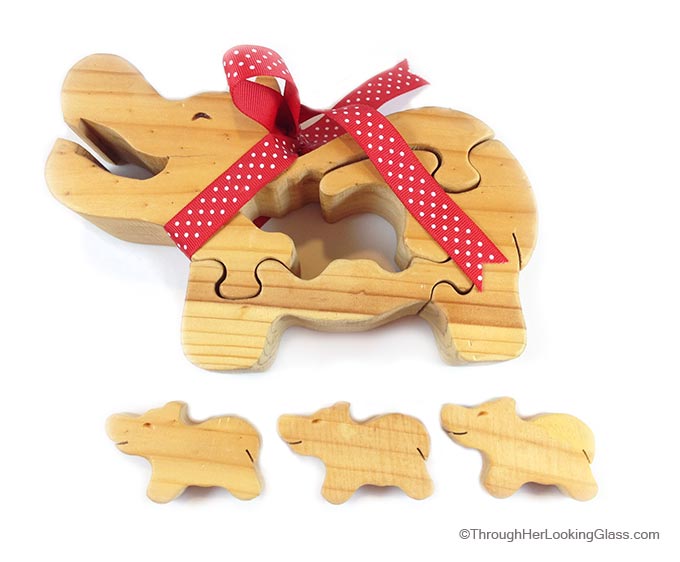 She's expecting… times three! (No subliminal messages here. I'm not expecting. And certainly not triplets.) I just thought it was adorable and you might too.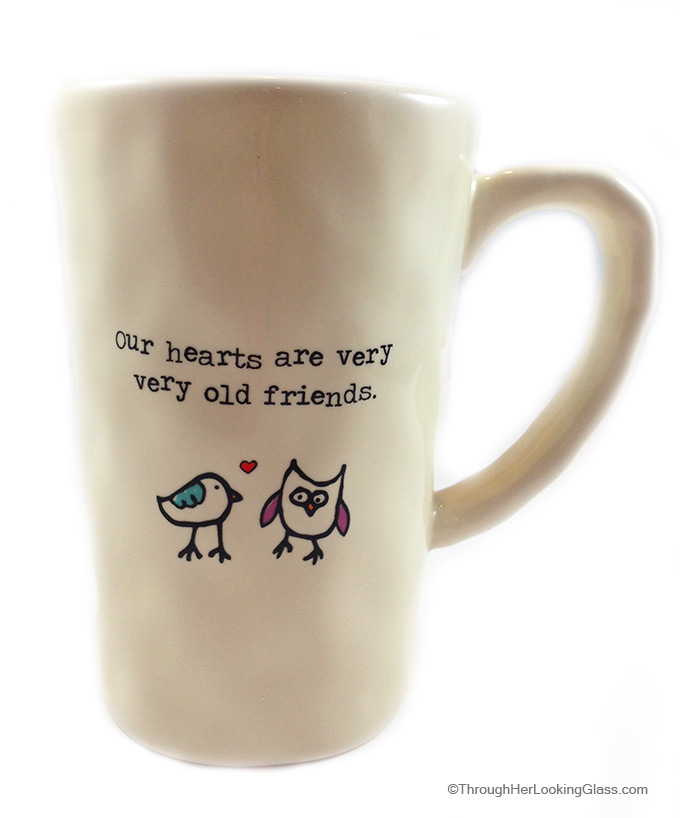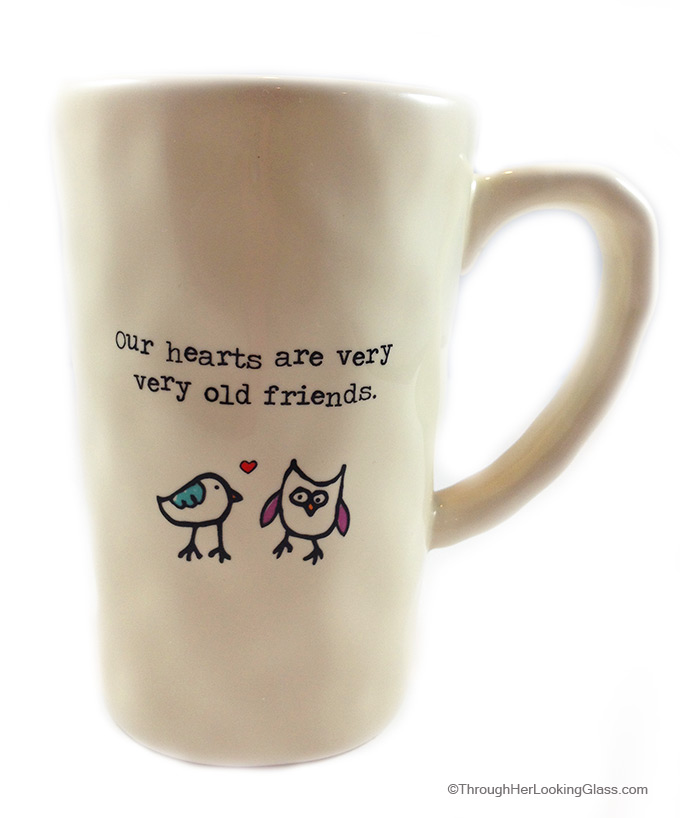 And bear with me: one more. I love this mug. Because it says it all. And because of who gave it to me. My heart is blessed to be very very old friends with some beautiful hearts. I sincerely hope you are also blessed that way. One of the most wonderful gifts in life: deep, lasting lifetime friendships.
So I guess you figured out the recurring theme by now….animals.  Seriously, I didn't plan it that way, it just kinda came together.
So a polite person would say, "Now it's your turn. And what did you bring for Show and Tell today?"  But I guess I'm still working on my manners, because I don't think you can even post pictures here in the comment section.
Did you get to do Show and Tell growing up? Maybe you'd like to comment on something memorable that happened or something you brought. Or what your kids or grandkids brought. Or something(s) you find unusual or interesting in your life today. What's on your mind?
"Remember, no man (or woman!) is a failure who has friends." – It's a Wonderful Life