Summer Quesadilla De Marisco: stuffed with fresh avocado slices, shrimp, melted Havarti dill cheese and green chilies. Perfection.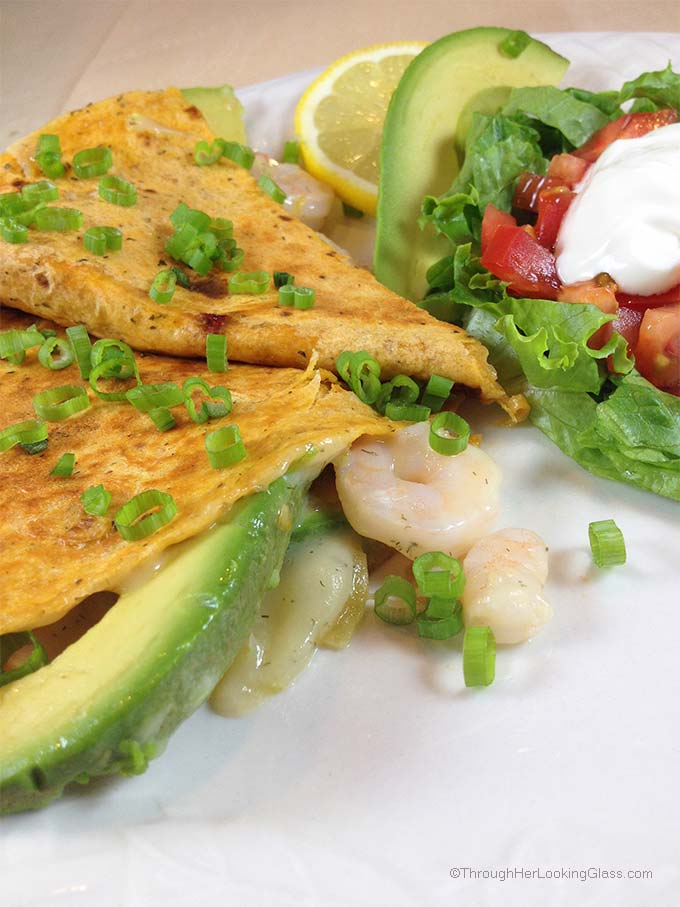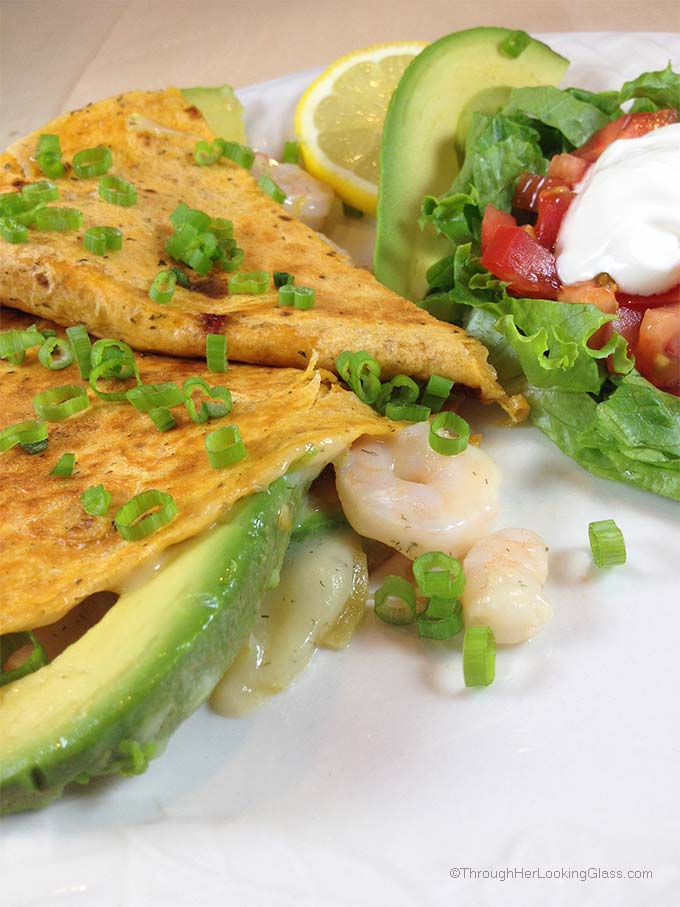 Today we're talkin' about a seafood quesadilla like you've never tasted before. This one's light and fresh, says summer.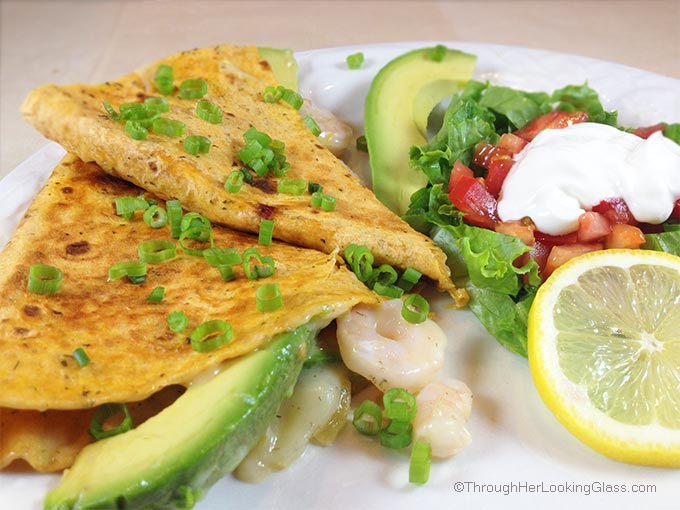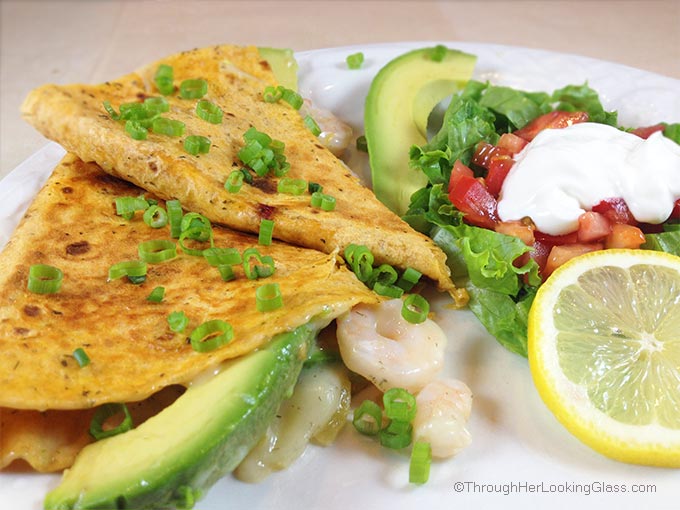 Makes a great main dish meal or appetizer. I have to tell you the story about the night I first tasted this Summer Quesadilla De Marisco. Because, well, that's what I do. Tell stories. And if you don't want to hear, skip down.
But I don't recommend it. The story is part of the experience.
So here goes. It was our 22nd anniversary last week. And Jon and I were going to go out and celebrate at one of our favorite restaurants downtown Cotton. We had a gift certificate, were looking forward to an evening out.
It's been super busy around here (understatement) and Jon and my biggest guys were headed to Romania on a missions trip in just a few days. So this was our big night out.
So about a 1/2 hour before we leave to go, it occurs to me I should call, make sure we don't need a reservation. I doubt we do, it's a Monday night, but just in case. So I ring up, get an automated recording that says they are closed from Monday blah blah blah until after July 4th for restaurant upgrades and renovation. So my heart sinks and suddenly our plans change. Disappointing.
And all I can say is, there better be a significant upgrade or renovation going on at that Cotton.
Then Jon remembers we have a gift certificate in a back drawer to a Mexican restaurant, Hermanos Cocina Mexicana. He won a raffle at the  New Life Home  golf benefit last year. Well, I'm a little leery of going to a Mexican restaurant for our 22nd anniversary. It might be loud and fast paced. It could work, but I'm nervous it's a dive.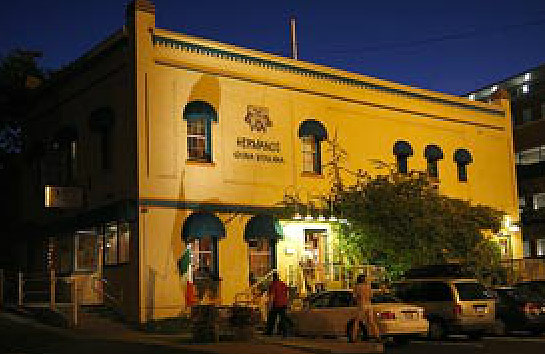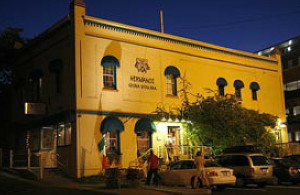 So we check it out online and it looks nice. We get there, they ask if we'd like to sit downstairs in the restaurant or upstairs in the lounge with live music. We're no fools, so we climb two sets of stairs, round the corner and find jazz. Two white haired, talented men on piano and sax.
Double check.
Yeah, we're still in a Mexican restaurant. The menu's different. The music's different. The atmosphere's different. It's quiet, peaceful. Not your typical Mexican chain restaurant. So if you need a Mexican restaurant in Concord, NH, we highly recommend Hermano's Cocina Mexicana.
The salsa was fresh to order and both our dinners were fantastic. My Summer Quesadilla De Marisco was so delicious that I'm sharing it with you here.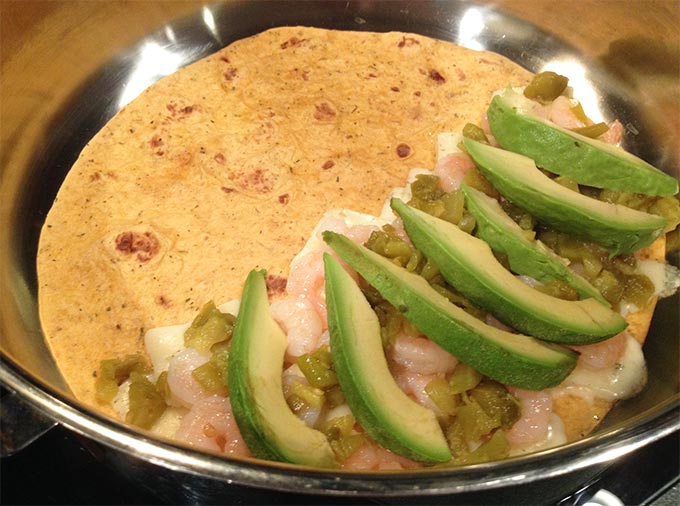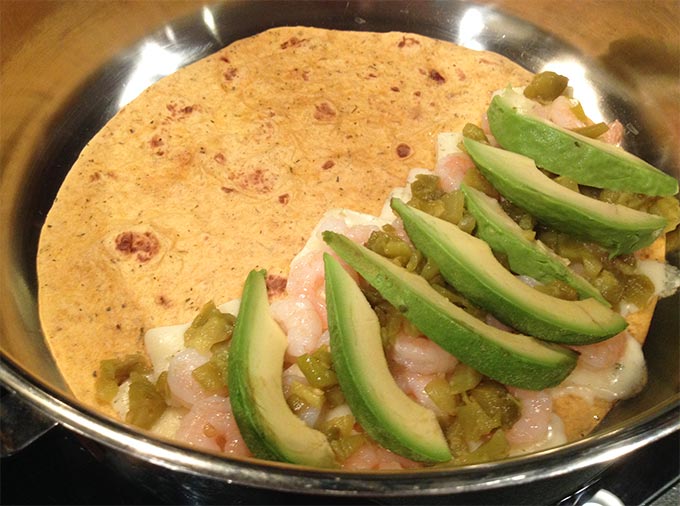 Layer all filling ingredients on half the wrap. Fold wrap over, and cook on both sides on medium heat 'til golden.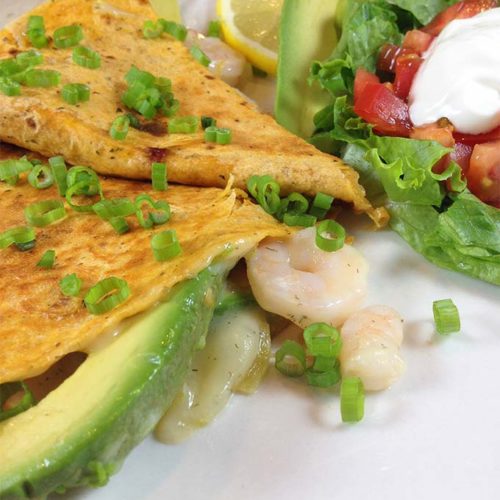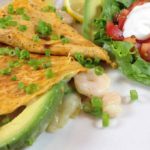 Print Recipe
Summery Quesadilla De Marisco
Summery Quesadilla De Marisco. Quesadilla stuffed with fresh avocado slices, shrimp, melted Havarti dill cheese and green chilies. Light, fresh and delicious!
Ingredients
1 - 7

ounce

can chopped green chilies

8

ounces

fully cooked salad shrimp

peeled, tail off, thawed

1

package 10 " round wraps

I used sun-dried tomato basil or 10 " round flour tortillas

2

avocados

cut in thin slices

8

ounces

Boar's Head Cream Havarti Cheese w/Dill

thinly sliced

Sour cream or Greek yogurt

Optional: chopped green onions

lettuce and tomatoes
Instructions
Heat skillet or griddle on medium heat.

Place 4 wraps/tortillas on cooking pan.

Fill half of each wrap/tortilla with sliced cheese, salad shrimp, avocado slices and green chilies.

Fold wrap/tortilla in half, covering the filling.

Cook over heat until golden underneath and cheese is melting, 2-3 minutes.

Flip and cook on the other side 'til golden, another 2-3 minutes.

Serve with sour cream or Greek yogurt atop a bed of chopped lettuce and tomatoes.

Sprinkle with chopped green onions.
So I looked up the term de marisco because I never took Spanish. I was a French girl. And what Jon seems to remember from his middle school Spanish days is confined to blah blah blah el bano.
Something about where's the bathroom. I'm sure that's an all important phrase at the necessary time but doesn't help us now. Google translate says de marisco = seafood, so there you go. A summery seafood quesadilla. 🙂
After our delightful dinner, we have about ten minutes to sneak into Marshalls before they lock the doors and I find these funky sandals. Yeah. It gets better. Made in Italy. Stacked heels.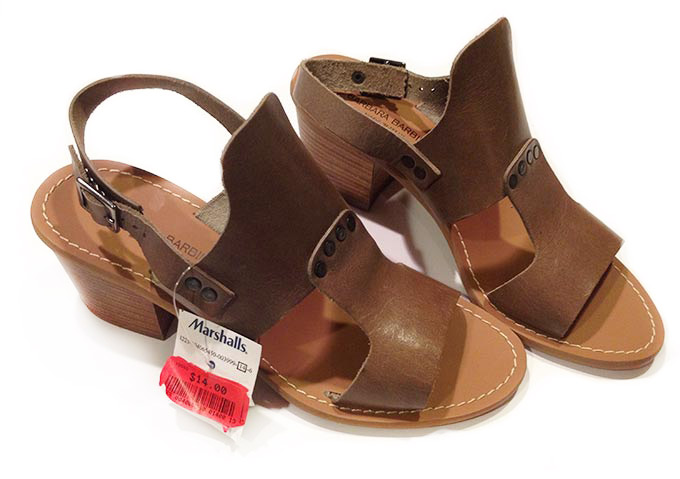 Even better. On clearance. So now I know why Cotton was closed for us tonight. Because we were supposed to have a romantic evening at the lovely Hermanos Mexicana Cocina, be inspired by my delicious entree, Summer Quesadilla De Marisco. 
And snag that pair of Italian leather sandals on clearance. Doesn't get much better.
So if you see me around town kicking up my heels, now you know why.


Enjoy your quesadilla with a delicious Blueberry Basil Mojito