Jump In With Both Feet: Hudson Taylor is an endearing little person. It's not that I'm biased or anything. (I'm just his mother.)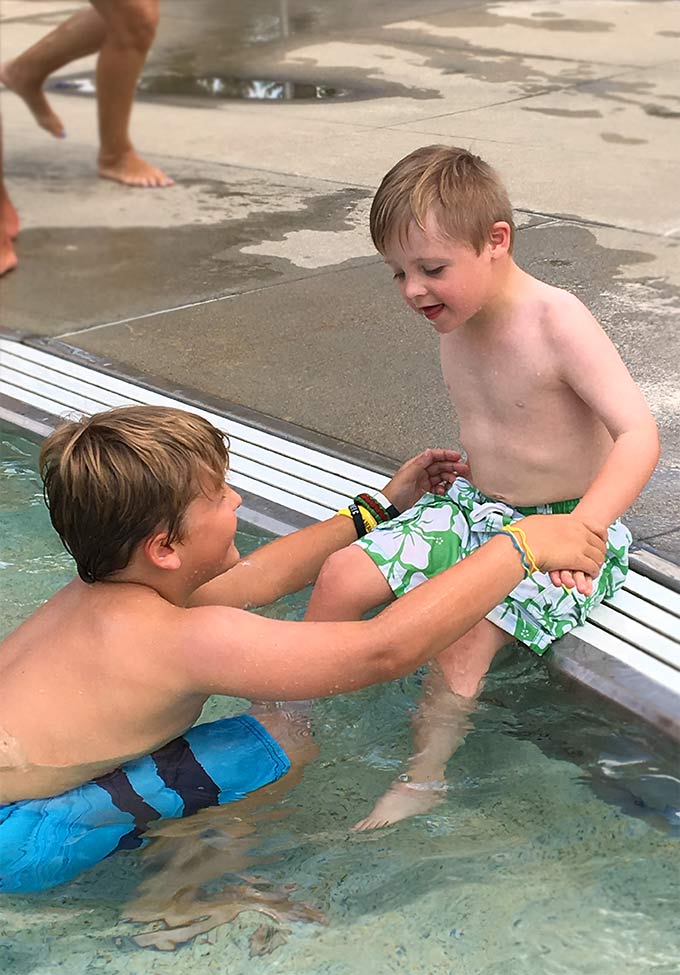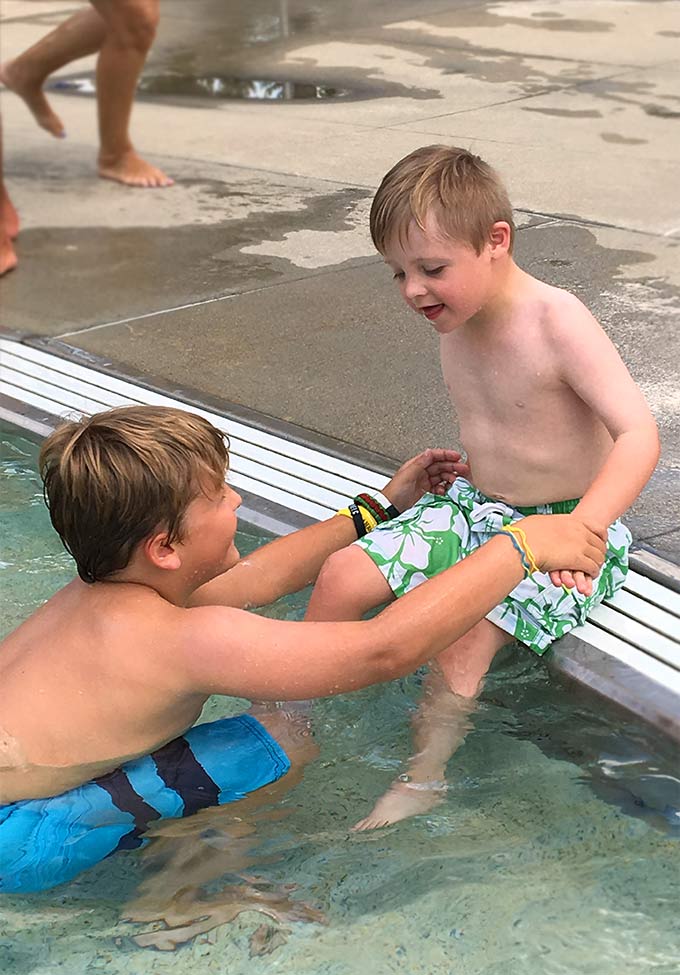 I love writing about the tiny details of Hudson's quiet, unassuming life. His little triumphs and challenges.
Maybe I love writing about him so much because he has precious few words of his own. And when I write his story, he gets a voice too. Maybe.
Speaking of voice, some of you have asked whether Hudson has gotten his communication device yet. And the answer is no, he has not. Bleh. More testing is scheduled and there are many choices, so the techs want to be sure we choose the right one. So hurry up and wait. (Story of my life.)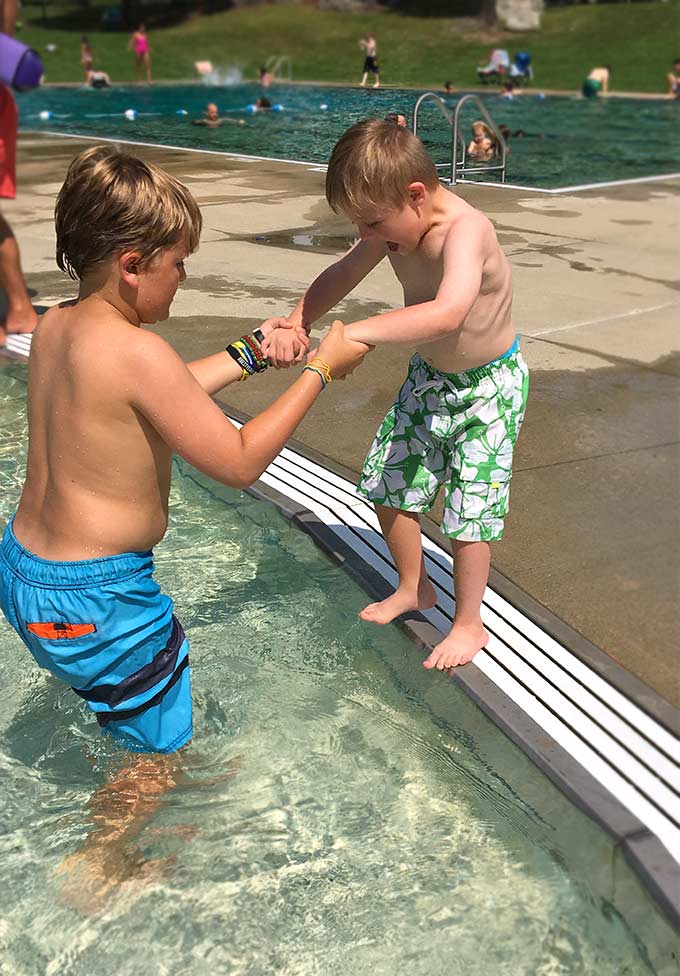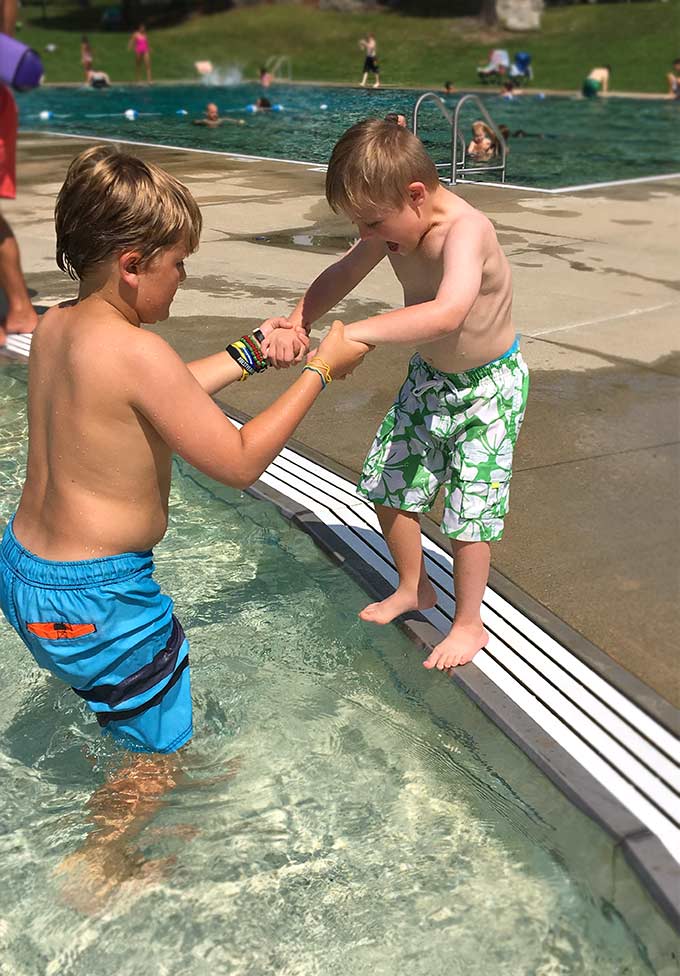 I've told you before how much Hudson fears water. And how just a few weeks ago in July he was so brave when he shocked us all and climbed into a kayak with his daddy at my aunt and uncle's house at the Cape. And no tears.
Children are intuitive, and I think children with siblings who have special needs are even more so. You may not know that my oldest sister Elisabeth has Down syndrome too. There seems to be a protective gene that God gives the family members of special needs children.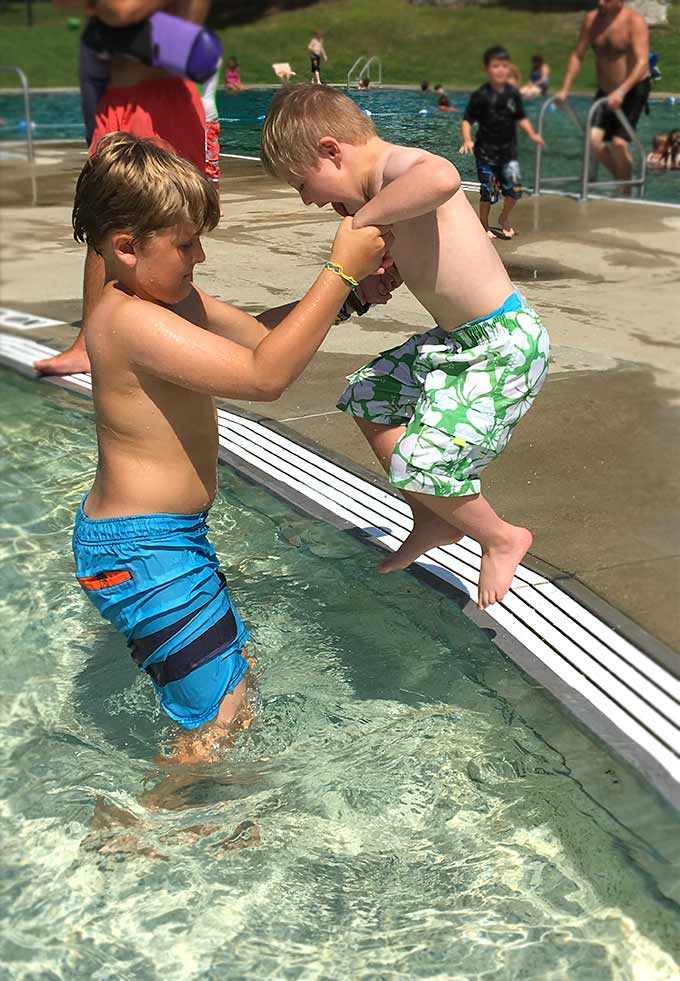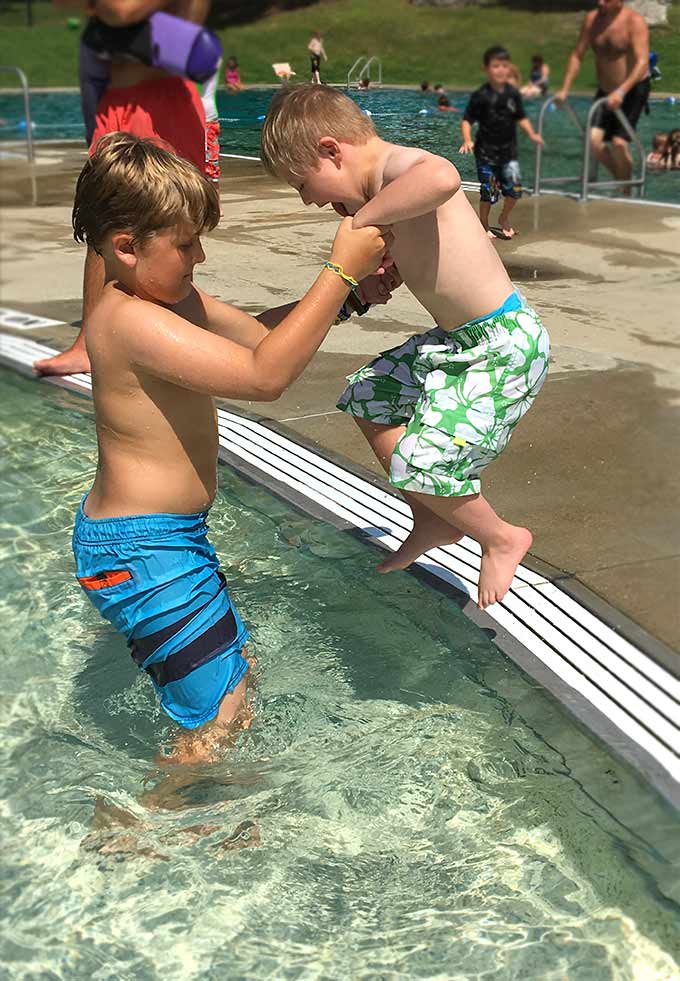 We haven't spent much time at the water over the past few summers because of Hudson's water fears. It's too bad, because I love the water. And when it's hot, there's no place I'd rather be.
But you can imagine it's no fun sitting on the sidelines in the sweltering heat with a whimpering child time after time while every one else cools off in the wet. No fun for him either.
So here's the intuitive part. After we got back from the Cape a few weeks ago in August, Charlie (10) suggests we go to the nearby pool. It's a super hot day and we haven't gone in some time. I really just want to stay home in the AC because I know I won't get anywhere near the water with Hudson.
But Charlie is absolutely convinced Hudson is hot too and will really want to go in the water today. He says he just knows. Well I have my doubts, but it's sweltering and Charlie desperately wants to go.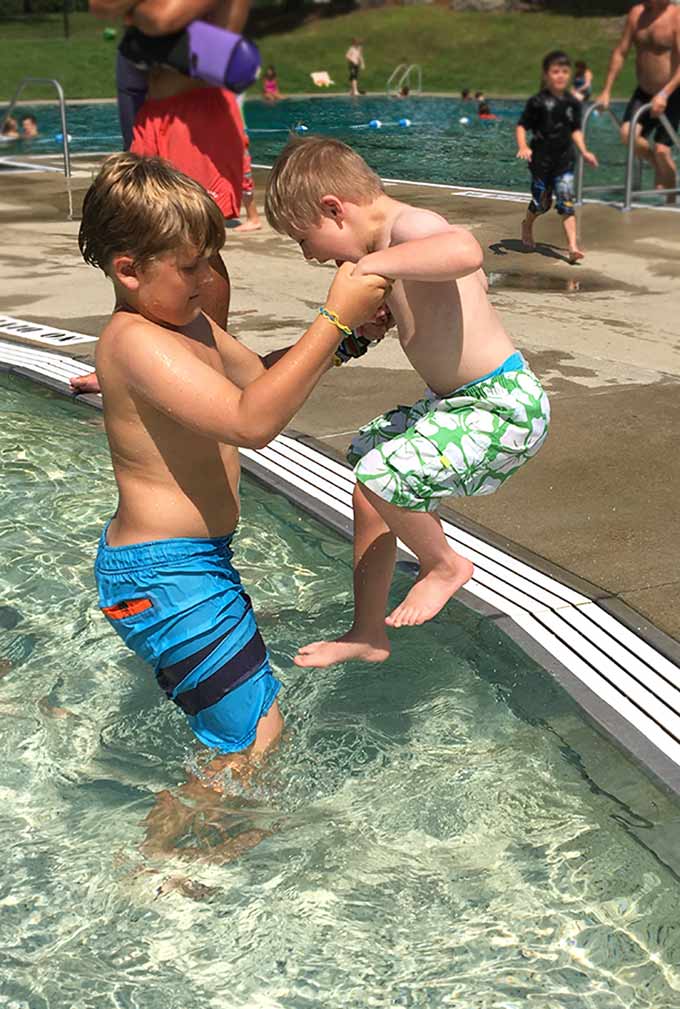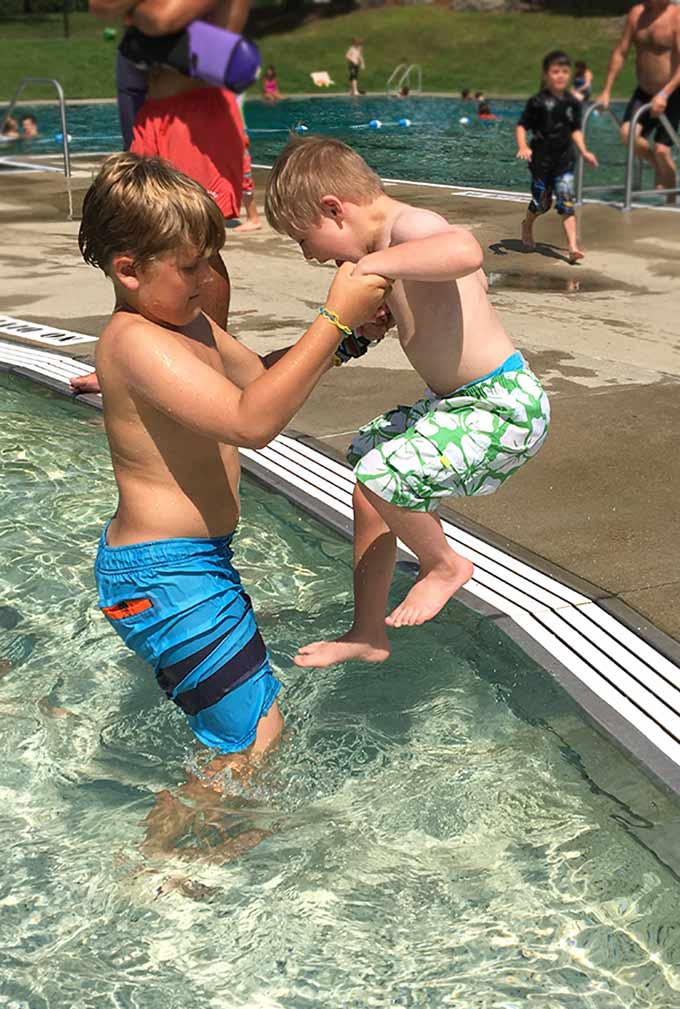 The funny thing about Hudson is he has routine. And he doesn't break it. Sometimes for years. For instance, the only fruit he'll eat is a banana. And all I can say is – thank God for bananas. Because if it weren't for bananas, Hudson wouldn't eat any fruit at all.
So I'm incredibly grateful for bananas. This has gone on for years and years. (Believe me, we've tried other fruits – many many times.)
So one day this summer we had a fresh berry salad with dinner. As usual, I put a spoonful on Hudson's plate even though I know he won't touch it. (Or if he does, it's only to pitch it, I'm sorry to report.) And halfway through dinner, I see Hudson in my peripheral vision reach out and pick up a blueberry.
He doesn't chuck it, he tentatively puts it in his mouth and slowly chews it. And then he reaches for another and another. And by this time the rest of us are in major shock around the table. (Hudson's eating blueberries, pass it on!)
When Hudson does something new and fabulous like eating a fresh blueberry, we pretend not to notice. Ignore it. Play it cool and suave. I see nothing, I hear nothing. That kind of thing. I know, the psychology sounds odd. But if he gets sudden attention, Hudson immediately stops whatever he's doing and hides behind his hands. And then that's the end of that. So by now, we all know not to stop a good thing in progress. (Though he hasn't eaten a blueberry since.)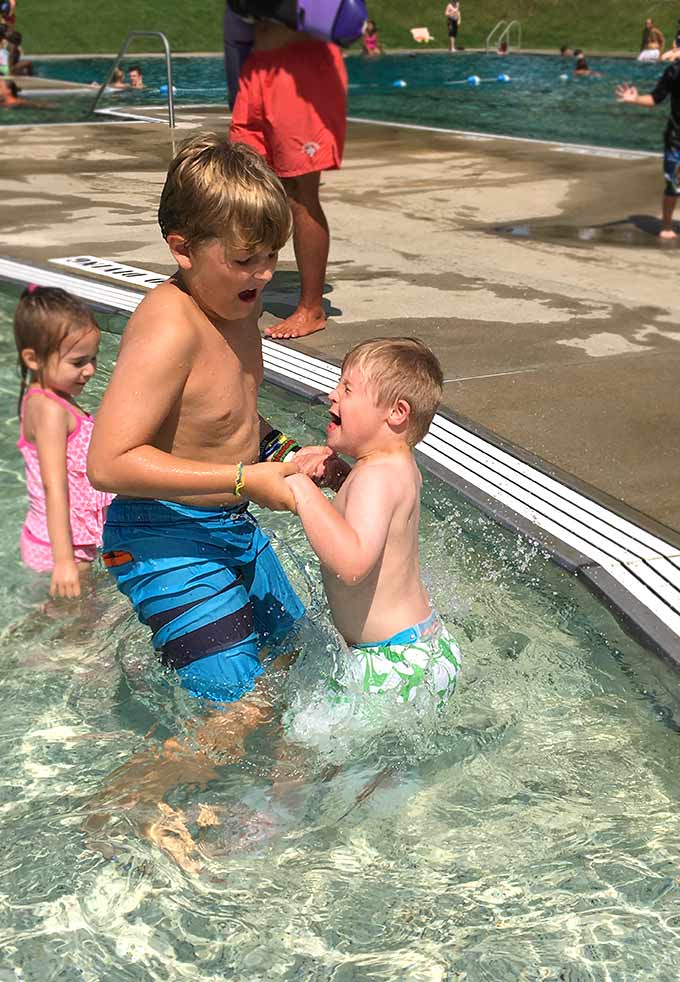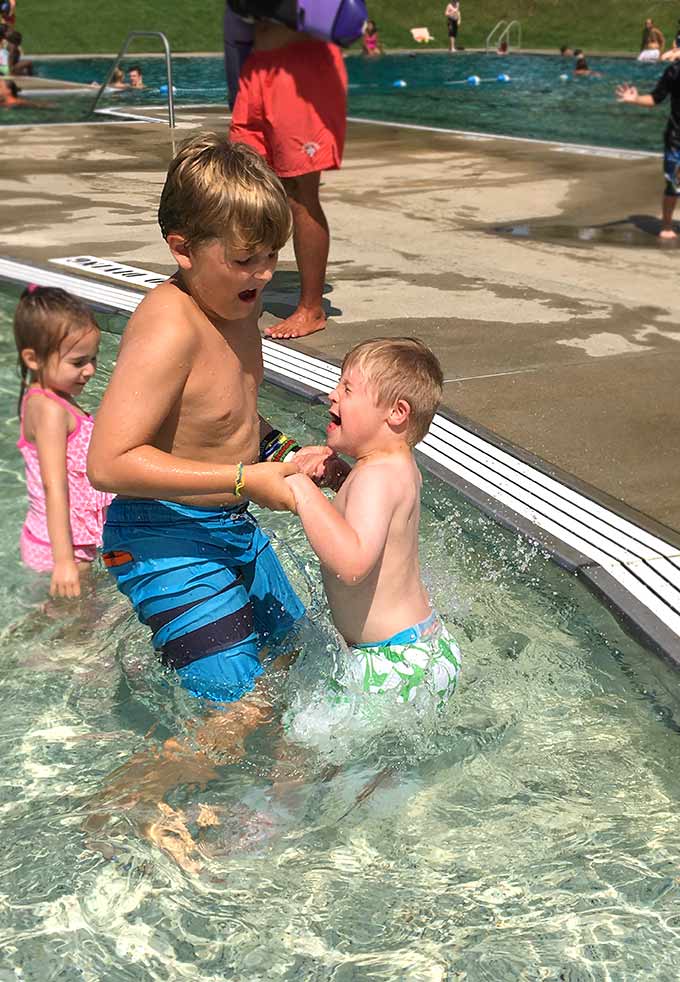 So back to that hot afternoon and the pool. We arrive, and in time Charlie coaxes Hudson to the pool's edge which is a miracle in itself. And then something really crazy happens. Hudson holds both Charlie's hands and jumps in the water. He doesn't even dabble a toe. He just JUMPS IN.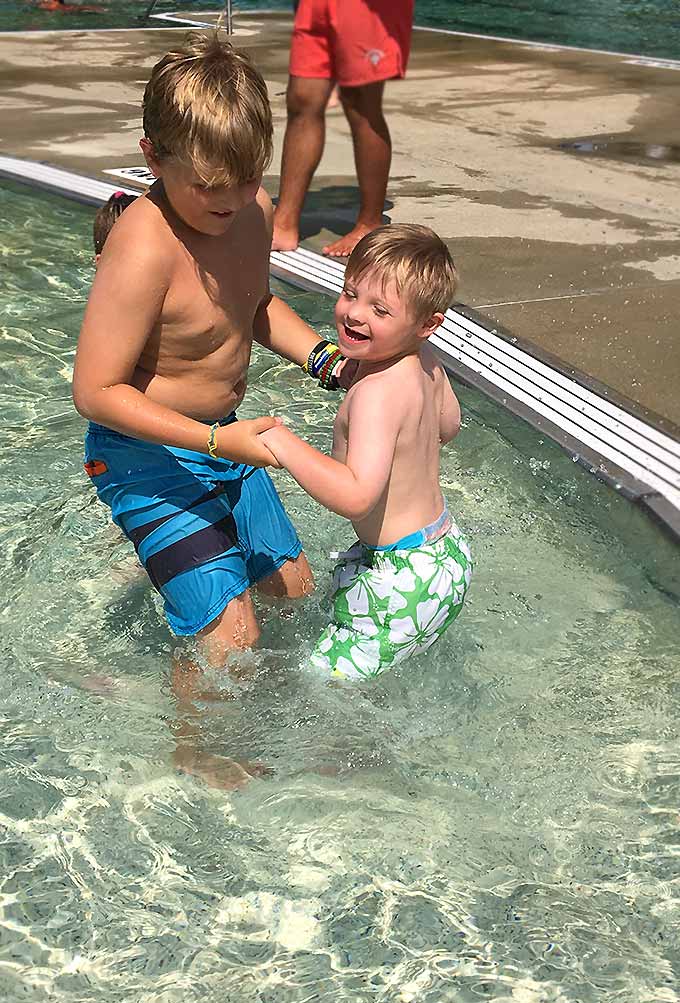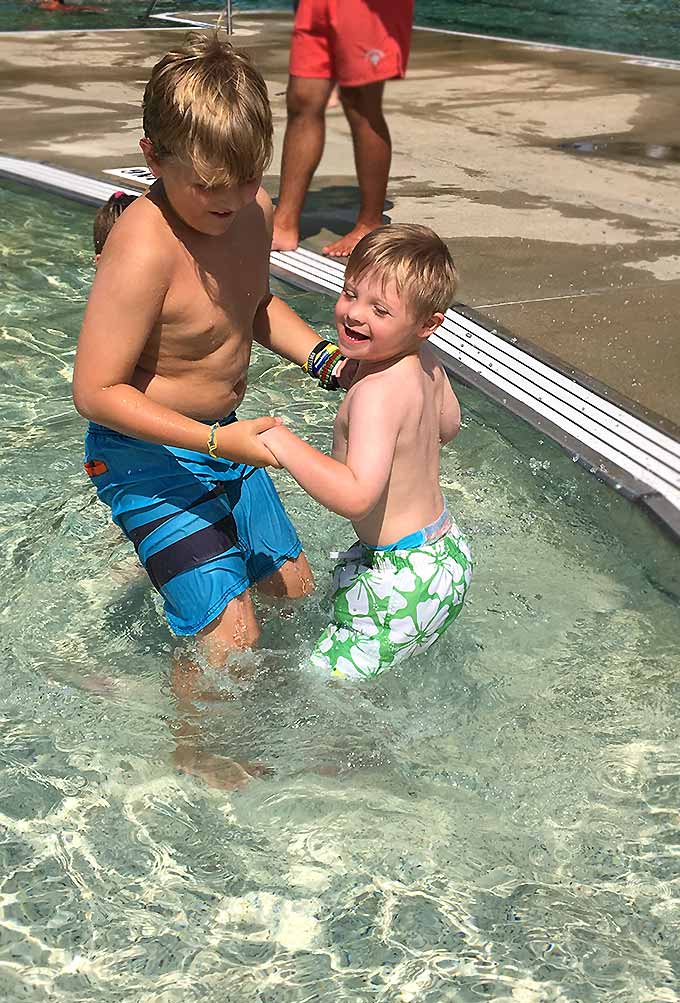 It's amazing and I'm in shock. And of course Charlie isn't surprised at all because he knew Hudson was ready. (!) And suddenly, it's a wonderful, wonderful hot August afternoon. Hudson keeps jumping in. Charlie's thrilled. I'm thrilled. Hudson's thrilled. I text pictures to his daddy and older brothers and they're all amazed and thrilled too. It's life changing for all of us.
And we visited the pool nearly every day after that until it closed for the season.
Hudson Taylor is an endearing little person. It's not that I'm biased or anything. (I'm just his mother.) 
He's full of surprises, and I wonder what trick he's got up his sleeve next.
I believe that people with special needs are far more like the rest of us than they are different. I came across this short video clip by BBC entitled "Things People with Down Syndrome Are Tired of Hearing" a few weeks ago. It made me smile and laugh out loud. (The girl with the red hair totally cracks me up, she's awesome.)
Have a fabulous weekend my friends!

You may also like: Are You My Mother?