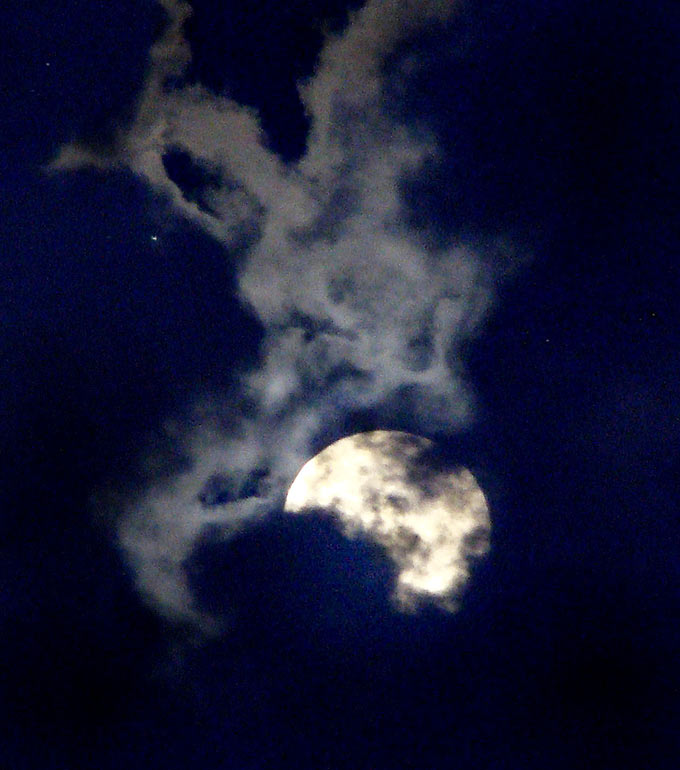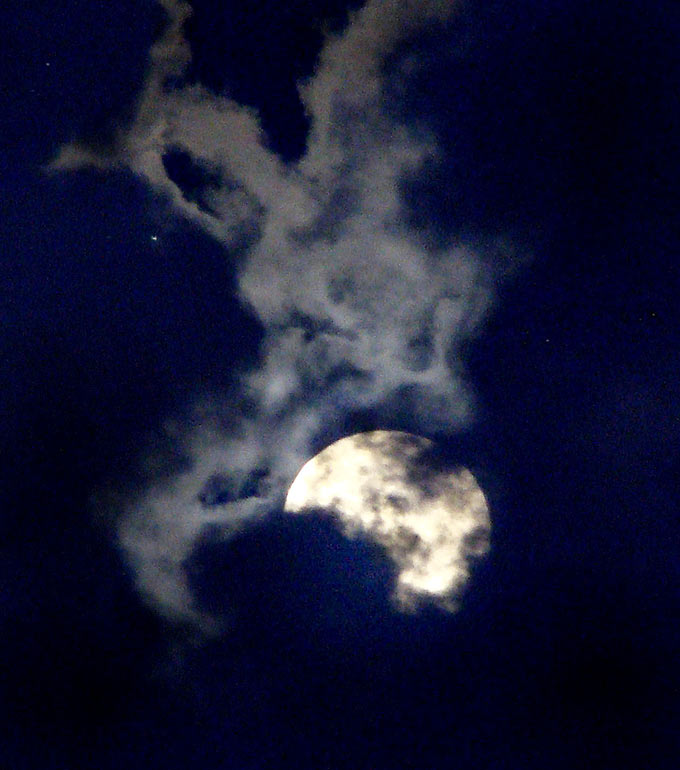 Did you happen to look up in the night sky this past week, see that massive glowing orb? Yeah, the moon. I'm talkin' Tuesday night. Yeah that moon. It was pretty amazing Monday night too. But Tuesday it hung low on the horizon. Driving along, thought I might bump right into it. Gargantuan. With a halo the size of Texas.
I didn't really think about Hudson and the Harvest Moon 'til later this week, but perhaps it had something to do with his behavior this week. (Or not.)
And here's a thought. Sure hope I don't paint a picture of my Hudson as a little saint here. (Hudson's five, has Down syndrome.) Because while he's the dearest little boy in all the world, he's no saint. And actually quite stubborn. Interestingly, special needs children are more similar to regular children than they are different. And in many ways Hudson is like a regular little boy. Meaning he's adorable. And sometimes naughty.
(Just fyi, if you're new here and slightly confused, I post recipes during the week, muse on the weekends.)
It seems that special needs children can sometimes be naughtier than children without a diagnosis. One reason is they often don't have the communication skills most children have. With his very limited vocabulary, Hudson knows he's guaranteed to grab my attention if he does something naughty. Like throw a pan from the kitchen sink.
Or say, a table lamp. (Ahem.)
He's an expert in the "getting attention" department! And to be fair, inability to communicate with words has gotta be incredibly frustrating. (FYI he's being evaluated for a communications device soon, I'll keep you posted.)
Don't know if the hovering Harvest Moon had anything to do with Hudson' behavior this past week, but last Sunday at church a sweet little toddler put her finger in Hudson's mouth.
And he chomped.
Yeah. And ouch. Poor little munchkin, she's so precious. Gave quite the howl. Was rescued by her mother. The tiny fingers were ok, thank God, but apparently there were little marks. In Hudson's defense, when something's in his mouth, it's generally food. Or his *chewy tube. And he's got quite the serious snapping turtle chomp.
Very naughty.
Then later that same day, Hudson's big brother Jonathan went to a friend's pumpkin carving party. They spent long hours transferring designs, carving elaborate pumpkins.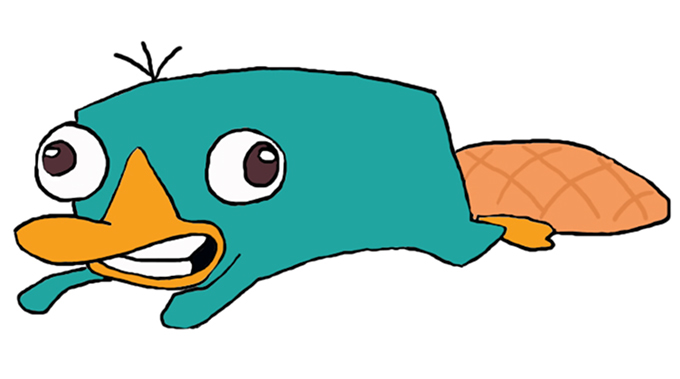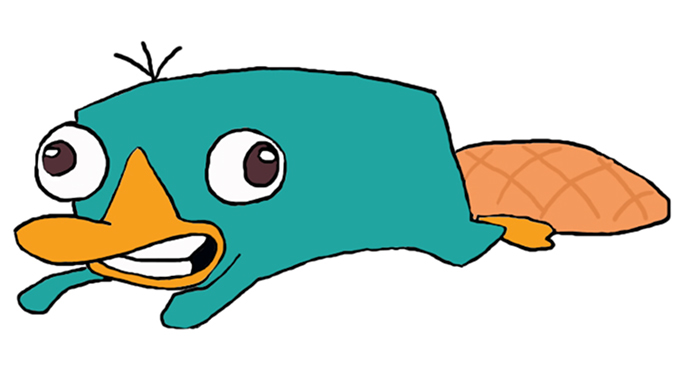 Jonathan came home with Perry the Platypus. (Phineas and Ferb.) He lit a candle inside, carefully set Perry on the front stoop. Then we chatted about the pumpkin recently stolen from a friend's nearby front porch. Yes, stolen. (Reminds of the time growing up when a Christmas tree was CHOPPED down in our front yard. Stolen. The thief left behind a dirty black pocket comb, muddy footprints in the snow and a tree stump. But I digress…)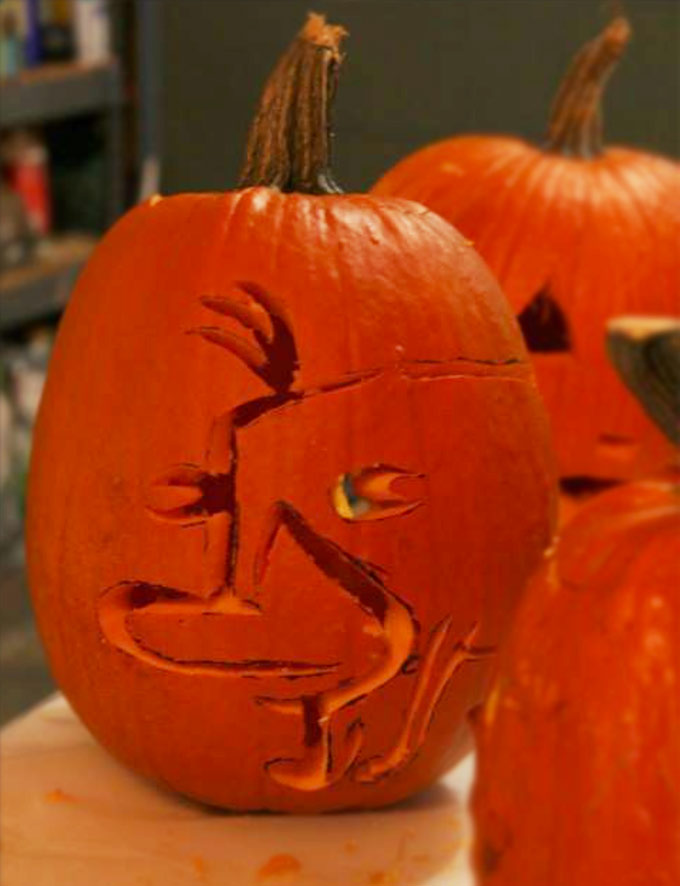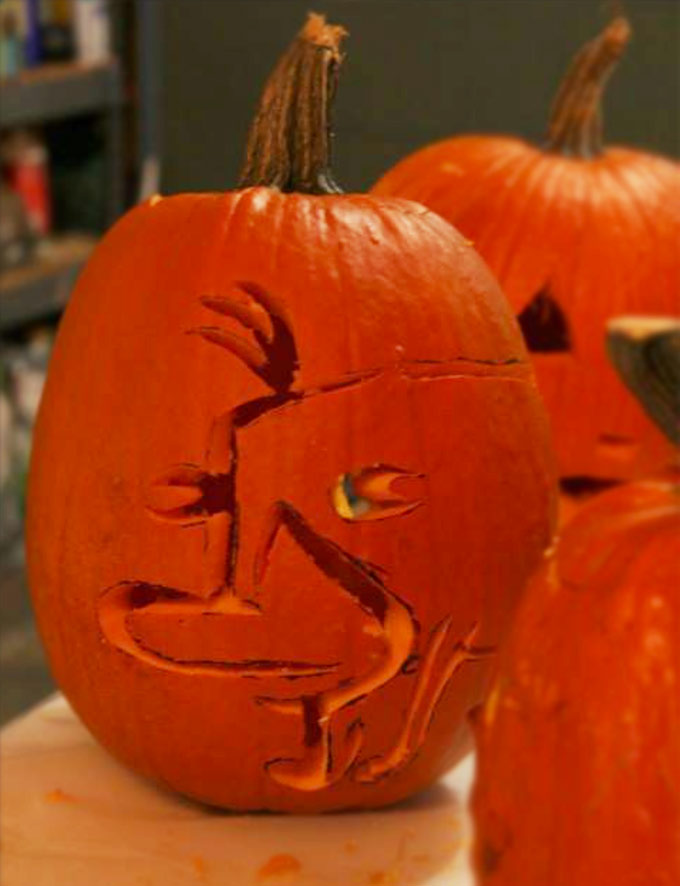 So Jonathan and I debated back and forth as to whether Perry the Platypus was safer outside on the front stoop or inside the house with Hudson. (Reminder: Hudson chucks things.) Since Hudson was already in bed, we opted to bring Perry inside for the night.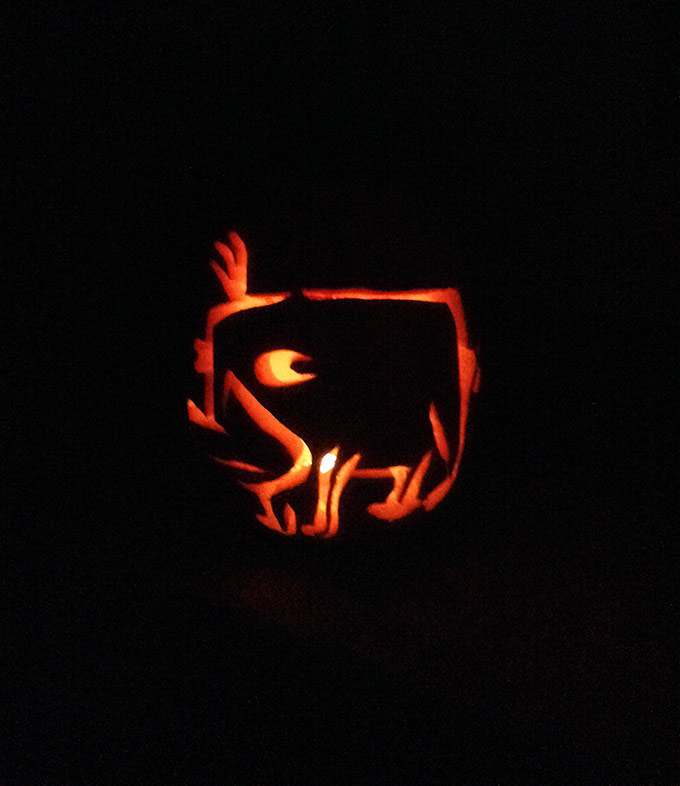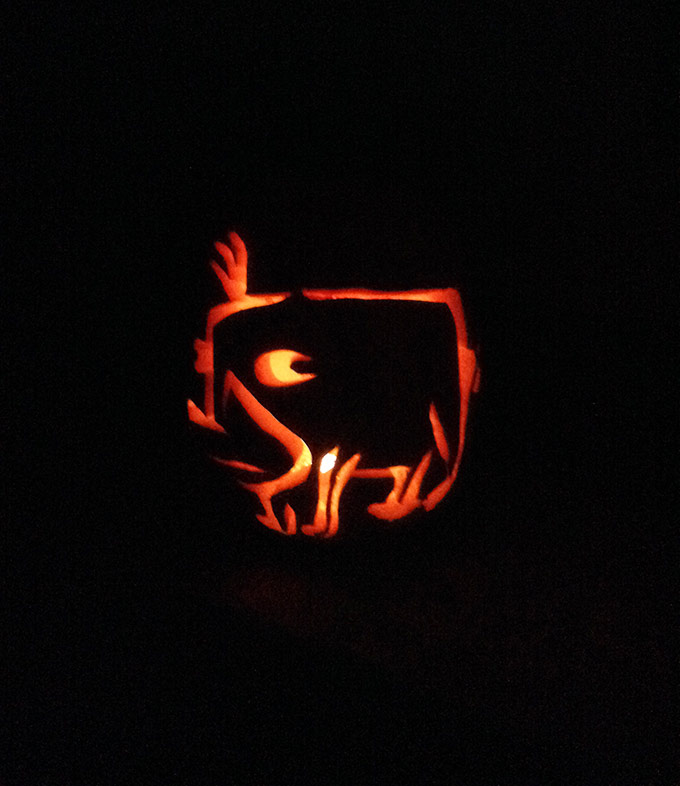 Set him on the coffee table, turn the lights down low, enjoy an evening by Perry the Platypus pumpkin glow. In retrospect, so glad we shared that one special evening together, because Perry met a violent death the next morning.
The bigger kids had gotten off to school early early on Monday. And after washing up a few things in the kitchen, I went to dress Hudson for school. He was "innocently" watching Curious George in the living room. There on the living room floor in front of him is Perry the Platypus. Face down, and in a million pieces. Like Humpty Dumpty. All the king's horses and all the king's men, couldn't put Perry together again. Weird thing is, I never even heard the crash. Folks, this was an extra jumbo pumpkin. (Can't exactly blame the Harvest Moon, but sure makes one wonder.)
Children are funny. Seem to have a sixth sense. Even if they can't talk. Years ago I wept to hear a dear friend tell me about her sweet little toddler. In a heartbreaking situation, my friend had recently been abandoned by her husband. Perpetually nauseous with morning sickness during her entire second pregnancy, she felt very alone. Would sometimes kneel for long hours at a time in front of the porcelain goddess. Waiting for the next wave to hit. And that sweet little two year old, she'd find her mama. Sit on the tile next to her. Gently pat her back. That tiny little girl had a sixth sense, somehow knew her mommy desperately needed her in that lonely, vulnerable time. What a gift. Helped her mama get through.
I was reminded of a little story I heard about Hudson a few weeks ago. Music to my ears with the many issues we're working on at home. Apparently another child was having trouble listening in children's church that day. And eventually a daddy came in, spoke to that little person. And after the daddy left, the little person was sad. Put his head down on the table. And my little Hudson, he climbed from his chair, went around the table. Patted that little person on the back. The story brought tears to this mama's eyes. That even though he can't verbalize, my Hudson possesses a sensitive, compassionate little heart. Sympathized the best way he knew how.
So that's what I choose to remember on the more difficult finger-chomping, indoor pumpkin-smashing days: that tender little back-patting heart. Warms this mama through and through, gives her hope.
Have a beautiful weekend friends!
*A chewy tube is a therapeutic tool for individuals with sensory issues who crave oral stimulation. A chewy tube builds up the muscle tone and strength of the jaw, helping prepare for speech, feeding and overall motor skills. (And hopefully not biting.)
You may also enjoy: Glimpse of Sunshine