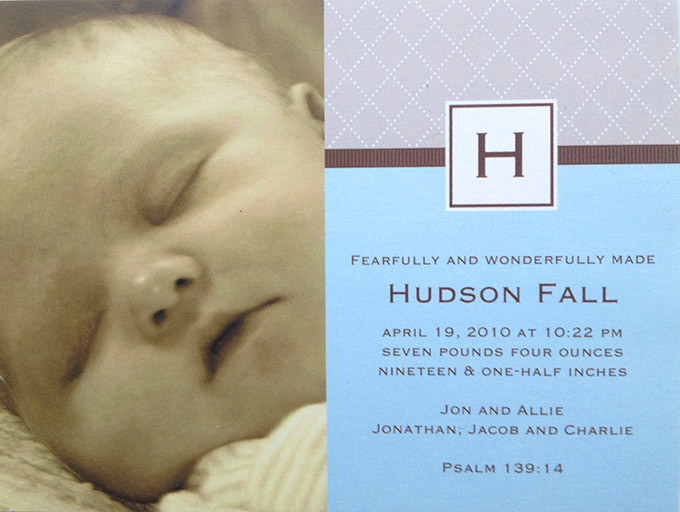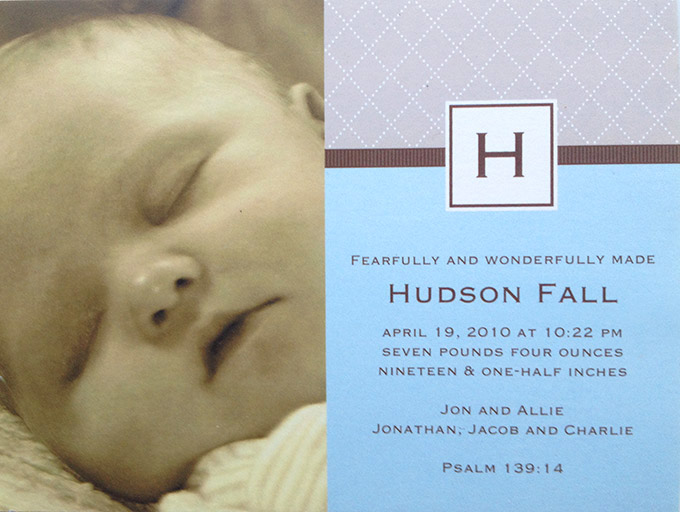 Many of you know our youngest son Hudson was diagnosed with Down syndrome shortly after birth nearly five years ago. (Catch up here: Can't Buy This .) At four, he struggles to communicate. He makes lots of conversational noises and syllables. We just can't understand it. (Yet.) His vocabulary is limited to a few handfuls of words, making each new verbal accomplishment that much sweeter.
Grace for Hudson by allie taylor
While he can't always express himself, Hudson has a lot of rules. He lets us know those rules, words or no. Oh yes. He gets his point across loud and clear. Someday I'll fill you in more on Hudson's rules, which are many. But here's an example. Each night before dinner we say a prayer, thank God for our meal, hold hands around the dinner table. Everyone usually sits in the same chair. Hudson sits at one end of the table, his big brother Jonathan at the opposite end. Jon and I sit across from each other on the sides, with Hudson between us. Every once in a while, the order gets "all shook up." If I come in at the last minute carrying something hot, or one of us or the kids are away, etc. This really throws Hudson for a loop.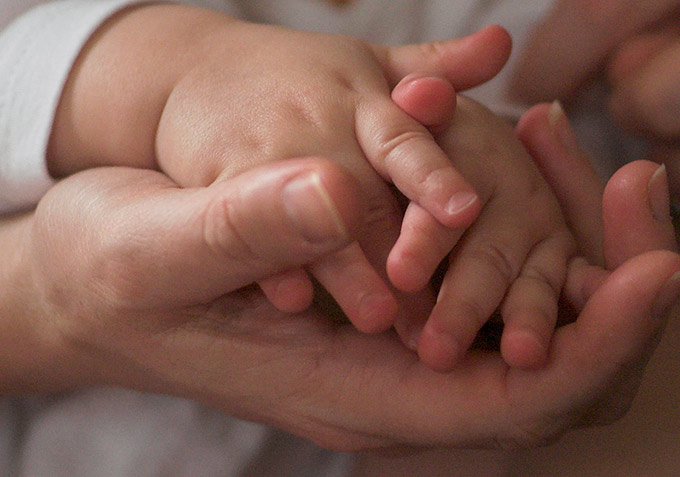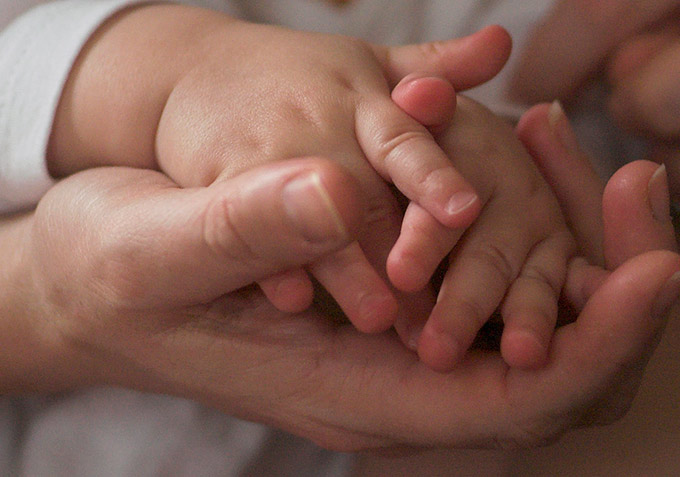 Because there are certain usual hands Hudson holds during dinner prayers every night. And those hands better be the right hands, or he'll shake them off, look for the right ones. Make eye contact with the owner of the right ones….summon them over with little extended hands. He's not mean about it, not mad or unkind. Just quietly shakes off the wrong ones, insistent he will hold the right ones, that we will be in the usual order at the table. Hudson's a creature of habit, routine, doesn't adapt well to change, has a lot of rules. And he's stubborn about those rules.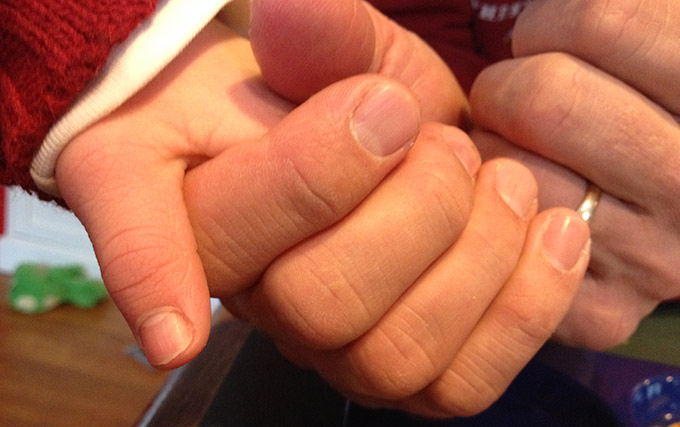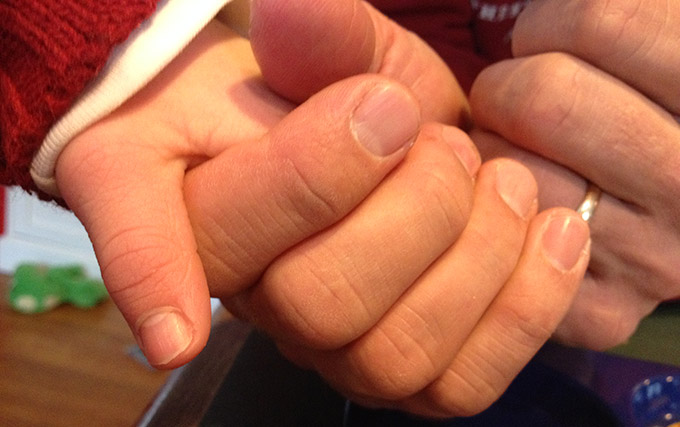 True confession here. I do occasionally peek at Hudson during prayer. Not all the time mind you. Just every once in a while. He's just so entertaining. Never know what he'll be doing. His hands are eagerly clutching big hands. Sometimes his eyes are squinched tight, big toothy grin. Other times he peeks around the table, squinty eyed, wrinkled nose, going from face to face, hoping for a little attention he doesn't get during prayers. Last night his eyes were shut tight, big smile, a happy little dance going on in that chair. Busy. Pleased about something. Swaying, smiling, shoulders rocking back and forth. You get the idea.
So yesterday morning I'm in a big hurry. Trying to get out the door to Bible study. I'm washing dishes, wiping counters, packing the diaper bag, etc. Hudson crawls up on the kitchen stool for breakfast. I put out a bowl of dry cereal (his favorite) and his sippy cup of milk. I'm moving fast, cleaning up the messy kitchen. But Hudson's not eating. Both his little hands are extended out towards me.
"Ray, ray," he says.
I rack my brain in the busyness of the morning, vainly try to think what he wants, what he's trying to say.
"RAY!"  He's really insistent now.
And thankfully, it dawns on me.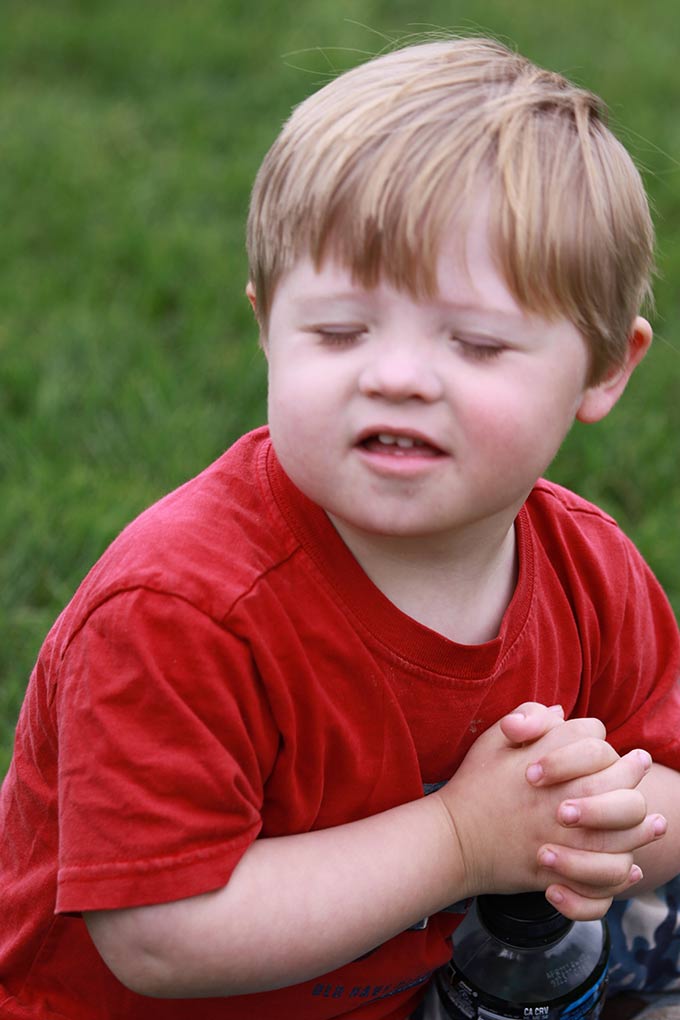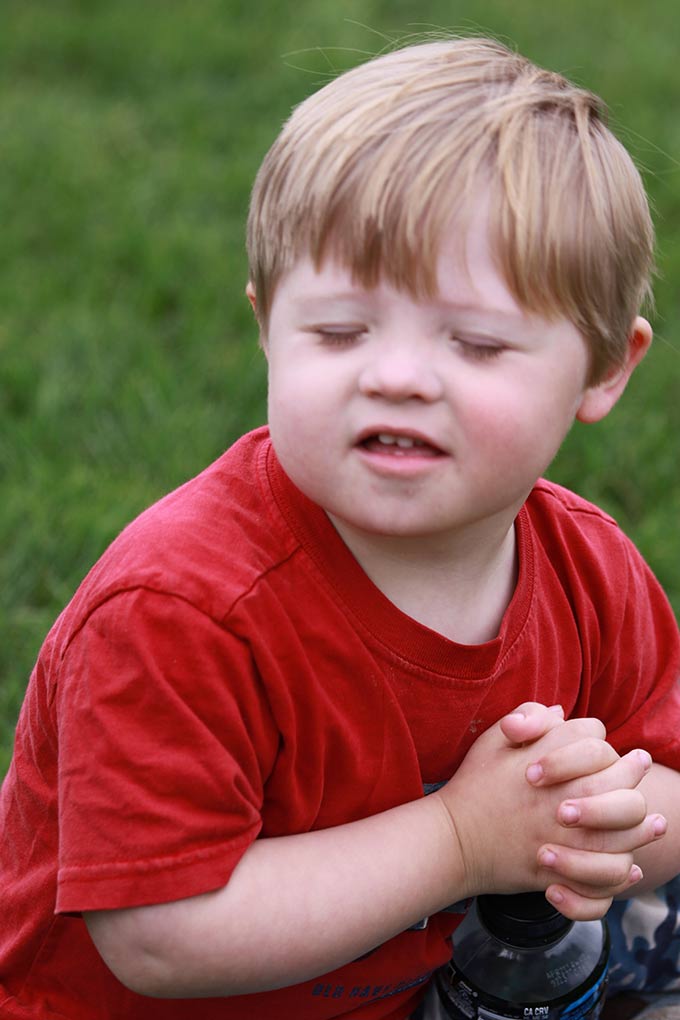 *Photo courtesy of Designs by Linda Nee
And I say "Pray?"
Hudson doesn't miss a beat. In the early morning rush to leave for Bible study, I forget to say grace. Ironic. And he calls me on it. Hudson, he doesn't let it slide. And he's not going to eat until that breakfast prayer is offered. He's so excited, smiles, clutches both my hands tightly in his small ones. I offer a simple little prayer over his breakfast, finish with "Amen."
And Hudson squeezes my hands hard, yells a loud and excited "a-MEN!"
Related Post: Embrace the Gift