If you get toffee cravings every so often like I do, these easy and irresistible Chocolate Drizzled Toffee Squares might just be your next fix. Only five ingredients probably already in your pantry. You'll need graham crackers, butter, brown sugar, walnuts and chocolate chips. That's all.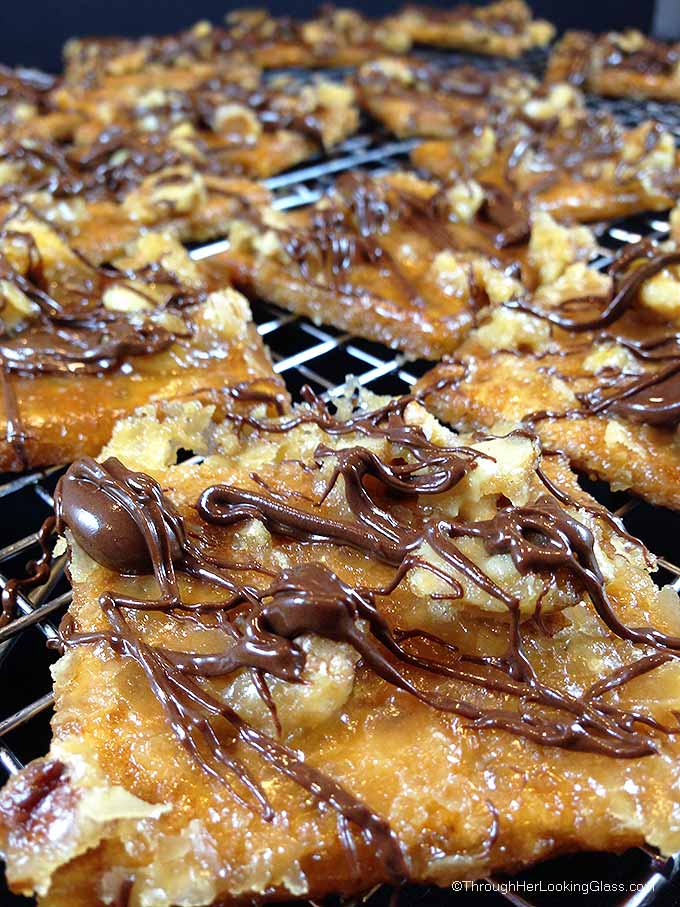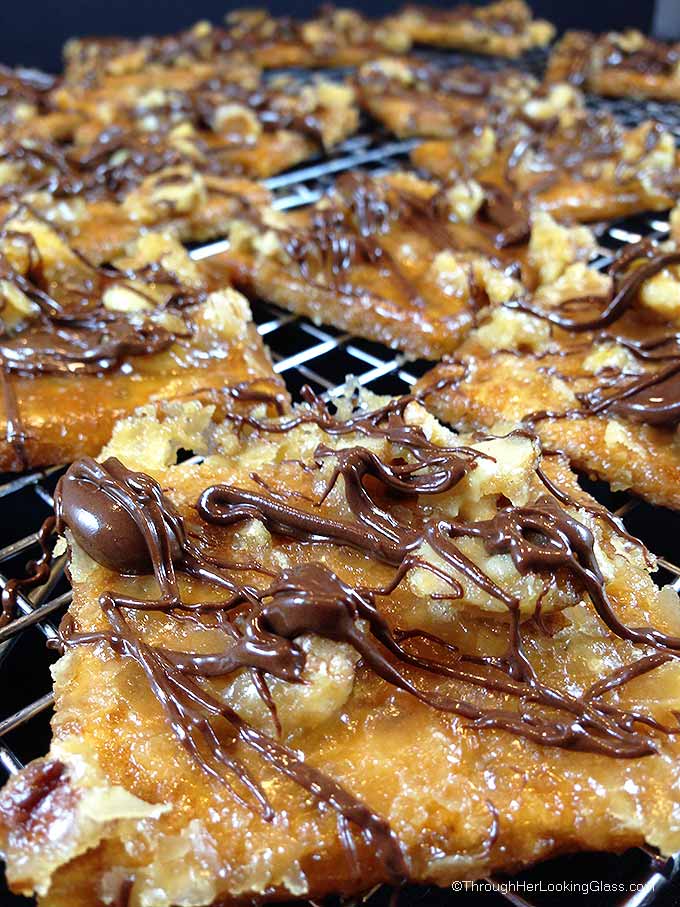 It's school vacation around here in New Hampshire this week, so it's the perfect time for baking with the kids! There are a couple easy steps they can do to help in this recipe: laying out the graham crackers on the baking sheet and sprinkling the walnuts.
My kids tell me they don't like nuts. (Whaatttt???) But no one seemed to notice the walnuts as these Chocolate Drizzled Toffee Squares disappeared like lightning at my house.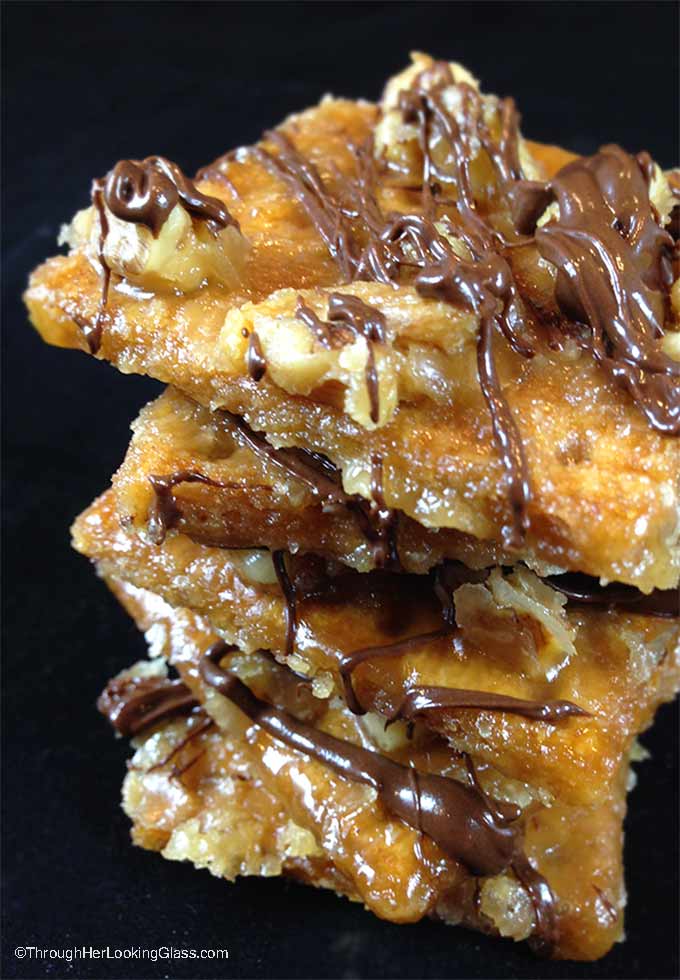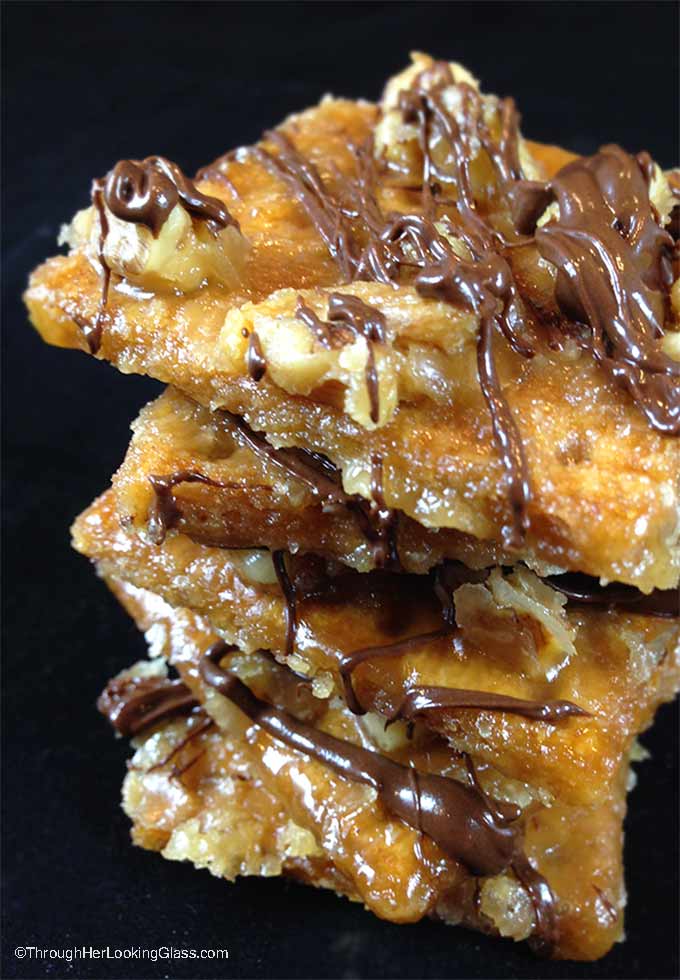 As most of you know, I really love baking. I was thumbing through my recipe cards last week and came across a simple Toffee Squares recipes I hadn't made in decades. So I made them in about ten minutes, then went a step further. Chocolate. Yup. I added a drizzle of melted chocolate. You can't go wrong with chocolate my friends. And voila: Chocolate Drizzled Toffee Squares!
People: these are incredibly addictive and seriously one of the easiest bars you'll ever make. Better dust off your super hero cape, because you'll be needing it stat after making these.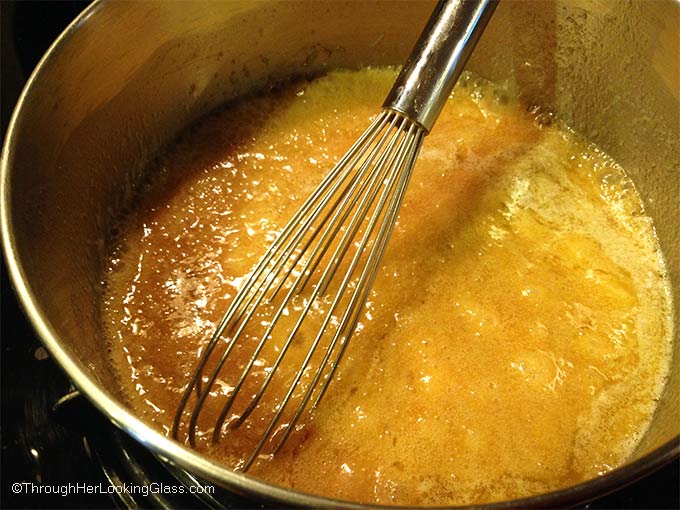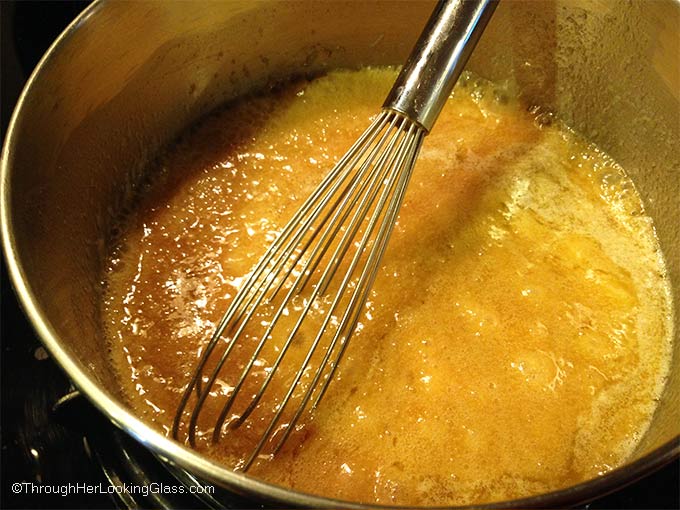 Bring butter and brown sugar to a boil on the stovetop. Pour the hot, bubbly mixture over graham crackers squares you've already placed on a parchment-lined baking sheet. Sprinkle with coarsely broken walnuts and bake for ten minutes.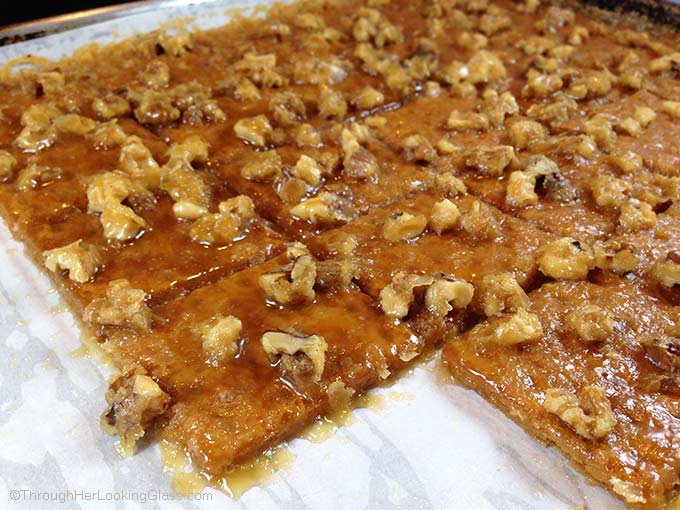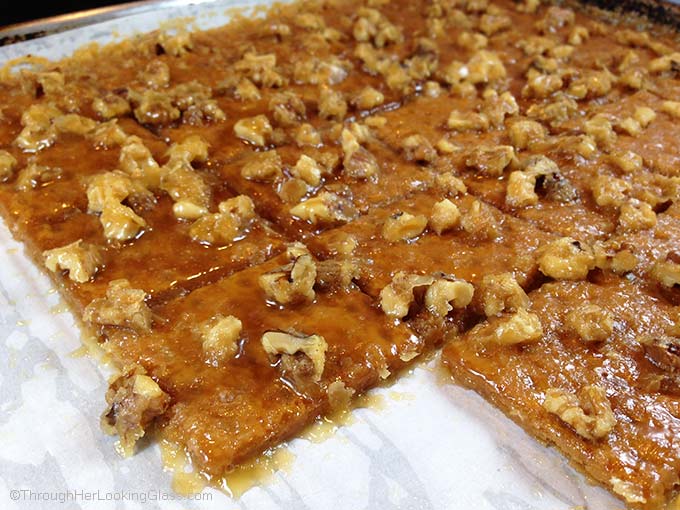 Remove from the oven and let cool for 3-5 minutes. Then break apart into squares while still warm.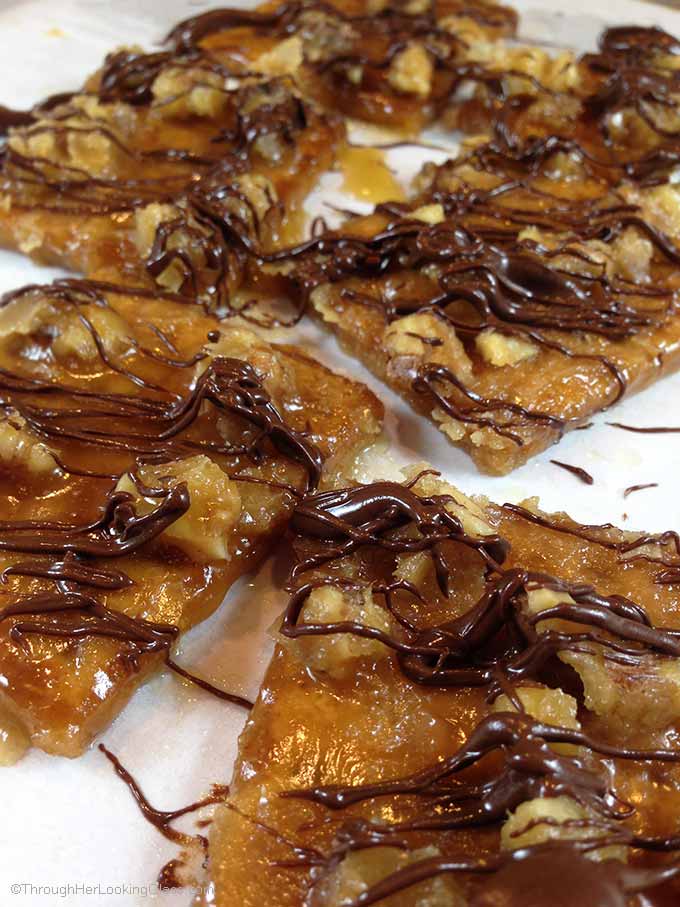 Use a small spoon to drizzle with melted chocolate! These treats are great to share. (Or not.)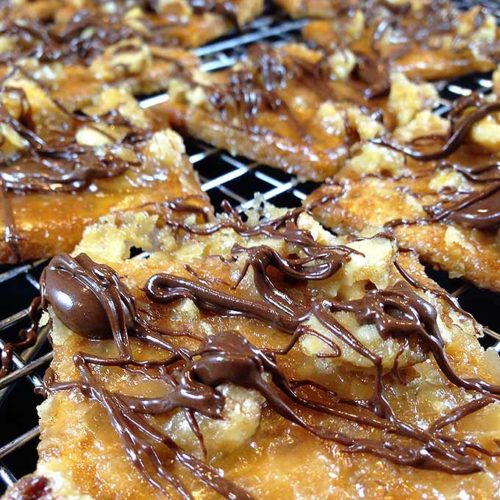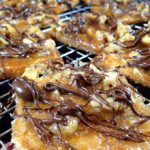 Print Recipe
Chocolate Drizzled Toffee Squares
Incredibly addictive toffee cookie bars and seriously one of the easiest you'll ever make. Just five ingredients you probably already have on hand.
Ingredients
24, 2

" graham cracker squares

or enough to cover a sided baking sheet

2

sticks butter

1

cup

brown sugar

1

cup

coarsely chopped walnuts

3/4

cup

chocolate chips

melted according to package instructions
Instructions
Preheat oven to 350°.

Line cookie sheet with parchment paper. (Or spray well with non-stick spray.)

Cover sided cookie sheet (I used 15 1/2" X 10 1/2" jelly roll pan) with single layer of graham crackers, touching each other.

In medium saucepan over medium heat, melt butter.

Stir in brown sugar and bring to a boil to make a caramel syrup.

Pour hot syrup over graham cracker layer.

Sprinkle with coarsely broken walnuts.

Bake for ten minutes at 350°.

Remove from oven.

Cool for 3-5 minutes or until squares begin to harden.

Break apart while still warm.

Use a small spoon (I used a baby spoon) to drizzle melted chocolate over the squares.

Cool completely and store in an airtight container.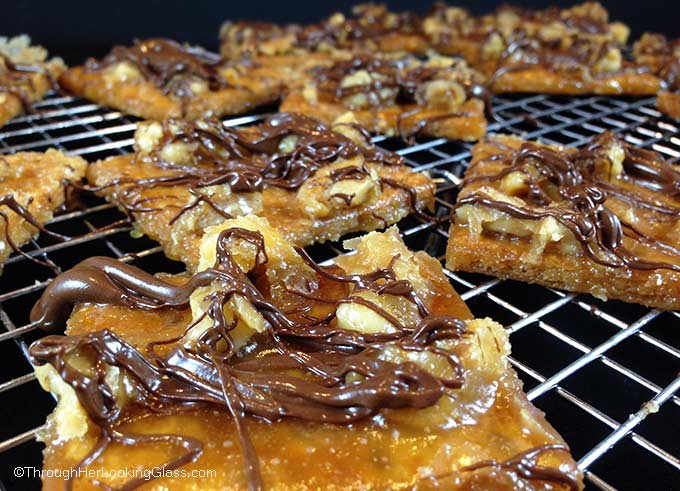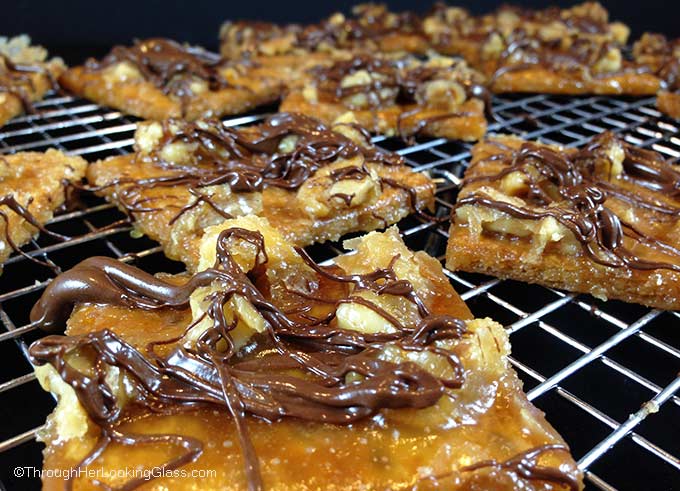 Chocolate Drizzled Toffee Squares


You may also like: King Arthur Chocolate Chip Cookies