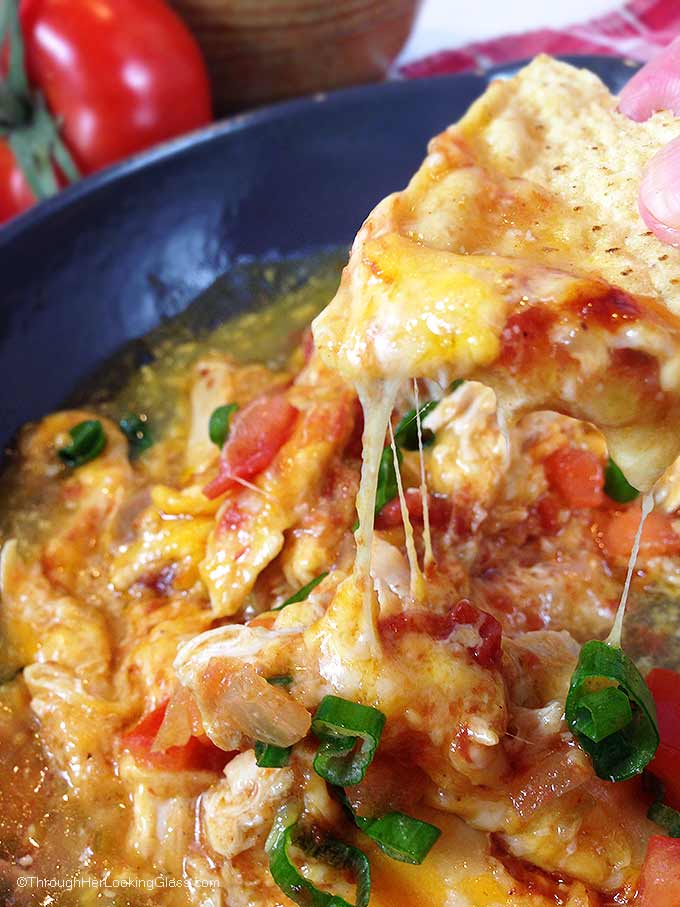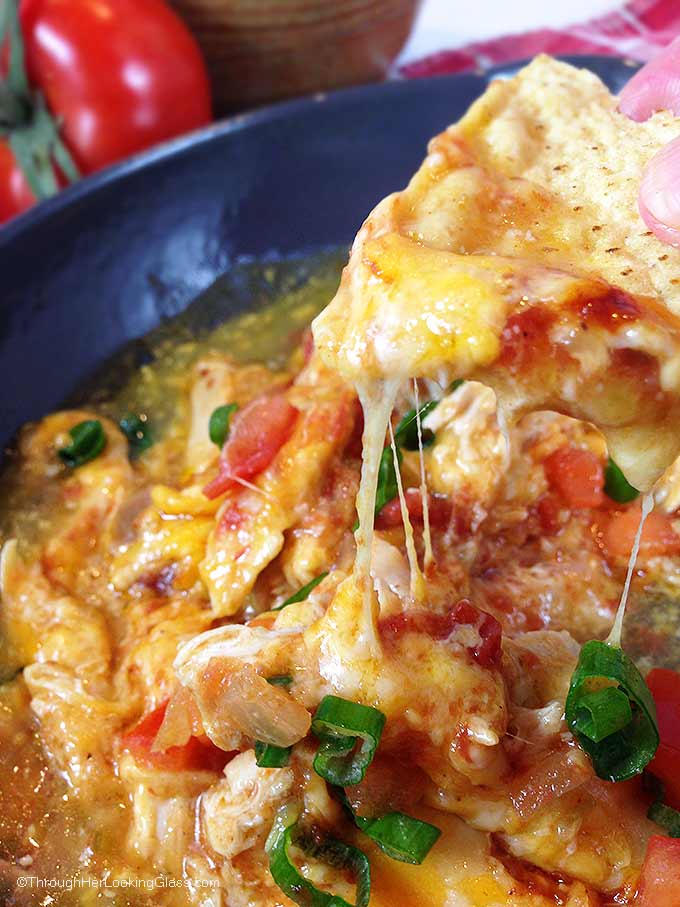 I'm so excited to share this Chipotle Queso Fundido Skillet recipe with you today. Up here in the Northeast we're finally hunkered down for winter. Prior to this week, it's been pretty mild around here, but Old Man winter is baring his teeth just a bit with subzero temps, bone-chilling wind chills and the threat of a Nor' easter in the forecast.
So count me in with the bears. I hibernate in my cave when it's this wicked cold. Yeah wicked.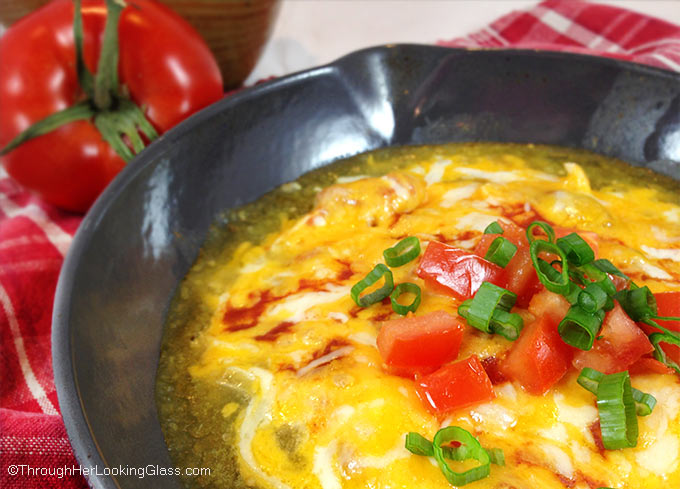 So I'm not exactly going anywhere and I've been craving this Queso Fundido dish from Margarita's Restaurant. Wondered if I could recreate it at home.
Whenever we go to Margarita's I always order the same thing. Just ask Jon. The Queso Fundido appetizer as a meal. With a delicious side of margarita. (We go if we have one of those $10 Margarita coupons. The ones they send for your birthday.)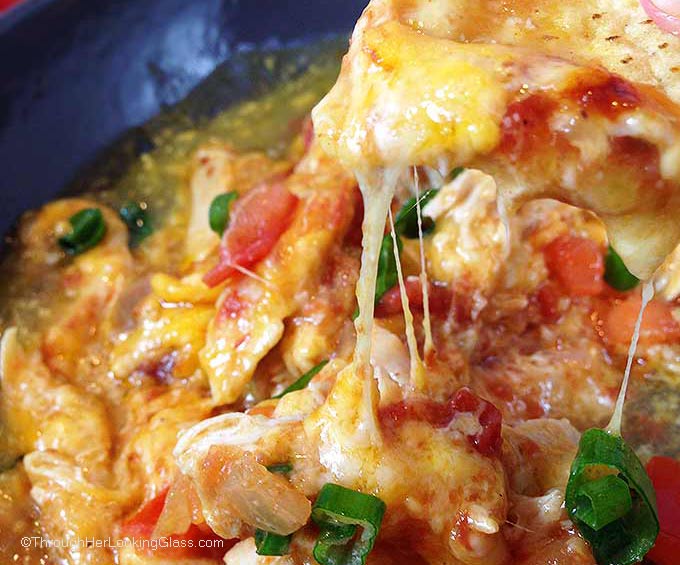 So queso fundido actually means "molten cheese", and that's what this recipe is all about. Molten cheese. Woot woot. Cheddar and monterey jack. Melty, stretchy, hot molten cheese. Shredded chicken and salsa. Sweet tomatillo and smoky chipotle sauces.
Oh. My. Word.
This combination is smoky, spicy and sweet simultaneously. Awesome. And this Chipotle Queso Fundido Skillet tastes every bit as good as the one at Margarita's. Scout's honor. You can easily serve this for an appetizer, but I like it as a main dish served with restaurant-style tortilla chips. Delish!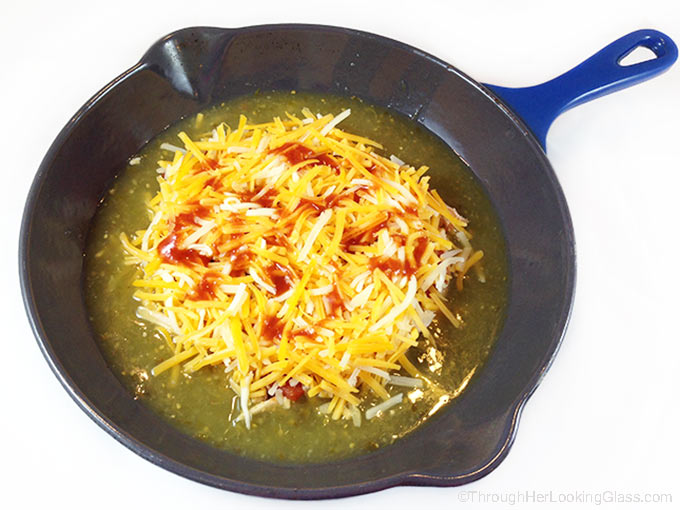 So pile all the ingredients in the right order in an oven-safe skillet. Pour the tomatillo sauce all around the edges, then bake at 400° until the cheese is hot and melty, 5-10 minutes.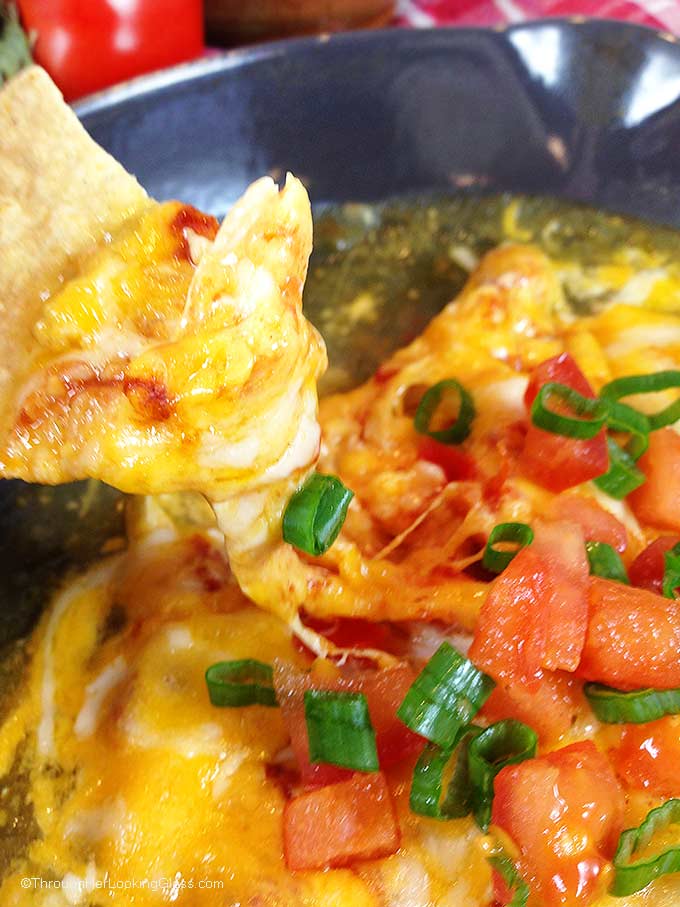 Chipotle Queso Fundido Skillet
Note: you gotta eat this immediately while the cheese is melty. That's the magic of this dish. That amazingly stretchy, smoky chipotle cheese.
I found all the ingredients for this dish in the Mexican section of my grocery store. Following is an ingredient list and detailed instructions. Everyone's got a different size skillet, so just eye it for the amounts, add more of what you love… and you're good to go!

Allie Taylor
Chipotle Queso Fundido Skillet
Chipotle Queso Fundido Skillet. Melty, stretchy, molten cheese. Shredded chicken and salsa, tomatillo & chipotle sauces. Smoky, spicy and sweet!
5 minPrep Time
10 minCook Time
15 minTotal Time
Ingredients
Shredded rotisserie chicken
Shredded cheddar cheese
Shredded Monterey Jack cheese
Favorite salsa
Tomatillo verde sauce
Traditional chipotle sauce
Optional garnish: chopped green onion and fresh tomato
Tortilla chips
Instructions
Preheat oven to 400°.
Place shredded chicken in the center of an oven safe skillet, leaving about an inch around the edges.
Top with your favorite salsa, as much as you like.
Cover with shredded cheddar and monterey jack cheeses.
Sprinkle chipotle sauce on top.
Pour tomatillo verde sauce all around the edges.
Bake in a 400° oven for 5-10 minutes until cheeses are melted.
Optional garnish: chopped fresh green onion and tomatoes.
Serve immediately, with tortilla chips.
7.8.1.2
118
https://www.throughherlookingglass.com/chipotle-queso-fundido-skillet/

You may also like: Cheesy Jalapeno Bacon Steak Fries