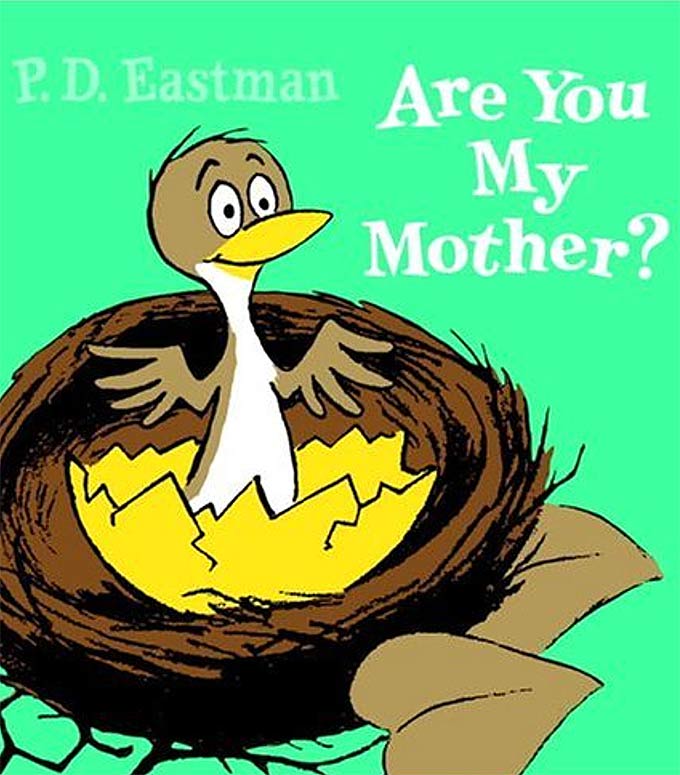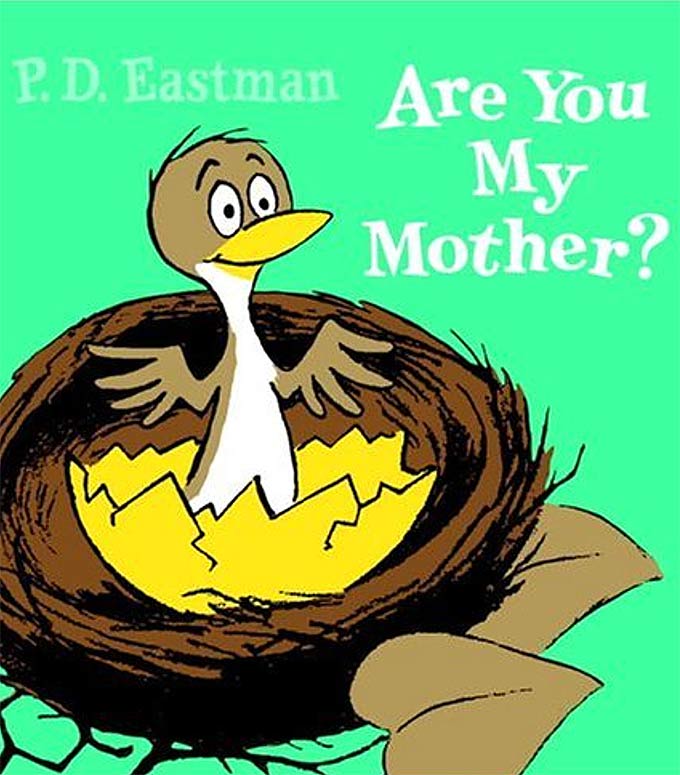 You remember the children' book Are You My Mother, right? That hilarious book about a little bird who goes in search of his mother. It's by P.D. Eastman, author of the Dr. Seuss Cat in the Hat series. Here's a short synopsis of the book (by Wikipedia) to jog your memory.
"Are You My Mother " is the story about a hatchling bird. His mother, thinking her egg will stay in her nest where she left it, leaves her egg alone and flies off to find food. The baby bird hatches. He does not understand where his mother is so he goes to look for her. As he cannot fly, he walks, and in his search, he asks a kitten, a hen, a dog, and a cow if they are his mother. They each say "No".
Refusing to give up, he sees an old car, which cannot be his mother for sure. In desperation, the hatchling calls out to a boat and a plane (they both do not respond), and at last, convinced he has found his mother, he climbs onto the teeth of an enormous power shovel.
A loud "SNORT" belches from its exhaust stack, prompting the bird to utter the immortal line, "You are not my mother! You are a SNORT!" But as it shudders and grinds into motion he cannot escape. "I want my mother!" he shouts.
But at this climactic moment, his fate is suddenly reversed. The power shovel drops him back in his nest and then his mother returns. The two are united, much to their delight, and the baby bird tells his mother about the adventure he had looking for her."
I've always loved this book. And had an interesting moment or two last week reminding me of this funny book.
I was at Hudson's school waiting outside the door to pick him up. (Hudson is five, has Down syndrome.) Little children are exiting the door one by one. After the door opens several times, out comes Hudson holding his teacher's hand. He's got anticipation written all over his face, scanning the crowd.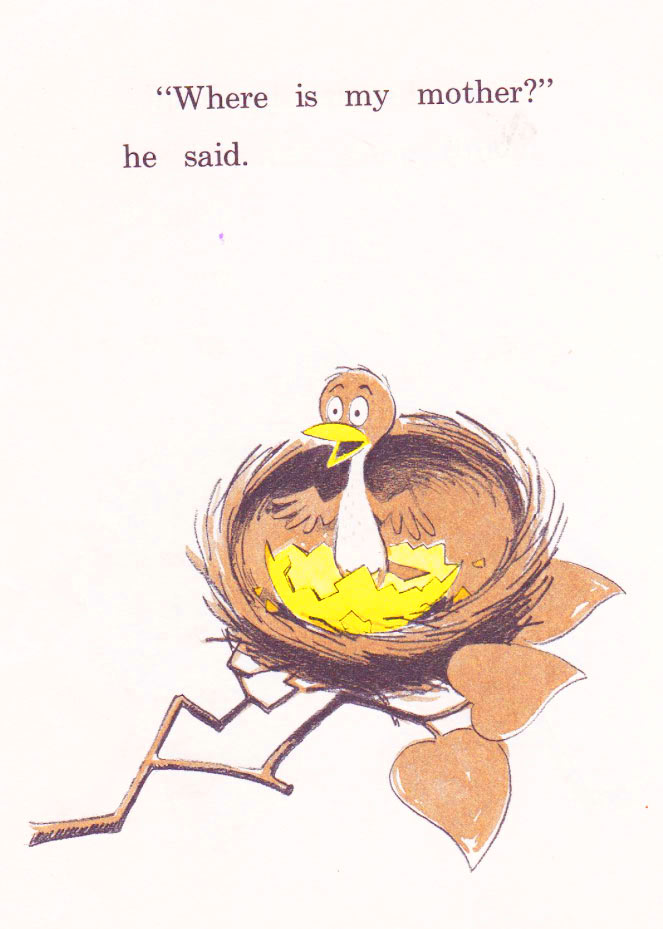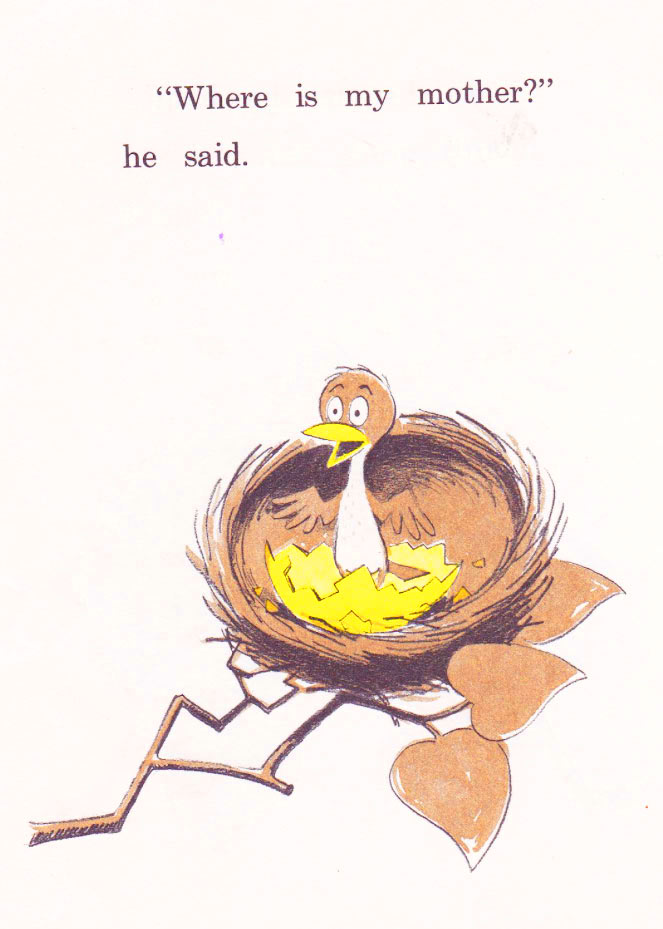 He's looking for me. My little Hudson birdie is searching for his mother.
There's another mom waiting right outside the door, closer than I am. She has blonde hair and wears an  orange shirt. I say that because I often wear orange and coral. So Hudson exits the door, looks around, sees her, breaks into a terrific smile. Bounds right up. There's no mistaking it. He thinks she's me. I'm riveted, watching, in shock.
From five or six feet away, I call "Hudson, Hudson!"
He's right there now, practically under her nose. He's trying to get her attention. He's excited. Smiling. Eyes sparkling to beat the band. And the funny thing is the other mom. She doesn't even notice him. She's busy looking for her own little person to come out the door. And Hudson's teacher is gently trying to re-direct him my way. And he just isn't getting it.
It's a strange feeling, standing there, watching Hudson giving his joy and attention to someone else. Someone who's not his mother. Not me.
And in that split second, I realize how very much I treasure being Hudson's mother. How thankful I am that it's really me he's looking for.
How much joy and love and history we share. Hudson and me.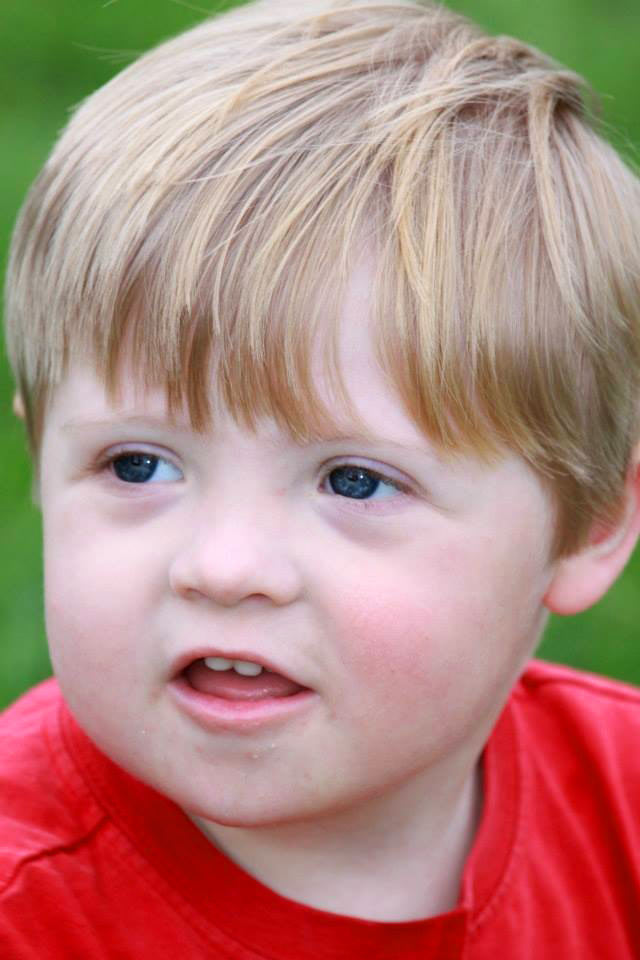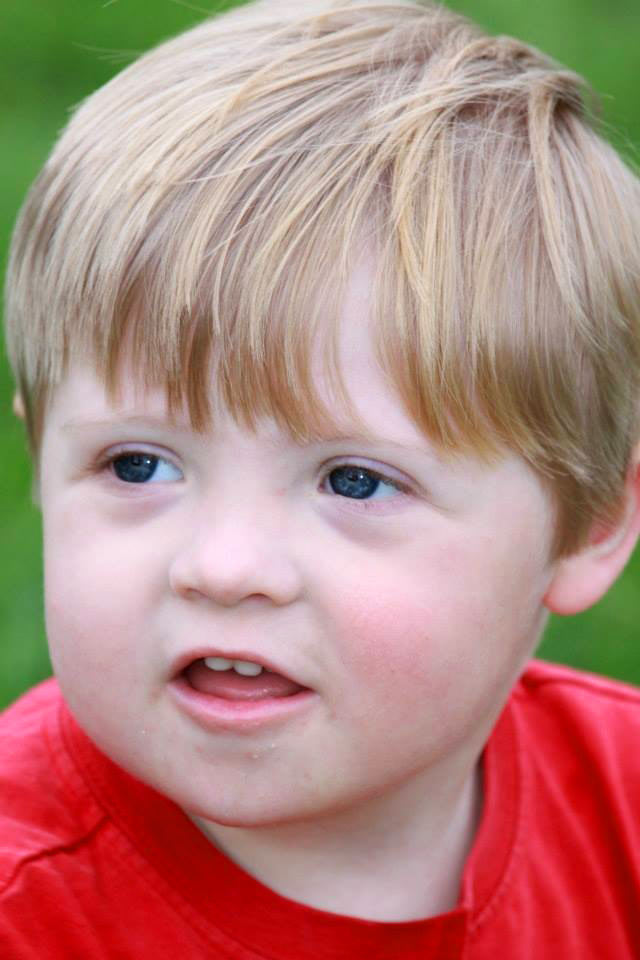 *photo courtesy of DesignsbyLindaNee.com
I call his name again. "Hudson! Hudson, it's mom!"
And he looks over, confused for a millisecond.
As if to say, Are you My Mother?
And then he gets it. Realizes it's me. Bounds over. Gives me that big bear hug I crave from that precious little boy.
All's well with the world. It's Hudson and me again.
You may also enjoy: Glimpse of Sunshine